SALT LAKE CITY — Grabbing lunch with friends is awesome. Having to fork over $12 for a burger may not be quite as awesome.
For many who work in the downtown area, finding a cheap and tasty place for lunch can be a lifelong pursuit. Tasty is usually pricey, and cheap can be less than appetizing.
Finding the cheap and tasty gems can be hard, but there are some fantastic places to eat in Salt Lake that fit the bill.
Este has been around in downtown Salt Lake for decades. For a quick, easy lunch, stop in and grab a slice of pizza. Individual slice prices aren't listed on their online menu, but a good size slice of pizza usually runs about $2.50-$3.50.
Este Pizza features standards and specialities. It is known for the Pink Pizza, which is essentially a cheese pizza, but with an added dose of ricotta and topped heavily with mozzarella. Give it a try if you haven't already, or just fill up on garlic knots, a resident favorite.
156 E. 200 South, Salt Lake City
801-363-2366
2148 S. 900 East, Salt Lake City
801-485-3699
With a few locations around the Salt Lake are, Caputos is both a convenient gourmet market and tasty bistro. Just remember to order a half sandwich or salad to keep the bill under $5.
A half of a mozzarella and tomato sandwich comes in at $4.85 and is not only a tasty fare for the palate, but a good choice for the calorie counter as well. The Italian Cold Cut will cost you $4.25 for a half and features a bevy of tasty meats.
For those with a wen for fromage, the Cheese Lover features a buffet of cheddar, provolone, smoked gouda and Swiss.
Downtown 314 W. 300 South, Salt Lake City
801-531-8669
15th & 15th1516 S. 1500 East, Salt Lake City
801-486-6615
University of Utah 215 S. Central Campus Drive, Salt Lake City
801-583-8801
Pita popularity has been on the rise in recent years. Pita peddlers have sprung up around the country in a pita pop-up pandemonium, leading to an influx of bad pita alliterations.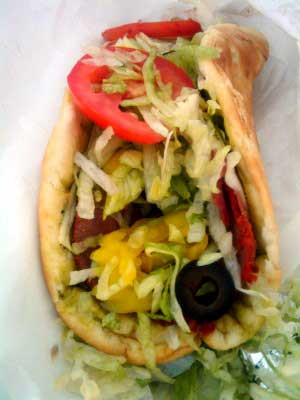 Pepper's Pita is an independent pita joint located in the downtown area. While not every item on the menu is under $5, there are some tantalizing items that will keep you on your budget.
The turkey pita comes in at $4.99 (OK, with tax it will put you over) and includes a standard but yummy selection of turkey meat, mayo, tomatoes, onions and mustard.
For a vegetarian selection, go for Pepper's Pita Special. Costing an affordable $4.49, this pita pick comes with roasted red pepper hummus, lettuce, tomato, onion, green pepper and feta cheese.
14 W. Broadway, Salt Lake City
801-220-0516
Located just steps from West High School, regulars advise to avoid California Burgers and Deli between 11 a.m. - 11:30 a.m. and 12:30 p.m. -1 p.m. as the eatery experiences a rush of teens eager for burgers.
Those familiar with California Burgers and Deli rave about the quality of food and the reasonable prices. Most burgers come in under $5 and promise to leave you full and happy.
The most popular burger on the menu is the California burger, topped with pastrami, bacon and Swiss cheese. This burger costs a mere $4.95 and is a substantial amount of food.
Another burger to try: the chili burger, coming in at $3.75. Not for those with digestive malfunctions, this burger is all about taste and substance.
306 N. 300 West, Salt Lake City
801-924-0372
This sandwich joint opened its doors in 2003 and has been creating a consistent and satisfying fare ever since.
There are a few tempting options from their menu that will keep you under $5. Try out the Grill Me Cheesy, costing a paltry $3.25 for a half.
The Flower Child (half) comes in at $4.94 and features all the tasty veggies you could want, including a healthy serving of California avocados.
311 S. Main Street, Salt Lake City
801-466-6378
×
Photos
Related Links
Related Stories