Estimated read time: 4-5 minutes
This archived news story is available only for your personal, non-commercial use. Information in the story may be outdated or superseded by additional information. Reading or replaying the story in its archived form does not constitute a republication of the story.
PARK CITY — A Utah man and his daughter are hoping to get kids in Africa off of the streets and into schools with a soccer academy.
Adam Miles headed to Nigeria Wednesday with his daughter Kylie and two local college soccer players to launch a soccer tournament they hope will build relationships and generate interest in the new school.
"I don't want to just hand out suckers and soccer balls and be like, 'good luck,' " Miles said. "I actually want to help be a part of the solution to the problems longer-term, and clearly education is the way to do that."
Save-A-Thon for Africa, the foundation behind the soccer academy, was born in 2012 when Miles developed a project to deliver 100 soccer balls to children in Ghana with his daughters. Kylie, who was 12 year old at the time, was a goalie, and people donated money to the cause for every ball she saved on the field.
While they were there, Miles realized there was potential to do more. He also runs a nonprofit group called Bridges to America, which helps reunite families in Africa who are separated by war, famine and unrest. Shortly after he returned to the U.S., one of the men whose family he helped reunite a few years earlier contacted him with an idea to further use soccer for good.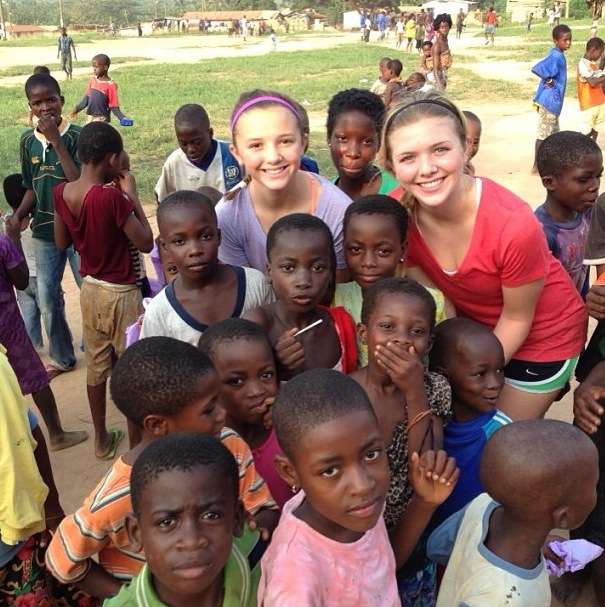 His friend said his home country of Nigeria is crazy for soccer, so there is an opportunity to get kids off of the street and also engage people like his daughter to help them. Miles was intrigued by the idea after he discovered the academy wouldn't just be a soccer camp, but an actual school.
Since then, Miles has been working with his friend, who moved back to Nigeria to work on the project, to make the soccer academy a reality. Eventually they hope to have a thousand high school-age male and female soccer players attending a school where they can learn in a world-class educational environment. The plans haven't been finalized yet, but that isn't keeping the team from going into action.
"Rather than wait around for three or four years while we're going through all of the planning and fundraising and all of the sort of boring stuff, we're engaging young American women volunteers and soccer players to go over there now," he said.
The volunteers, who include former USU soccer player Natalie Norris and former BYU player Lindsi Lisonbee on this first trip, will visit villages in Nigeria to give soccer clinics and give presentations on topics like education and health. While they are there, the volunteers will also be assembling an "all-star team" of players from the villages to compete in a soccer tournament against other club teams in the country.
Save-A-Thon for Africa will be hosting the tournament in June or July.
"They have the infrastructure there, but we want to make sure every kid has an opportunity," Miles said. "If you're a poor kid living in the village but you have tremendous soccer skills, we want to give you the opportunity to get some exposure. They might win the tournament, they might lose the tournament, it really doesn't matter. The point is that we're going to recognize them for their skills and hopefully inspire them to come to the soccer academy in the next three or four years."
The winning boys and girls teams from the tournament will be flown to Utah in the fall to play in friendly matches against teams from Utah. Miles hopes it will facilitate a cultural exchange between young Africans and Americans that will help them see what they have in common.
"We're going to bridge (the differences) through soccer and we think it will have a meaningful impact on both sides of the Atlantic Ocean in a very big way," he said. "We really feel like we're saving lives by changing futures. We're giving people the opportunity to think differently about the track they're on in life. I don't care how good or how bad your life is, it can always be better, and that's the ultimate point for Save-A-Thon for Africa."
Related Story
He said both the people serving and being served benefit from the interaction. He became choked up while talking about the influence volunteering in Africa had on his daughter during their last service trip together. He said she still talks about it on a daily basis.
"I think it wrecked her, in a good way," he said. "It really did change her perspective on the world. Her perspective on what really is significant in this life changed dramatically as a 12-year-old to go over and see these beautiful kids who have literally nothing and yet see how happily they carry themselves throughout their day and what fighters they are to get through a situation in life that is not pleasant."
Now he said he wants to share the opportunity to change with others outside of his family. Save-A-Thon for Africa is currently accepting applications for more volunteers to help raise funds and travel to Nigeria.
×
Photos
Related links
Related stories
Most recent Utah stories