Estimated read time: 4-5 minutes
This archived news story is available only for your personal, non-commercial use. Information in the story may be outdated or superseded by additional information. Reading or replaying the story in its archived form does not constitute a republication of the story.
KANAB — Jayci Glover could have wished to take an exotic trip or meet a celebrity, but what she really wanted was to express her gratitude for the community who continues to support her as she battles cancer.
A $7,500 check was presented to Kanab High School in Jayci's name by the Make-A-Wish Foundation to let the school buy a new digital scoreboard for the gym. Jayci, who has terminal cancer at 13 years old, wanted to use her wish to help the sports teams who showed her love, her mother said.
"Her dad and I, we weren't surprised at all that was her choice, to do something like that for other people," her mother, Heather Glover, said. "She is always happy, smiling, positive and wondering how she can lift somebody else and make their day brighter even when they come to visit her."
Jayci has been fighting a rare form of terminal lymphoma since she was diagnosed in March 2013. She came home to a hero's welcome on Feb. 8 after staying in Salt Lake City for treatments — she's been through chemotherapy and more than 40 rounds of radiation.
Related Story
When Make-A-Wish first approached Jayci, she said she didn't need a wish granted because she already had everything she wanted. After her parents encouraged her to consider it, she started thinking about how she wanted to give back to the people who had done so much for her.
The sports teams in Kanab have been especially supportive by doing things like making and selling "Fight Like Jayci" t-shirts and including her in their tournaments, so at first she dreamed up a recreation center where everyone could play. That idea turned into using the money to help with the cost of scoreboards at Kanab High School as it remodels its gym. The school is currently using old-fashioned scoreboards that aren't digital.
"She loved the idea," Heather said. "She was like, 'Oh that's perfect because they keep score on them for volleyball and basketball, so it helps different teams.'"
Make-A-Wish expedited the wish process so the check could be given at the high school's last basketball game of the season on Feb. 12, which Jayci was planning on attending with her family because it was also her grandfather's last game serving as the team's head coach.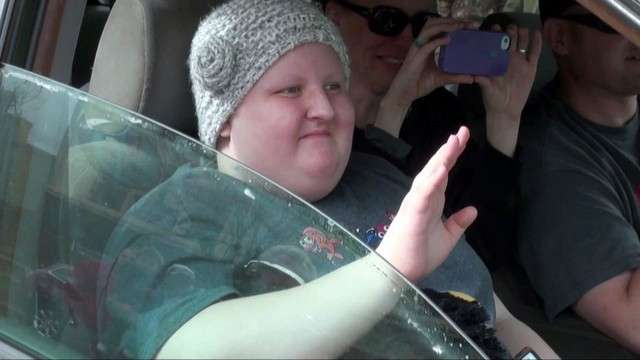 The check for $7,500 was more than they had been expecting, Heather said. It was given to the school before the start of the game.
"They presented the check to her and told what her wish was and had the principal come down and let Jayci hand the check to him like it was her gift to the school," she said.
The community used the game as an opportunity to continue to show their love for Jayci — the basketball team and cheerleaders wore the "Fight Like Jayci" shirts over their uniforms, the drill team danced in the shirts and the pep band wore them as they played. Even the opposing team from Delta High School participated by wearing lime green t-shirts, which is Jayci's favorite color.
Heather wasn't sure when the scoreboard would be installed, but said the gym will probably be remodeled during the summer while students are away. The principal has been talking to different companies who are interested in helping provide the scoreboards at cost or putting Jayci's name on the board.
"The high school and middle school kids here are really all like one big unit because it's such a small town," she said. "They're all supportive of her and she loves them all. The high school boards will be a good way (to give back) because her grade will be to high school soon and she'll be there represented all of the way through."
Jayci enjoyed sports and played in the Jr. Jazz basketball league for three years. She had been looking forward to playing volleyball, but was diagnosed with cancer the spring before she would have been old enough to play on a team in Kanab. However, she didn't let that keep her from supporting her friends on the team.
"When we were at home from treatments, we went to their tournaments in St. George and everywhere and Jayci would kind of cheer them on and take pictures with them and she was the score keeper at a couple of tournaments for them," Heather said. "She participated that way."
Her mom said they love to share Jayci with everyone and that she has changed a lot of people in their community.
"(Visitors) always tell us they leave encouraged and better when they actually came to make her better," she said. "She just has that affect on people. She's pretty cool — we're the luckiest parents in the world."
An account has been set up on YouCaring to help cover Jayci's medical costs.
---
*KSL.com has not verified the accuracy of the information provided with respect to the account nor does KSL.com assure that the monies deposited to the account will be applied for the benefit of the persons named as beneficiaries. If you are considering a deposit to the account you should consult your own advisors and otherwise proceed at your own risk.
×
Photos
Related links
Most recent Utah stories