Estimated read time: 6-7 minutes
This archived news story is available only for your personal, non-commercial use. Information in the story may be outdated or superseded by additional information. Reading or replaying the story in its archived form does not constitute a republication of the story.
SALT LAKE CITY — Power lines, power poles and flights in and out of Salt Lake City International Airport were among the casualties of Thursday morning's snowstorm.
Airport
The airport closed operations for about two hours Thursday morning.
One runway reopened just before noon, with a second opening at some point Thursday afternoon, though airport spokeswoman Barbara Gann could not confirm when.
Gann said she was not sure when the third runway would reopen. She was also unable to provide information on the number of flights that were delayed or canceled.
According to the airport's website, 123 flights out of Salt Lake City International Airport and 111 incoming flights were listed as canceled between 2 a.m. and 10 p.m. Thursday.
The closure happened after a Capital Cargo Inc. plane skidded while taxiing after exiting the runway, Gann said.
The lack of friction on the runways had reached a point where crews needed to shut down the airport to stay in compliance with Federal Aviation Administration guidelines, she said.
Individual airlines will determine "flight by flight" how to reschedule outgoing flights, Gann said.
Power outages/school cancellations
Also, as of 4:30 p.m., roughly 5,300 customers were without power along the Wasatch Front and in northern Utah because of the winter storm.
Restrictions
I-80 eastbound Parleys Canyon: Semis need chains
Big and Little Cottonwood canyons: four- wheel drive or chains required
"The weather conditions have caused a number of problems and power outages this morning," Rocky Mountain Power's Jeff Hymas said.
All available crews in the Salt Lake Valley were working to fix the problems causing the outages, and Dave Eskelsen, spokesman for Rocky Mountain Power, who estimated that crews would be working into the evening and overnight.
"We've made quite a bit of progress," he said.
Crews target higher-volume outages first, meaning customers with outages in less-populated areas "could be without power into the night," Eskelsen said.
Among those affected by the outage were Robert Frost and Franklin elementary schools, Bryant Middle School and Everest College.
Robert Frost Elementary in West Valley City did not open at all Thursday because the building lacks natural light, according to Granite School District spokesman Ben Horsley.
Students at Franklin Elementary in Salt Lake City were fed lunch and bused home at 12:30 p.m. The school asked parents of students who do not take the bus to pick up their children.
Bryant Middle School in Salt Lake City will not open Friday because of a water line that is leaking, school officials said. It will remained closed until after winter recess, reopening Jan. 6.
UDOT employees warn drivers to slow down with severe weather
By Tania Mashburn
SALT LAKE CITY — The snow came down hard and fast Thursday, and despite having every available snow plow working, road crews had a hard time keeping up.
UDOT has about 500 plows statewide and on a day like Thursday, they put every single one of them to good use. For the storm, they even brought in a few extra.
"When it's snowy like this we're out here 24/7 until we get it cleaned up," said Keith Piccioni, UDOT Snow Plow Driver. "We've got a crew out here all the time keeping the roads safe for the traveling public."
UDOT's first priorities are the freeways like Interstate 15, I-215 and I-80. Major roads like Bangerter Highway and State Street come next. Cell phone video shows the commute was slow going.
One thing that can really slow the commute is an impatient driver. Cars will often cars tried to pass a line of snow plows.
"If someone tries to scoot in between us, they're running into all that," said Piccioni, referring to huge amounts of snow and slush being pushed aside.
The snow plow drivers admit they drive slow — 15 to 30 miles an hour during a big winter storm. They said they also realize drivers want to get by, but at what cost?
"Think about it, we're in this big truck. We really don't want to hit you," said Piccioni. "Who do you think is going to win?"
Their advice is to give yourself extra time, slow down and please give plow drivers room to work.
Everest College in West Valley City canceled its Thursday evening classes because of the weather. Classes were expected to resume Friday morning. Students with questions can call 801-840-4800, ext. 300.
Rocky Mountain Power officials say the dirty rain, combined with earlier dry weather, caused pole fires in "numerous locations" in Utah.
"The rain last night when it started was very dirty," Eskelsen said, "and so that dust and wet rain has enough minerals in it that can actually conduct electricity over the insulators. You get some sparking, and wooden poles and cross arms can actually catch fire in this weather."
21st South closed
On state Route 201 and 2700 West, a power pole had broken, leaving power lines across the highway.
Both transmission and distribution lines run across the highway at 2700 West. The upper transmission lines stayed in place, but the lower-voltage distribution lines came down.
The downed lines affected traffic in both directions. By Thursday afternoon, the road was clear, and preliminary fixes had been made.
"We're going to have more work for a permanent repair," Eskelsen said, including mending a power pole and making sure that both sets of lines are working.
"It's fair to say that all of this is weather related," Eskelsen said, adding that crews are still unsure what sparked the outage.
The public can check rockymountainpower.net/outage for updated information on power outage areas and on power outage safety, or rockymountainpower.net/mobile on smartphones.
The extreme weather also prompted The Church of Jesus Christ of Latter-day Saints to close down buildings at its headquarters at noon.
"Due to the winter storm, the church has closed its downtown administrative offices," according to a statement from LDS Church officials.
Church officials did not say whether there would be any more closures.
Unusual Storm for Utah
Thursday's ice storm was "very, very unusual" for Utah, according to KSL meteorologist Grant Weyman.
Other than a similar storm in 2012, Utah has not seen an ice storm for decades.
What makes the storm even more unusual is that it switched from ice to snow. Generally, such storms are seen in the East and Midwest, Weyman said.
The valleys were expected to get 1 inch to 3 inches of snow, he said, with the benches getting between 2 and 8 inches.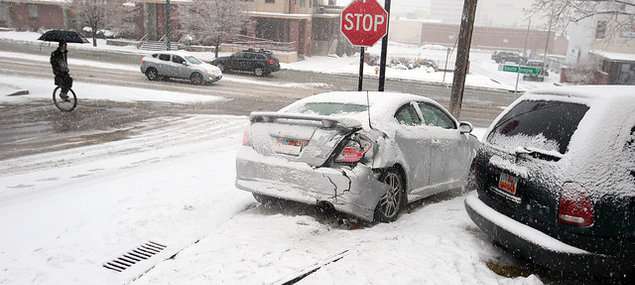 Another storm is expected to roll in Saturday, Weyman said.
Although crews did what they could to prepare for the freezing rain and low temperatures, traffic was still impacted during the Thursday morning commute.
Roads/Traffic Accidents
A lot of the areas that had storms forecasted did not get brine pretreatment because the rain would have likely washed it away, according to Adan Carillo, Utah Department of Transportation spokesman. Roads were treated with other materials before the storm, he added.
The freezing rain was deceiving with the light snow on top, Carillo said. The pavement that looked dry gave drivers a "false sense of security," he said.
Freezing temperatures made it difficult to clear the roads of snow and ice that would just not melt, Carillo said.
There were 168 crashes between 9 p.m. and 10:48 a.m. on Utah's highways, according to the Utah Highway Patrol. Salt Lake County police officers reported 281 accidents with 24 with minor injuries.
"Our snowplows will be working out there 24-7 to make sure that these roads are clear and safe as much as possible," he said. "We just ask (commuters) to be cautious and give themselves plenty of time to arrive to their destination safely."
Carillo said drivers should plan on an extended commute and be prepared to drive slowly.
"It's always those that are in a rush or are getting frustrated because they've been behind the wheel about an hour already, and they want to get to work or home already. Those are the ones that end up making … decisions that are not in the best interest of themselves or everybody else," he said.
Get traffic updates on KSL Newsradio and check commute times on the home page of KSL.com.
Contributing: Haley Smith, Shara Park, Keith McCord and Devon Dolan
×
Photos
Related links
Most recent Utah stories