Estimated read time: 3-4 minutes
This archived news story is available only for your personal, non-commercial use. Information in the story may be outdated or superseded by additional information. Reading or replaying the story in its archived form does not constitute a republication of the story.
RIVERTON — Shouts of "Santa!" from a few students and excited gestures from many others greeted the jolly old elf as he jingled his way into the classroom.
Santa Claus had an impromptu dance party in the middle of the classroom with Shale Peck, 20, who grinned ear to ear while jumping and waving his arms above his head.
Throughout Tuesday, Santa and his elf visited the 180 students with severe multiple disabilities at the Kauri Sue Hamilton School.
"Shale's not verbal, and then he can be kind of hesitant, and he has autism," Principal Rita Boullon said. "And so for him to get up and dance like that, and you could see the smile on his face, … that was a riot."
Parker Overtin, 16, bonded with Santa over Godzilla and said "cheese" for a picture. And Macey Mortensen, 13, eagerly raised her hand every other minute until it was finally her turn to sit by Santa and get a candy cane.
Though most of the students, ages 5 to 22, couldn't communicate with words, their faces brightened and some smiled as Santa called them by name and spent time with them.
What the children and most of the school staff didn't know was that Santa had a secret helper "whispering" in his ear.
---
A lot of times you think technology disconnects people, and so this is a way that it really makes a connection for people in a real, personal way.
–Kristin Rector, Listen Technologies
---
A school employee stood nearby, feeding Santa names and unique traits of the students to create a personal connection. The magic was provided by Listen Technologies, a company that provides assistive listening solutions, such as audio devices for performances at Abravanel Hall.
"A lot of them can't communicate, but you can see in their faces that just the fact that Santa knows their name and says something about them, that's more personal. It's a really moving thing to witness," said Kristin Rector, director of marketing services for Listen Technologies.
The company has gotten creative and found some nontraditional applications for its technology, such as helping Santa get to know students individually.
"A lot of times you think technology disconnects people, and so this is a way that it really makes a connection for people in a real, personal way," Rector said.
She praised the dedication and devotion the 50 school staff members provide daily to the students.
Many of the students can't go to the mall and wait in line to see Santa. Because of disabilities such as autism and cerebral palsy, it's challenging for families to take their children, and the experience is overwhelming and overstimulating for some.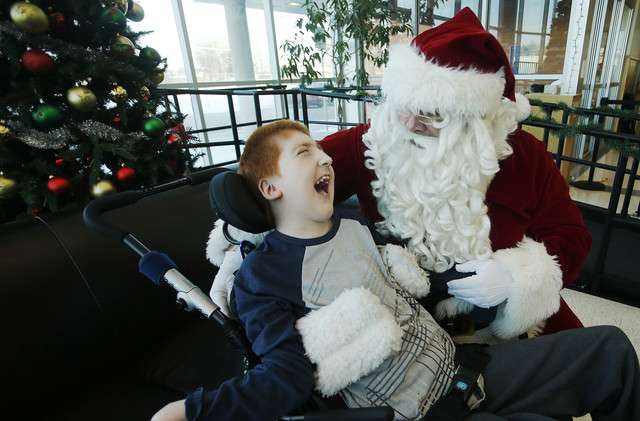 "So for them to get a picture with Santa is really special. Families really, really like that," Boullon said. "And for them to get to see Santa in this safe environment with all this support around, it's really awesome."
Last year, Brooks Gibbs of Listen Technologies had the idea to offer himself as Santa for a visit to the school. He said it's his favorite day of the year.
"We really love to bring some happiness to these kids. They don't get a chance to go out and see Santa Claus," Gibbs said. "It's a wonderful, joyous gift."
Gibbs hummed "It's Beginning to Look a Lot Like Christmas" as he went from classroom to classroom, visiting the students to spend some time, take a photo and give them a candy cane.
"It's amazing. It's something that touched me like nothing else. What each of these kids has is so special," said Carrie Keele, Santa's helper from Listen Technologies. "It makes their day, but really we get way more out of this than anything we can offer to them."
Santa and his elf agreed that the best part is watching the students' faces light up and seeing their energy and excitement.
"Everyone has a light, and let me tell you, their light is brighter than anybody else's," Gibbs said. "And when you see that light, you know what the meaning of Christmas is. It's about sharing joy."
×
Photos
Related stories
Most recent Utah stories