Estimated read time: 3-4 minutes
This archived news story is available only for your personal, non-commercial use. Information in the story may be outdated or superseded by additional information. Reading or replaying the story in its archived form does not constitute a republication of the story.
PROVO — The Killers teamed up with Brigham Young University's animation program to create their annual Christmas music video for charity.
The Killers' music video for "Christmas in L.A.," featuring actors Owen Wilson and Harry Dean Stanton, was released Monday. A series of BYU connections brought the opportunity to create the music video to the school's animation students.
"They were going nuts," said director Kelly Loosli. "I think they were a little freaked out at first. They were extremely excited, especially because for that age group The Killers is kind of one of their seminal bands."
When lead singer Brandon Flowers asked his close friend Jared Hess, a BYU alumnus known for directing movies like "Napoleon Dynamite," to work on their video for 2013, Hess suggested letting BYU animation students take the lead. The band was intrigued by the idea because their manager is also a BYU graduate, Loosli said.
"We've been harassing (Hess) sort of for years to let us animate something in one of his movies, like the title sequence or something like that," he said.
Hess connected The Killers' management group with Loosli. After hearing the song, Loosli said he pitched a concept and ran with it.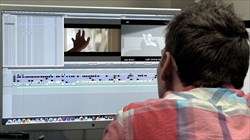 This is the first time the BYU animation department has made a music video. The fact that all of the proceeds from "Christmas in L.A." will go to charity made it easy to become involved, Loosli said.
The video was produced in connection with (Red), a campaign created by Bono to benefit the Global Fund to Fight AIDS. The band, actors, record label and iTunes won't receive any compensation, Loosli said.
"That made it a really easy sell for us to put our efforts and our resources behind it," he said.
The music video took three weeks to create from start to finish. Loosli got the call from the manager of The Killers on a Friday, flew to Los Angeles on Monday and filmed with Owen Wilson on Wednesday. People with connections to BYU in L.A. helped Loosli obtain a crew, footage, permits and even camera lenses, he said.
"It is really this sort of weird BYU student, BYU faculty and BYU alumni effort that is pretty cool," Loosli said.
Related Story
Students at BYU used live action footage of Wilson to create animation for the music video. Wilson was nice while they were working together in L.A. and has been to Utah for the Sundance Festival several times, Loosli said.
"The funny thing was all he knew about BYU was that we've had a lot of amazing quarterbacks in football," he said. "He could list a handful of them."
Because upperclassmen in the animation program were already committed to other film projects, the the music video was created largely by sophomores and students who haven't been admitted into the program yet. Loosli said he was impressed by how well the students were able to work despite their lack of training.
"Sometimes not knowing what you're getting yourself into is the best thing that can happen," he said.
Loosli said he thought the students did a pretty good job for their limited time frame. Typically a 30-second national advertisement will cost $200,000 to $400,000 and take six to nine weeks to create, he said. The BYU animation team was able to make a four-minute video in three weeks.
"Christmas in L.A." is available for purchase in iTunes.
×
Photos
Related links
Most recent Utah stories