Estimated read time: 4-5 minutes
This archived news story is available only for your personal, non-commercial use. Information in the story may be outdated or superseded by additional information. Reading or replaying the story in its archived form does not constitute a republication of the story.
SPRINGVILLE — A local painter is hoping to share the inspiration a girl has given him by depicting her battle with cancer in a series of paintings.
Bre Hatfield, 14, was a healthy competitive dancer when she first modeled for one of Ryan Brown's portraits. When Brown called to schedule her for another sitting and heard she was diagnosed with cancer, he said it was only natural he create a series of paintings to help cover the family's medical bills.
"For me, this is hugely important," Brown said. "This is not just another painting I would send out to the galleries — it's a pretty major project that could change this family's life."
Bre started modeling for Brown when she was 13 after they met at the gym her family attends. During the hours Bre spent posing, the model and artist were able to connect, Bre's mother Jenny Hatfield said.
"I think him and Bre kind of had a bond between the two of them and he really just felt like he wanted to do something to help out," she said. "That's when he came up with this awesome idea to paint her through the whole process, which is pretty cool. I've been excited to be able to have it documented."
Four paintings are currently being made from a modeling session Bre had with Brown about a month before she was diagnosed with cancer. Next he said he wants to share the courage she has shown him as she goes through cancer treatments, even though she is frail, in an additional four paintings. He said he hopes others will be able to relate to her strength.
"Those (paintings) are definitely going to capture a different side to her," he said. "Some have her without any hair and so that'll show definitely the process she's going through, but they're meant to be paintings. They're meant to be a little bit more than just a really straight forward narrative of a girl going through something; they're meant to allow people to relate beyond that."
Bre was dancing competitively when she started complaining about feeling pain in her right leg just below her knee, her mother Jenny Hatfield said. When they first went to the doctor they were told it was a stress fracture so Bre should take a break for a month, but once she started dancing again the pain returned. An MRI on their return trip revealed a 7 1/2 inch long bone tumor and she was diagnosed with osteosarcoma, a cancer that occurs in rapidly growing teenagers, at the end of July.
---
They're meant to be a little bit more than just a really straight forward narrative of a girl going through something; they're meant to allow people to relate beyond that.
–Ryan Brown
---
She started an aggressive schedule of chemotherapy a week later and recently had her knee, the bottom of her femur and all but three inches of her tibia removed and replaced with a prosthetic. Once she recovers from her surgery and continued chemotherapy treatments she will have to re-learn how to walk, her mother said.
"She has been awesome," Jenny Hatfield said. "She really has had a really good attitude through the whole thing and has been super positive, which kind of makes it easier for the rest of us to stay happy and positive through it all even though it has been a torturous hell."
Brown is currently running a fundraiser on Kickstarter to cover the production and exhibition costs of the 12 to 15 paintings he plans to create for the series. He estimates sales of the paintings could bring in $200,000 to $300,000. A large portion of the money would go to the Hatfield family.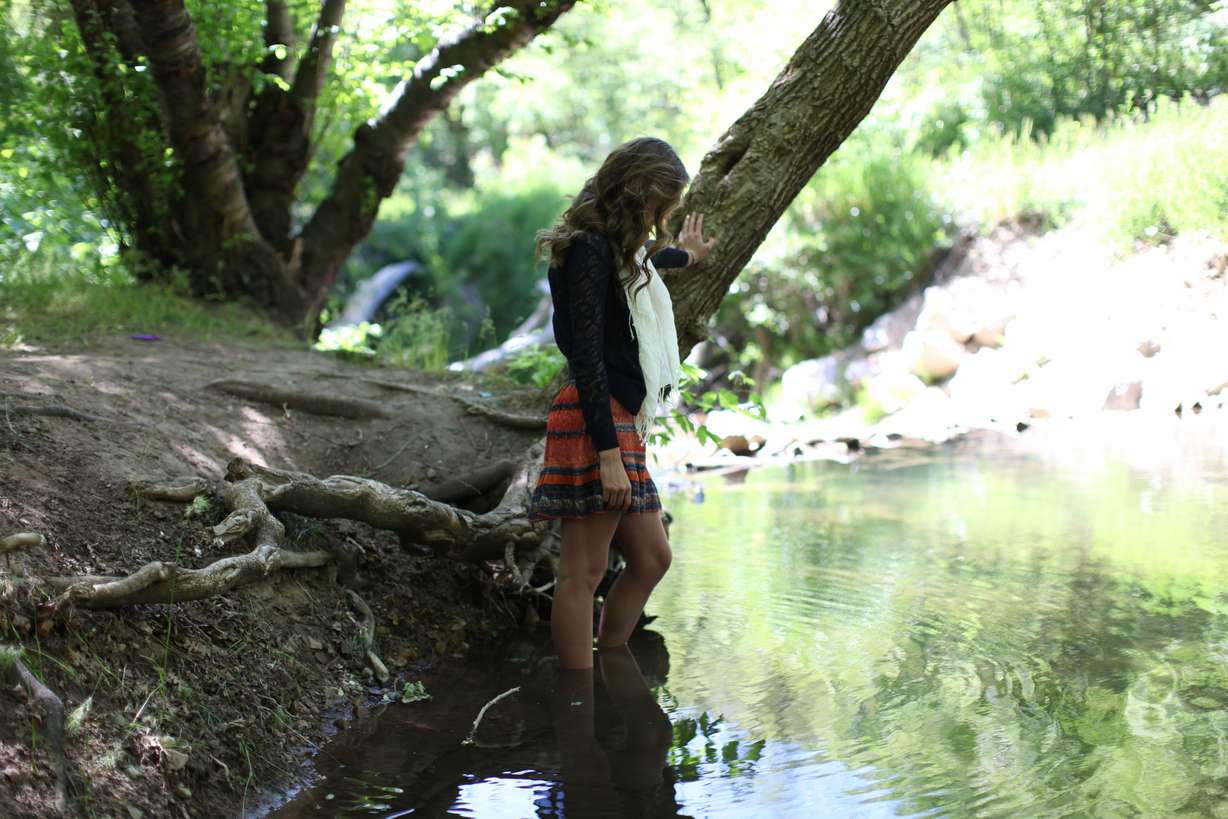 "The doctors came in after the diagnosis and when they were going to let the family know about the treatment they came in and didn't even ask her parents what they did for a living, they just said 'you can't afford this' and then told them how much it was going to be and it was some ridiculous number," Brown said.
Jenny Hatfield said if they are able to pay off their medical bills they hope to donate any extra money to childhood cancer research.
"Childhood cancer is so overly underfunded and people are so undereducated about childhood cancer," she said. "We all feel pretty strongly about the awareness (this project) is going to raise for childhood cancer and that is probably one of our biggest things we want to come out of this."
Brown said he hopes his classical training in Florence, Italy in the tradition of painting from 19th century Paris will help him communicate with viewers.
"I think this is an inspiring story and it's not necessarily my story, but one I hope to bring to people," he said.
Brown said Bre's natural skill as a model made it easy for him to come up with new ideas for paintings.
"Any emotion I'm looking for, she always tends to make a little better with a sort of natural gaze on her face or the way she places her hands," he said. "All of the things that can be really difficult for a model she kind of naturally settles into."
The exhibition is being planned for summer 2014 in Salt Lake City.
×
Photos
Related links
Most recent Utah stories