Estimated read time: 3-4 minutes
This archived news story is available only for your personal, non-commercial use. Information in the story may be outdated or superseded by additional information. Reading or replaying the story in its archived form does not constitute a republication of the story.
WINTER WONDERLAND — Decking the halls on a budget is as easy as raiding your closet, fridge and yard.
Turning your home into a place of holiday cheer doesn't have to take a lot of money or even time. Using materials from around the house and yard can produce beautifully decked the halls without much in the way of crafting skills.
Lights, lights, lights
String up extra twinkle lights around the house. Take the decorative shells off, use any size of stringed light bulb and turn a room, hallway or entryway into a magical place. Use removable hooks to hang them from the wall, drape them around the outside of a footboard or other furniture for a cozy ambiance.
Cluster candles together in candle holders, votives and sticks that vary by height, size and shape. Make them cohesive with a paint job or gather several holders in the same color. If you prefer your collection be eclectic, create some unity by using the same color of candles.
Make a winter wonderland
Cut out snowflakes from paper like your second-grade teacher taught you, then affix them to windows, pictures (turn that landscape into a winter landscape), hang them from the ceiling, light fixtures and staircases.
Related:
If you're feeling fancy, glue some glitter on them before sticking them all over the house.
Add greenery
If you have a pine tree, give it a trim and bring the sprigs indoors. Place it in a vase, shape it into a wreath with some floral wire, fill a mantel, tie some ribbon around it and attach it to dining chairs or turn it into a bed for a centerpiece.
Hang ornaments
Once you've trimmed the tree, hang extra ornaments throughout the house. Using ribbon or sturdy string, hang them from curtain rods or empty picture frames, chandeliers, tall ceilings or walkways. Use your ornament collection to create a temporary art display using removable hooks or hangers on a wall in need of a focal point. If you can safely hang it, do.
Add a garland
Garlands can be made of practically any material; pom-poms, construction paper, silk flowers, greenery, beads, popcorn, cranberries, sliced and dried citrus fruits, yarn, and many more items make a suitable and inexpensive garland when strung together.
Use a sturdy string, yarn or floral wire to connect your material of choice. If necessary, pull out a hot glue gun, but many just require a string and needle.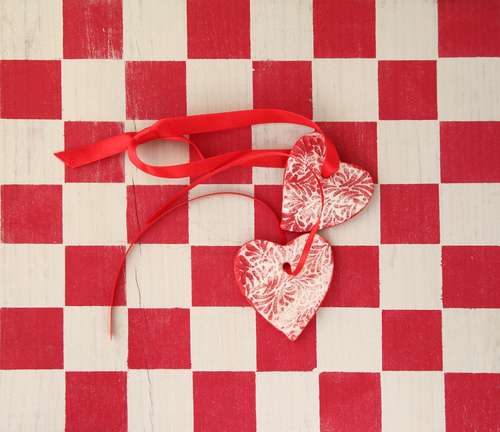 Salt doughIf your tree is looking a little bare this year, make up some salt dough, roll it out, punch a hole in the top with a straw and make some simple and inexpensive ornaments.
Cut them out in whatever shape you prefer and give them texture by pressing them with rubber stamps, lace, evergreen foliage, little hands or toes, silk flowers, or other textured items that aren't too precious to get a little messy.
Let them air dry (or bake, if you like them to puff up). From there you can paint them or cover them in glitter, or simply string them up with ribbon and be done. This craft can be as simple or involved as you want.
Hang them from a tree, garland, wreath or wherever else you can safely hang them.
If you need a recipe for dough, find one online.
Do you have some tried-and-true methods of giving your home holiday cheer inexpensively? Tell us in the comments.
×
Photos
Related links
Related stories
Most recent Lifestyle stories