Estimated read time: 3-4 minutes
This archived news story is available only for your personal, non-commercial use. Information in the story may be outdated or superseded by additional information. Reading or replaying the story in its archived form does not constitute a republication of the story.
LOGAN — Long before he joined the U.S. Air Force, studied engineering and drew NASA's attention back to a pushed-aside technology, Cadet Jacob Singleton learned about the wonders of space from a teacher passionate about astronomy.
Singleton, a mechanical engineering major at Utah State University and ROTC detachment wing commander, added an interest in space to a love of science when his sixth-grade teacher Mr. Robb taught the class about astronomy, bringing in telescopes for astronomy nights at the school.
"I think it was his enthusiasm for the subject," Singleton said. "I would say since then, I've loved space. And at different points, I've thought I would like to be an astronomer, but I think astronaut and engineer is where the application and those interests hit the road."
As a senior in high school, he decided to pursue the route of becoming an astronaut, studying engineering and joining the Air Force.
Recently, the Kaysville native was selected by the chief scientist of the Air Force to be honored with the Cadet Research Award. Each year, one undergraduate student in the nation receives the award for their research.
Singleton, along with a dozen or so other undergraduate students at USU, designed and conducted the ultraviolet-curable boom and control system experiment — an inflatable boom that would allow a satellite to use the Earth's gravitational field and the inertial characteristics of the satellite to point its camera toward the Earth passively.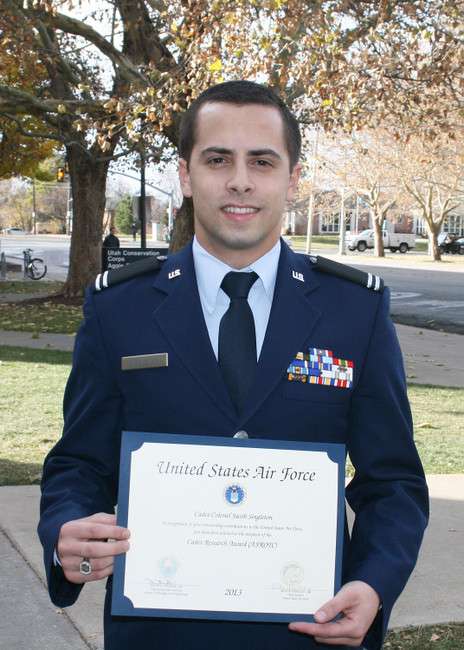 The technology the USU GAS Team utilized for the project had been shelved by the Advanced Technology Group some time ago. Now, Singleton said, NASA has started looking at it again. The GAS Team is hoping to launch their experiment, making it the first demonstration of the technology in space.
Whne Singleton and his mentors submitted the research to the Air Force for the award, he said he figured he would try, but didn't feel this was his year.
"I was completely surprised (to get the award)," Singleton said. "At the point when the award package was submitted, I figured it would be really cool to receive an award like that, but I've got a lot more research I'm planning on doing, so maybe I'll apply next year as well. … I went along thinking, 'We'll try, but I'll probably be in a better position next year.' "
Though Singleton has been involved throughout college — he was a team member on the USU Get Away Special Team's Cube Satellite, a USU Ropes Course instructor in summer 2012, a wing commander for USU's AFROTC detachment in the spring, currently a College of Engineering ambassador and has been working as a research assistant in the space dynamics lab since May, among other things — he said this award gives him a leg up that will extend beyond graduate school.
"I never would have anticipated starting off my career in this good of a position," Singleton said. "I have this Air Force-level award that I'm starting my career with that will follow me through my active-duty career inside the Air Force."
Singleton is in the process of applying to graduate school and he hopes this award will help him get into the Air Force Institute of Technology, where he wants to continue his engineering studies.
He is married to Mandy Singleton, a USU student as well. Together, they have a 10-month-old daughter, Aliyah and are expecting their second child next year.
×
Photos
Related links
Related stories
Most recent Utah stories