Estimated read time: 4-5 minutes
This archived news story is available only for your personal, non-commercial use. Information in the story may be outdated or superseded by additional information. Reading or replaying the story in its archived form does not constitute a republication of the story.
MURRAY — Shyanne Webb told her mom she doesn't need any Christmas presents.
Christmas came early this year for Shyanne, 9, in the form of a prosthetic ear. She was born with a condition called Microtia that left her without an ear or ear canal on her right side. A recent fundraiser helped to make her dream of having an ear a reality.
"I think we've had so much excitement we're both exhausted," said her mother Angela Webb. "That first Monday when we got the ear, that whole day was such an adrenaline rush and Shy had to take her ear for its first drive and take her ear to its first lunch and it was just so cute."
Webb was originally fundraising to cover travel costs to go to Virginia to get a prosthetic ear that had been donated to Shyanne. However, after starting the fundraiser Webb realized she could get an ear for her daughter locally for the same amount of money as it would cost to go to Virginia.
Now two kids will be able to benefit from all of the support they have received, Webb said. She spoke with the family in Virginia who donated the ear and said it will now be able to go to another child in need.
"That just really made Shy smile to think another kid is going to get what she is getting and will be blessed with a new ear as well," Webb said. "She would in a heartbeat let someone else have the ear if she thought it would help them and make them feel better over herself. That's just the kind of kid she is."
Related Story
Shyanne ended up having her prosthetic ear made by Paul Tanner at the University of Utah Hospital. The right ear was crafted and fitted to Shyanne during three visits. He molded the ear to match her left ear and then painted it to be the right color.
He wouldn't let Shyanne watch while he painted, so she was shocked when he turned her around on their last visit. Webb described him as a meticulous artist. He even pierced the prosthetic to match her other ear.
"She was surprised how real it looked and so many people who have seen it can't tell which ear is her real ear and which is her prosthetic ear," Webb said.
The first few days of having the ear were filled with showing it off to friends and family. Even her brother was surprised by how real it looked and had to touch it.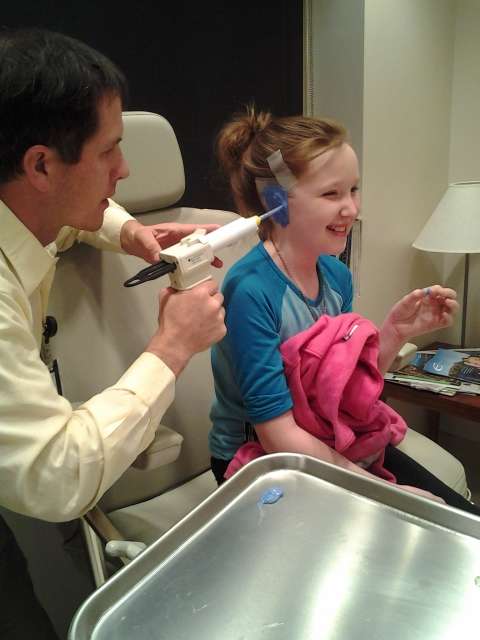 "It took both of us a couple of days to get used to it," Webb said. "Shy is still getting used to having something there. She is always touching it and making sure it's still there."
The new ear has given Shyanne a boost of confidence, her mother said. When she went to school the first day walked in with her head held high and her hands on her hips. Shyanne was smiling so much that it blew Webb away and made her well up with tears.
"It's amazing," Webb said. "She's just changed a lot in a more positive way with self-esteem and I told her that one day I hope she can feel this way about herself without the ear, so it's a great lesson."
Webb said they are taking things one step at a time. They raised more than $2,000 with the fundraiser but still have $1,500 left to pay off the prosthetic ear. Shyanne also needs a hearing aid to help her at school for another $8,000.
All of the help Webb has received has inspired her to give back to others, she said. After hearing about another family in need, she gathered others together to donate needed goods.
"(Shyanne's fundraiser) brought back my faith in humanity and now I want to bring back that faith in others," Webb said. "That's my next goal, after all of this is done. It's really cool how the universe works and these things happen."
Those interested in helping with the remaining costs of Shyanne's ear and hearing aid can make a donation at any Wells Fargo to account 7482816068 Shys Ear Fund.*
---
*KSL.com has not verified the accuracy of the information provided with respect to the account nor does KSL.com assure that the monies deposited to the account will be applied for the benefit of the persons named as beneficiaries. If you are considering a deposit to the account you should consult your own advisors and otherwise proceed at your own risk.
×
Photos
Related links
Most recent Utah stories