Estimated read time: 4-5 minutes
This archived news story is available only for your personal, non-commercial use. Information in the story may be outdated or superseded by additional information. Reading or replaying the story in its archived form does not constitute a republication of the story.
MURRAY — A bright young girl is hoping to travel 1,900 miles to finally receive what she's always wanted and many may take for granted: an ear.
Shyanne Webb, 9, was born without an ear and ear canal on her right side. The condition, called Microtia, affects her hearing and speech and has been driving frequent headaches that have recently been growing worse.
When she was growing up, Shyanne would ask her mom when her ear would grow. Now, an ear is within reach — Shyanne has benefitted from a fundraiser run by a New Jersey family whose son has the same condition. They raised enough money to get Shyanne a prosthetic ear from the doctor their son used in Virginia.
"The day we got that phone call I was shaking and in tears and telling Shy; she was in shock," said her mom Angela Webb. "It was just amazing."
The only thing standing between the prosthetic ear and Shyanne is travel costs. With airfare, hotels and car rentals, the travel will cost more than the ear, Webb said. They will have to take two or three trips on direct flights because of an uncertainty of how Shyanne will fare the plane's ups and downs.
A friend came to Webb, a single mother of four, with the idea of holding a fundraiser to cover the costs. Emily Jones and her husband have been using coupons and anonymously donating the money they save into charity accounts for years. So when she heard of a child in her own neighborhood in need, she jumped at the opportunity to help and she and her husband started spreading the word at work.
"She's a phenomenal little girl who has a lot of love to give and she deserves some love back," Jones said.
Webb said it has been hard for Shyanne growing up because of a lack of awareness about Microtia, which can lead to insensitivity. Most people don't think about it, and she didn't think about it herself until she had Shyanne.
"One of the first things people always say is 'at least she is a girl so she can have hair to hide it,'" she said. "Why does she have to hide it?"
Shyanne wore her hair up by her own choice for years and would tell everyone about her ear, Webb said, but recently she has become more self-conscious and started wearing earmuffs.
She has also been bullied by other kids at school and in her neighborhood. The first thing on her Christmas list was friends, her mom said.
Even though she has faced some difficulties, Shyanne is described as a generous and imaginative child who is always smiling, happy and positive. Jones said if she thinks someone needs a hug, she'll give it to them even before they know they need it.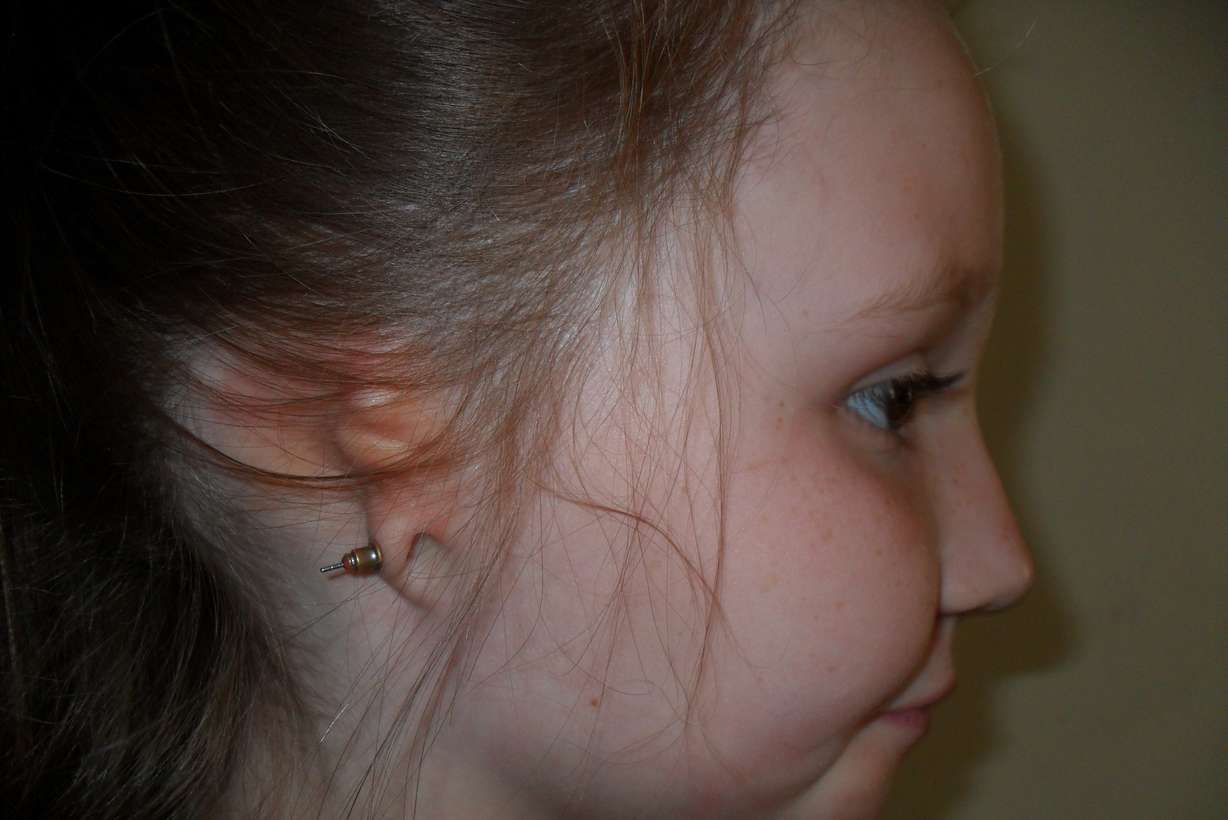 "She's always focusing on helping everyone else and wants to make them comfortable, even when she is in a lot of pain herself," Jones said.
Helping Shyanne has helped push Jones and her husband to become foster parents, Jones said. They are currently going through the application process, and they hope to someday adopt a child they foster.
"Once you meet her, she just changes your life in one way or another," Webb said.
Shyanne has new interests every day and loves The Littlest Pet Shop, drawing, music and dancing, her mom said.
"That girl has an imagination," Webb said. "It's great to see a kid who can still play and have an imagination."
Shyanne has worked really hard with her mom to be able to speak and listen when doctors said it might not be possible for her to live a normal life, Webb said.
"It's about her choosing her choices," Webb said. "The prosthetic is something she really wanted."
Related Story
She uses an FM system at school, with a speaker set up next to her right side, but she still gets headaches and the prosthetic ear will help to ease that.
"I hate to see someone who has so much potential struggle because of something she can't control," Jones said.
Webb said Shyanne has been really hyper since she found out she would be getting the ear.
"She's so excited – it's like 10 Christmases into one for her," Webb said.
It has been hard to ask for help, but the outpouring of support has restored Webb's faith in humanity when she was starting to lose it, she said.
"It's amazing how many people genuinely want to help," she said. "I've been blown away and my daughter is so excited."
Those who are interested in learning more about Shyanne or how to make a donation to help her travel to Virginia can visit her page on Give Forward. Donations can also be made at any Wells Fargo to account 7482816068 Shys Ear Fund.
*KSL.com has not verified the accuracy of the information provided with respect to the account nor does KSL.com assure that the monies deposited to the account will be applied for the benefit of the persons named as beneficiaries. If you are considering a deposit to the account you should consult your own advisors and otherwise proceed at your own risk.</http:></http:>
×
Photos
Related links
Related stories
Most recent Utah stories