PROVO — When Monti Poulson lived in Orem for 20 years, she used to take her children and their friends to the Creamery on Ninth — BYU's grocery store, ice cream parlor and grill.
"I always liked coming here with the kids," Poulson said. "It's just a cute little place. It looks like it's out of the '50s, and you can get hard ice cream and … it's a lot of fun."
Poulson has since moved to Salem and almost all her children are grown. However, she still frequents the Creamery to grocery shop and sometimes to grab a bite to eat before class at BYU, where she is pursuing a degree in severe special education.
"I buy food because it's so easy to run in here and grab milk and all those things," Poulson said. "You walk into Wal-Mart and it's two acres to get to the store, and here you just park next to the door and run in."
Parking, however, wasn't always so easy this past summer.
After enduring months of city and campus construction starting in April, the Creamery on Ninth, 1209 N. 900 East, is having a grand reopening this week. The store boasts an increase in parking spaces, new flooring and a soon-to-be-finished unloading dock.
"The first two months there were days we were completely blocked off," manager Jason Carter said. "It really hurt the business, because a lot of people were asking us when we were going to reopen. They didn't understand that we were still open."
---
The Creamery previously had 12 parking spots but now has 43.
---
Most of the problems came from construction for the Central Utah Project water pipeline along 900 East, Carter said.
A temporary parking lot behind the building didn't suffice and it was cut off a couple of times for four or five days, which deterred customers like Poulson and Diane Morrow.
"It was just a mess up and down Ninth East this summer, so it's nice to see it restored to normal," said Morrow, the dietitian for BYU Dining Services and the Missionary Training Center cafeteria.
The Creamery previously had 12 parking spots but now has 43. A new parking lot, accessible from both 900 East and Heritage Drive, has housing parking and 38 Creamery parking stalls. Carter said business is still down because people don't realize there is Creamery parking in the shared lot.
According to Carter, Creamery sales normally take a 30 percent hit during the summer, but this year they were down an extra 25 percent, mostly on the grocery side.
"It's recovered some, but I still continually hear about people asking where to park when they come shop here," Carter said. "I feel like some of the people who normally shopped here have changed habits and are shopping somewhere else now."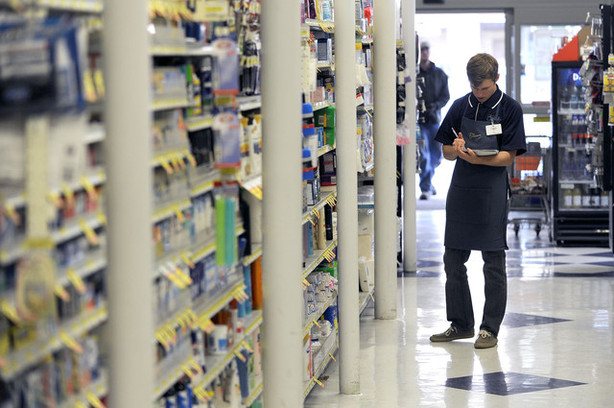 While the reopening is partially meant to win those community shoppers back, Carter said the main focus is always the students. About 120 are employed at the Creamery, which stocks most items a student would need with competitive prices.
Every day, up to 90 gallons of ice cream are scooped and 100 to 200 half-gallon cartons are sold, according to Carter.
The Creamery has been around since the original Creamery store opened in 1949 in a World War II Quonset hut where the Wilkinson Student Center now stands.
Its ′50s-style diner and flagship grocery store now sit on 900 East in Provo. BYU acquired the property in 1999 when Kent's Market closed and opened the Creamery on Ninth on Aug. 24, 2000.
The grill and ice cream parlor draw students and community members like the grandmother who brings her grandchildren every week and the student who always gets a tin roof sundae.
"There's one older couple that always comes, and they always get two malts and they're really cute," said Creamery employee Emily Olds, who started working at there after she moved from Las Vegas this summer.
Olds said the most popular flavor is Graham Canyon, and people usually like it in a cup with a cone.
Carter agreed that Graham Canyon far outsells any other ice cream — even the popular LaVell's Vanilla and Rocky Road. There are more than 40 flavors, including three new ones: BYU Mint Brownie, Woosh Cecil! and Bronco's Cocoa Bean.
×
Photos
Related Stories