SALT LAKE CITY — It's easier to whittle away at a project than procrastinate like a senior in high school — I know that.
Never throw at a batter's head, but his ribs are fair game — I know that.
I also know that you cannot shape a scenario that is more intriguing than a BYU-Utah football game in the Fight Hunger Bowl on December 27. It would be the greatest belated Christmas offering.
Just eight games into the season, BYU officially received their invitation to the Fight Hunger Bowl in San Francisco. The Cougars already had the deal in place, they just needed to reach the mandatory six wins to qualify. And like clockwork, the invitation was made and accepted.
Now it's Utah's turn to step up.
After BYU's bowl-qualifying win over Boise State on Friday, the Fight Hunger Bowl announced that BYU would play a Pac-12 team. It will likely be the No. 6 team.
Some bowl prognosticators have the Cougars matched up with Sean Mannion and the Oregon State Beavers. Max Hall and company smoked Oregon State 44-20 in the 2009 Las Vegas Bowl. I'm not interested in seeing that matchup again.
Scout.com has Steve Sarkisian's Washington Huskies taking on the Cougars. Senior defensive lineman Eathyn Manumaleuna remembers sending the Huskies home with a 23-17 loss in 2010. His bear paw tipped a pass on fourth-down at the BYU 27-yard line.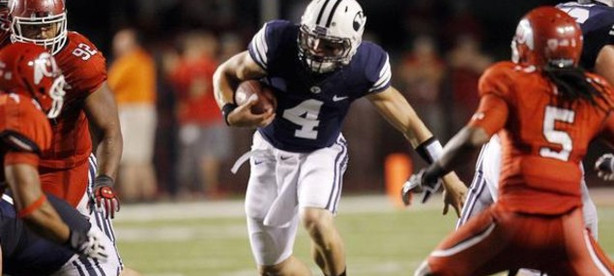 As the football gods sit high upon "Y" Mountain, they must see the importance of bringing together this pair of bitter rivals. Utah has owned BYU over the past four years with a two-year sabbatical staring these teams in the face.
I think BYU fans, players and coaches may be a reticent to open their hearts to another pounding — but, the positives far outweigh the negatives. If BYU loses again in the bowl game, it's just another loss — painful, but familiar.
However, a win would be transcendent. A true, end-of-the-season victory would breathe life back into the recently one-sided rivalry. BYU fans, players and coaches could give these seniors something they yearn for — a role-reversal, red-helmets skulking off the field in depressed hangdog fashion.
The Utes would have to go on a big run to make this happen. With four games remaining — Arizona State, at Oregon, at Washington State and Colorado — the Utes need to win two. Washington State and Colorado would be the most likely candidates, but Kyle Whittingham has been known to sneak in an upset or two.
There are 35 bowl games this season ranging from Florida to Hawaii. Outside of the markets whose teams are playing, most are forgettable.
No one will remember an Oregon State-BYU matchup. How do you sell that? But, a rivalry game — now, that's a game-changer. That's a story that will sell. That, I know.
×
Related Stories