Estimated read time: 9-10 minutes
This archived news story is available only for your personal, non-commercial use. Information in the story may be outdated or superseded by additional information. Reading or replaying the story in its archived form does not constitute a republication of the story.
SALT LAKE CITY — It's the annual week where fans all along the Wasatch Front declare their loyalty between BYU and Utah. Even if you don't follow football, it seems everyone expects you to pick a side.
With the two schools foregoing games for the next two years, the bragging rights among fans are at an all time high.
However, if you're unsure about a side, and don't want to be ostracized by your neighbors, one Utahn has made it easy for you to pick a team.
Looking at Facebook likes for the two teams, Kelly Francis, of Aero-Graphics, has compiled the data and has mapped the neighborhoods — all for you as the fan, who can't stand to be next to the opposing fan (this week).
"I thought it would be fun to see where the dividing line is with BYU/Utah fans," Francis said. "It is all Facebook likes. It's not really that scientific, but it kind of gives you an indication of which way fans are leaning."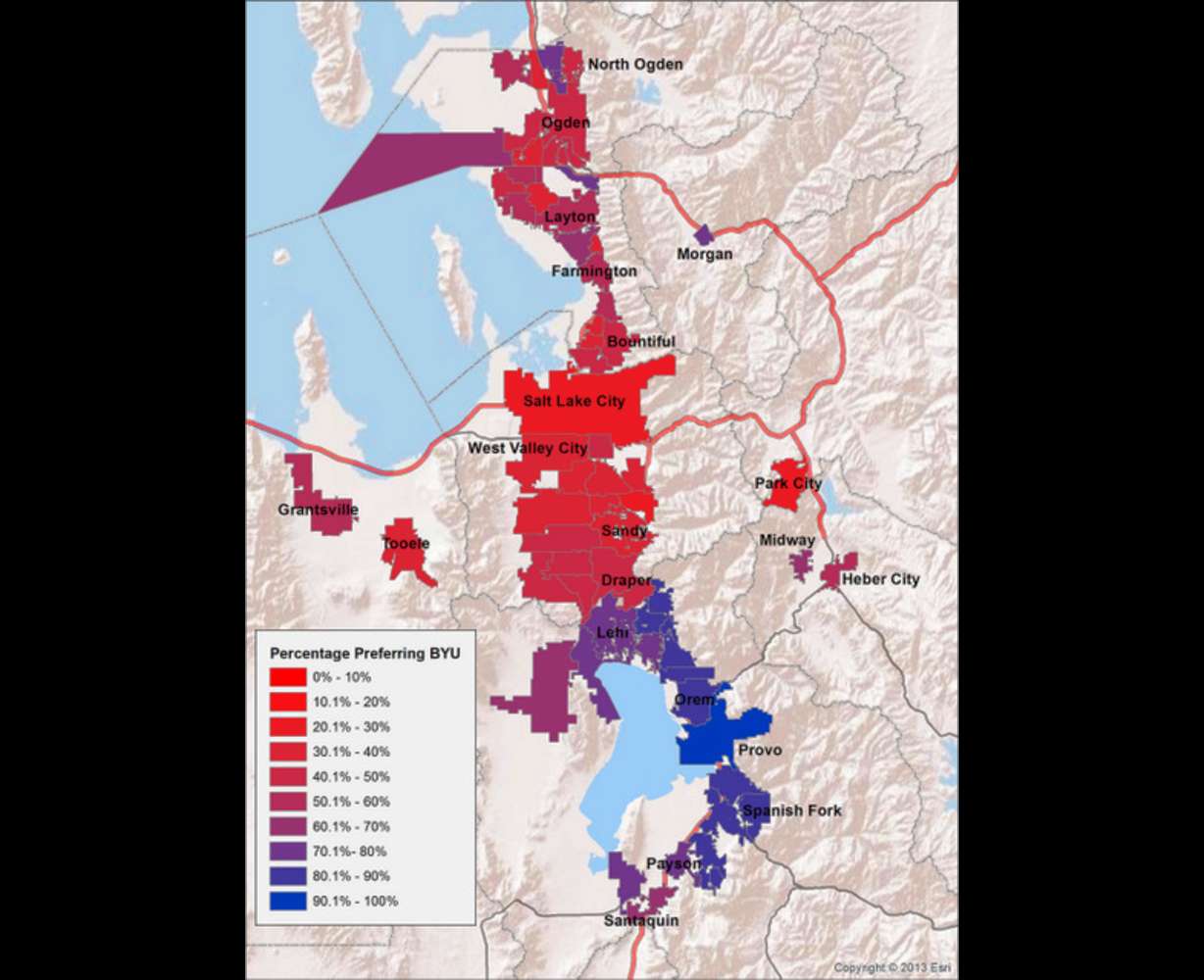 That data will come in handy for you if you're leaning for the Cougars and are looking to buy a house in Cottonwood Heights, which predominantly has Utah fans. Of the residents living in Cottonwood Heights, 72.7 percent of residents are fans of Utah.
If you can get past your Utah neighbors, you'll probably enjoy these fans who will only look down upon you for a week — unless BYU wins the rivalry game, and then you're in trouble.
If you're leaning toward Utah, you probably want to stay clear of Highland, which has 85.5 percent of residents favoring the Cougars. Who knows, though, maybe you want to cause some problems and be the one who aggravates your BYU neighbors.
And if you just want to live where everyone gets along, or at least it appears as though they do, South Jordan is the place to live. There are more Utah fans in the city, but by the slightest of margins at 50.3 percent. Either way, take note.
"It's not really that scientific, but it kind of gives you an indication of which way fans are leaning," Francis added.
If there is one thing about the data, though, BYU fans in Provo (92.2 percent) are bigger fans of the Cougars than Utah fans in Salt Lake City (71 percent) are of the Utes — simple facts based on Facebook. Let that sink in before the comment boards go crazy.
---
BYU vs. Utah fans divided
**City**
**BYU**
**% BYU**
**Utah**
**% Utah**
**City**
**BYU**
**% BYU**
**Utah**
**% Utah**
Provo
19600
92.2
1660
7.8
Elk Ridge
140
88.1
19
11.9
Alpine
780
86.7
120
13.3
Woodland Hills
120
86.3
19
13.7
Highland
940
85.5
160
14.5
Pleasant Grove
1920
83.5
380
16.5
Mapleton
500
83.3
100
16.7
Cedar Hills
580
82.9
120
17.1
Springville
1640
82.8
340
17.2
Orem
6600
82.5
1400
17.5
Spanish Fork
1860
80.9
440
19.1
Lindon
760
80.9
180
19.1
Salem
500
80.6
120
19.4
American Fork
1680
78.5
460
21.5
Genola
60
75.9
19
24.1
Harrisville
60
75.9
19
24.1
South Weber
180
75.0
60
25.0
Payson
820
73.2
300
26.8
Saratoga Springs
1080
72.0
420
28.0
Pleasant View
200
71.4
80
28.6
Morgan
240
70.6
100
29.4
Lehi
2600
70.3
1100
29.7
Midway
140
70.0
60
30.0
Santaquin
320
69.6
140
30.4
Eden
40
67.8
19
32.2
Mountain Green
40
67.8
19
32.2
Kaysville
1040
67.5
500
32.5
Hooper
120
66.7
60
33.3
Eagle Mountain
880
64.7
480
35.3
Sunset
60
60.0
40
40.0
Centerville
460
56.1
360
43.9
Layton
1680
54.9
1380
45.1
Plain City
120
54.5
100
45.5
Farmington
640
54.2
540
45.8
Clinton
360
52.9
320
47.1
Heber City
440
52.4
400
47.6
Grantsville
300
51.7
280
48.3
Syracuse
720
51.4
680
48.6
South Jordan
1900
49.7
1920
50.3
Riverton
1180
48.4
1260
51.6
Draper
1280
48.1
1380
51.9
South Ogden
160
47.1
180
52.9
West Haven
140
46.7
160
53.3
Ogden
1560
46.2
1820
53.8
Stansbury Park
220
45.8
260
54.2
Bountiful
1060
44.5
1320
55.5
Herriman
780
43.8
1000
56.2
Bluffdale
140
43.8
180
56.3
West Point
200
43.5
260
56.5
North Salt Lake
460
43.4
600
56.6
Washington Terrace
60
42.9
80
57.1
South Salt Lake
60
42.9
80
57.1
Riverdale
100
41.7
140
58.3
North Ogden
240
41.4
340
58.6
Farr West
80
40.0
120
60.0
Fruit Heights
80
40.0
120
60.0
Clearfield
340
39.5
520
60.5
Roy
500
38.5
800
61.5
Sandy
2000
38.5
3200
61.5
Taylorsville
600
38.0
980
62.0
Woods Cross
240
37.5
400
62.5
Kearns
320
37.2
540
62.8
Tooele
680
37.0
1160
63.0
West Bountiful
100
35.7
180
64.3
West Jordan
2000
34.5
3800
65.5
Midvale
320
34.0
620
66.0
Millcreek
19
32.2
40
67.8
East Millcreek
19
32.2
40
67.8
West Valley City
1040
32.1
2200
67.9
Holladay
260
31.7
560
68.3
Murray
620
31.6
1340
68.4
Salt Lake City
10600
29.0
26000
71.0
Park City
240
27.9
620
72.1
Cottonwood Heights
240
27.3
640
72.7
Magna
280
26.9
760
73.1
Credit: Kelly Francis
×
Related Links