PROVIDENCE — The whoosh of a sword. The clang of metal shaping red-hot metal. Hands smoothing the grains of clay on a spinning potter's wheel. If Steve Simmons gets his way, visitors may hear and see these things in a medieval village very soon.
Simmons is a retired teacher of everything from a one-roomed schoolhouse to a college classroom and a medieval-history enthusiast. He received his bachelor's degree in elementary education with a history specialty and has taught for 30 years. Now, he and his partners are working to build Somerville Manor, a medieval village and living museum in Providence.
In 1997, Simmons built a medieval village near Lava Hot Springs, ID, which he sold in 2002 in order to build one in Utah. The business deal fell through, but he didn't give up his passion. He has continued to teach medieval workshops in classrooms throughout Northern Utah and this last summer, he hosted camps for Boy Scouts and students in his yard near Providence.
In the last four years, with the help of his son, Simmons has been able to raise about $14,000 toward his goal. Simmons has also applied for a grant through Chase Bank that would put $250,000 toward Somerville Manor.
"We'll raise the money on our own, this grant would just make it so much quicker," Simmons said. "Our work ethic is such that we will get there one way or the other, but we would love to win the grant."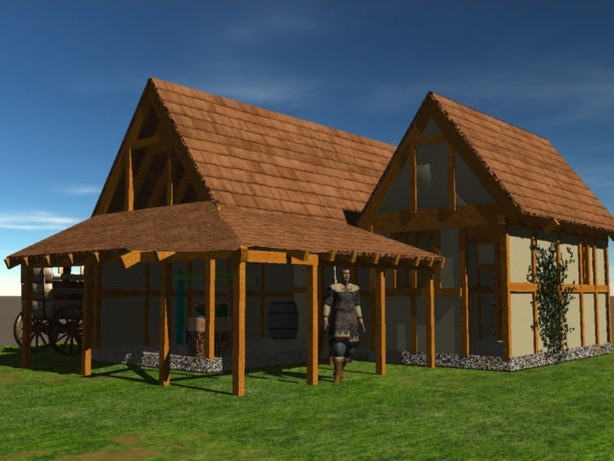 In addition to his son, Benjamin Simmons – a tinker and potter – has teamed up with a professor with a doctorate in medieval history, a blacksmith at This is the Place, a woodworker who works as a firefighter, another teacher and a web developer to make the workshops and future village an accurate reenactment of the past.
Simmons' vision is to create a place where classes, Scout troops and families can come to learn about history, medieval craftsmanship, chivalry and honor.
"I like sharing the chivalry, the honor, the positive side of the middle ages," Simmons said.
In addition to historical workshops and classes, he hopes to create a place for people to conduct research on their ancestors. Somerville Manor, he said, is a result of what he has learned about his ancestors the Somervilles – one of whom is said to have slain a dragon.
"We encourage people to learn about their ancestors. They're good people," Simmons said. "It's a fascinating history and it pretty much perfectly portrays the things that are in history that interests people."
As a teacher, he loves watching students come to an understanding of a subject.
"You've seen that cartoon where the light bulb comes on. Teachers actually see that," Simmons said. "That is an experience that feeds the soul."
Rachel Richardson, a member of the American Medieval Reenactment Society, sees Somerville Manor as a destination for weddings and celebrations as well as education and camps.
"I would like to see Somerville Manor come into the community because I think a lot of people aren't very familiar with the medieval time period," Richardson said. "There are places in Utah and across the country where you're able to go on field trips, say to This is the Place Park and see pioneer life but there's not really a place for people to see what it was like pre-1500s."
Like Simmons, Richardson feels that the positive messages of the medieval period could benefit students and families in the area.
"Their goal is to get the youth involved and teach them about the knightly virtues and chivalry," Richardson said. "Teaching them things they might not get in school that you have to get hands-on."
Anyone interested in classes, workshops or camps can contact Somerville Manor staff at 435-245-4040 or info@somervillemanor.com. Donations can also be made at somervillemanor.com.
×
Photos
Related Stories