SALT LAKE CITY — What motivates Steve Hatch to keep his chocolate shop open is seeing people laugh as they enjoy the shop's handmade treats.
Since he and his wife, Kate, opened Hatch Family Chocolates in the Avenues in 2003, they have made millions of chocolates and strong ties in the community, hosting movie nights and other activities, in addition to the chocolate shop. Earlier this month, however, the couple announced their financial struggles to keep the store open.
"[W]hile the net revenues from Hatch Family Chocolates has increased, it has been much slower than we had anticipated and we are struggling to raise enough revenues each month to fund our operations," the Facebook post reads. "Simply put, Kate and I need to raise $150,000.00 before January 1, 2014 or our building and business will be lost to foreclosure."
In 2009, the dessert restaurant moved from its 4th Avenue location to its current storefront on 376 8th Avenue Unit A. The location provided a storefront upstairs, as well as a 5,000-square-foot kitchen area below. The space allowed them to grow, but without enough capital, they have struggled to expand the shop.
"We bought it for the future, knowing that it would give us space so we wouldn't have to move again," Hatch said. "That's why we bought the building. It was important because it kept our retail portion just right upstairs from where we make it, which kept the quality up."
Hatch said part of the problem was finding a tenant that would not just pay the rent but fit their goals for the shop and area.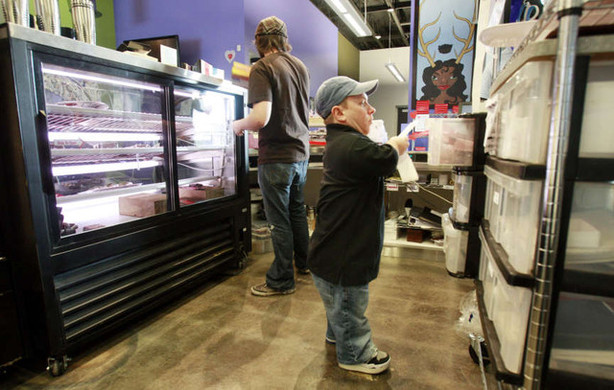 "Maybe that was foolish of us, but we thought it fit with the long-term vision that we thought would be better for the neighborhood," he said.
This last spring, the Avenues Proper & Publick House filled the longtime vacancy.
Largely, Hatch said, the timing of their move and expansion has negatively impacted them.
"Kate and I love what we've created. We feel that we are a part of the neighborhood. We feel that we've become part of people's families," Hatch said. "Our biggest problem is just time. We did it when the economy was crappy, and that definitely impacted us. But we still see that vision and we still see that if we're able to eke it out, we will get there. That's what we're creating, it's much more than a business."
For some time now, the Hatches have been looking for options. They have done "anything and everything," from entering contests to attending business seminars. But none provided the capital they needed within their timeframe. So they have turned to the public. They are looking for new ideas, but mostly, Hatch said, they are looking for an investment partner who shares their vision of a modern-day ice cream parlor and community gathering place.
"When you look at Salt Lake, what are the chocolate shops like," Hatch said. "Are they like that, or do you just go to a mall and grab a box of chocolates? What Kate and I wanted to do is create an atmosphere where you can come and laugh and eat chocolate. I think it's important for people. That's why I'm fighting for it."
The Hatches hope their vision and the role they play in the community will compel people to show their support. Hatch said he has seen many businesses go under without any notice to the community, who might have liked to have helped. He said announcing their struggles – and not being embarrassed about their situation – was important to them.
"People do have this misconception that we're just full of money," Hatch said. "I think that that's a really common error, and not just for us, but for any small business that people see. Being known in the community doesn't mean they're financially stable and they're going to make it long-term."
The Hatches have confidence in their product as well as their place in the community.
"I think we're providing more than just a chocolate shop or more than just an ice cream place," Hatch said. "We're trying to create a way for people to laugh and talk with people. I think there's importance in nostalgia. ...There's an importance in that for society."
×
Photos
Related Stories