Estimated read time: 3-4 minutes
This archived news story is available only for your personal, non-commercial use. Information in the story may be outdated or superseded by additional information. Reading or replaying the story in its archived form does not constitute a republication of the story.
John Hollenhorst reportingLions and tigers and bears--oh yes, and on display at Lake Powell no less. It's becoming a reality. A number of exotic animals have already arrived, and it's because a famous--or infamous--celebrity got into deep financial trouble.
Unless you've been living on another planet, you know times have been rough for Michael Jackson. His legal and financial troubles put his Neverland Ranch in jeopardy. Now, we've learned, the bulk of his private zoo is going to wind up near the shores of Lake Powell.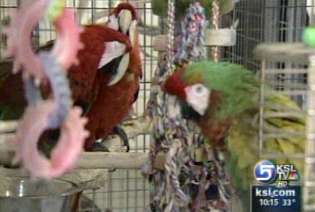 The folks at Lake Powell Waterworld have a new mission in life: rescuing animals. If you look inside one of their boat repair buildings in Page, Arizona, prepare for a shock. There you'll find Luna, a young Dromedary Camel.
Freddie Hancock, founder of Banjoko Wildlife Preserve, says, "People come, and they can feed her, and they can pet her, and she really interacts with people a lot."
Mixed in with the boats, ATV's and engine parts, there's also a flock of spectacular exotic birds.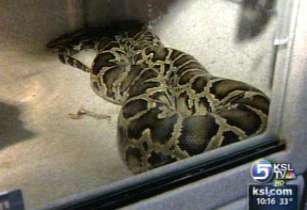 Celebrity names seem to be the standard. There's Spencer Tracy, the Hyacinth macaw, Scarlett O'Hara and Rhett Butler, and two Catalina macaws named Sonny and Cher. And here's a mouthful for you; we've got Lauren Bacall and Humphrey Bogart, the Moluccan cockatoos.
In a small shed, a couple of pythons have settled in, a long way from home. On a plateau with a distant view of Lake Powell, there's another building. Go inside and you'll encounter giraffes. The enormous residents range up to 3,000 pounds.
Hancock says, "This is like a dream come true, to have four giraffes that I can play with every day."
Hancock launched the Banjoko Wildlife Preserve to rescue exotic animals that owners give up or abandon. She says, "They're really cute when they're little. They grow up to be 450 to 500 pounds, and all of a sudden, the people can't take care of them."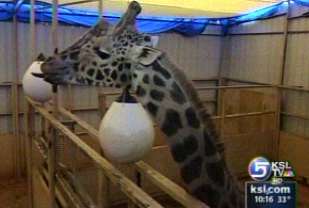 Most of the animals there came from Michael Jackson's private amusement park, the Neverland Ranch. Reportedly, he's tens of millions in debt and had to sell his beloved private zoo. Jackson's animal care staff was reportedly working without pay.
Banjoko park manager, Marc Chandler, said, "But their love for the animals, they were working as hard as they could, and the animal quality there, there was no fault at all."
Hancock's non-profit foundation stepped in and bought many of Jackson's animals, as well as other homeless creatures around the country. The next step is to fence a 185 acre enclosure and build natural habitats. Then they'll bring in the big guys: Jackson's alligators and tigers. A lion and black bears from elsewhere are also waiting.
After that fatal tiger attack recently in San Francisco, the park promises to meet a higher security standard than the law requires. Chandler says, "We will build everything here as safe and secure as possibly we can."
It will be a combined rescue mission, educational program and tourist attraction. Next week, they hope to get the final go-ahead from the Page city council. If fundraising goes well, the sanctuary may open to the public sometime next year.
×
Related links
Most recent Utah stories