SALT LAKE CITY — A new a capella group will be taking to the streets in between sessions of General Conference to uplift others Saturday.
"Beyond Measure," BYU's newest co-ed a capella group, will be sharing a spiritual set of hymns while working their way around the outside of Temple Square, said group director Eric Corpuz.
"There are a lot of protestors and interesting things that go on and we would like to take the attention away from those guys and keep the spirit of Conference," said business director Skyler Holman.
The performance fulfills part of the group's purpose, Corpuz said. Their vision statement says they are centered on the teachings of Jesus Christ and want to inspire others to come closer to their Savior through music.
"Something that we do want to be known for is doing acts of charity and service," he said.
Corpuz had the idea to form the group after he and Holman found out they hadn't made it into BYU's all-male a capella group Vocal Point, he said. Others have tried to start co-ed groups at BYU in the past, but none of them have been able to stick around as long Vocal Point and all-female group Noteworthy.
Related Story
The group is comprised of seven girls and seven boys who are all current BYU students. It has been hard to coordinate their schedules, but they practice two or three times a week, Holman said. They fund themselves and pay everything out of pocket.
"We didn't know things would work out the way they did," Corpuz said. "Everything really fell into place."
Corpuz said they want to differentiate themselves from a capella groups at other colleges who can be big on partying.
"We want to be a force for good in a capella," Corpuz said. "We want to show that we're not just another one of those a capella groups."
They said they try to have at least one or two service activities a semester. Most recently they sang as part of BYU's Best Buddies program, which partners students with people with special needs.
"We're always looking for opportunities to serve people and share the gifts of music," Holman said.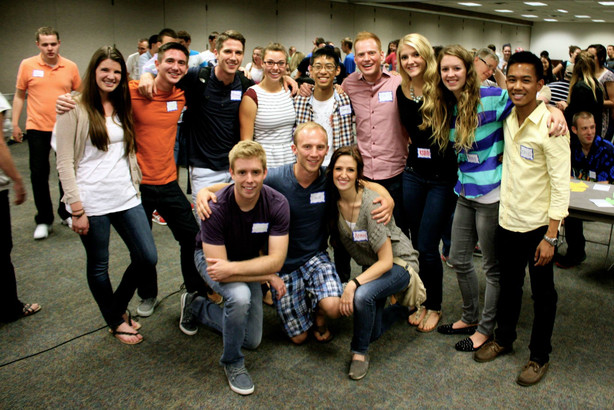 One of the founders of Vocal Point, Bob Ahlander, gave them advice on how to get started. He always focused on the "need to be undeniably awesome," Holman said.
"It's been really interesting just to celebrate with the group," Holman said. "There have been some times where we've finished a song and wanted to do backflips because it sounds so great."
The group has made their debut from social media, and Holman said that as a business major he has been amazed by the power it holds.
"It is really interesting to see how close people are to social media and how you can make nothing into something," he said.
They are currently working on their first music video and will have a breakout concert at Laguna Beach, Calif. on Nov. 16. The show is called "Undeniable" and will be for all generations, Corpuz said.
They also have plans for a fireside in Logan in November.
"There have been other people who have tried to put together co-ed groups, but we want to be the ones who stick," Corpuz said. "We have an amazing group and amazing opportunities."
×
Photos
Related Links
Related Stories