This archived news story is available only for your personal, non-commercial use. Information in the story may be outdated or superseded by additional information. Reading or replaying the story in its archived form does not constitute a republication of the story.
SALT LAKE CITY — At the beginning of the short film "Dominus" viewers can't be sure who the good guy is. As a masked man wearing all black drags a pickaxe through the dirt, breaking the dry ground behind him, it's only clear the world is oppressive and dismal.
That suspense and instant immersion in the world of the Dominus — a 15th-century style doctor's plague mask with a Big Brother-like purpose — was exactly what local filmmakers Arrius Sorbonne of Spark Atomic, English major Ellesse Balli and Nate Balli of The Moniker production company hoped would come across. The post-apocalyptic film was one of five winning short films for Canon's Project Imagination Film Contest.
The film competition was judged by Ron Howard, Bryce Dallas Howard and a panel of other expert judges. As winning filmmakers, Sorbonne, his sister and brother-in-law will head to New York for a premier of the winning films, as well as a cash prize. But the prizes are only the icing on the cake for Sorbonne and the Ballis.
"We were so, so excited to go to this event, but even more that, the fact that Ron Howard saw something that we made," Sorbonne said. "It's cool because there's prize money for us and a free trip to New York, but I'm just happy Ron got to see something that we did. It's so exciting."
Each of the films in the contest were inspired by 10 images, nine of which were selected by the filmmakers. "Dominus" filmmakers used the inspiration photo provided by Canon — a snail "discovering" its reflection or itself, as Sorbonne described it — as the main theme of their story.
Canon's Project Imagination Film Contest
Watch "Dominus" as well as the other winning films on the Canon contest webpage HE RE.
"We just thought, 'What would happen if someone never took off their mask? What if there was a society where they were so scared of a plague or a disease that they had never even shown their face to another human being?' " Sorbonne said.
He and his sister, Ellesse Balli, wrote the script and his brother-in-law Nate Balli worked as the cinematographer and editor. Together, they chose a photo of a plague mask as a way to differentiate their film from others in the competition and create a unique world and story.
"We thought, 'Well, that's a really interesting character and how can we tell a story about him? Then we can add the other photos in to help us create and craft a story," Sorbonne said.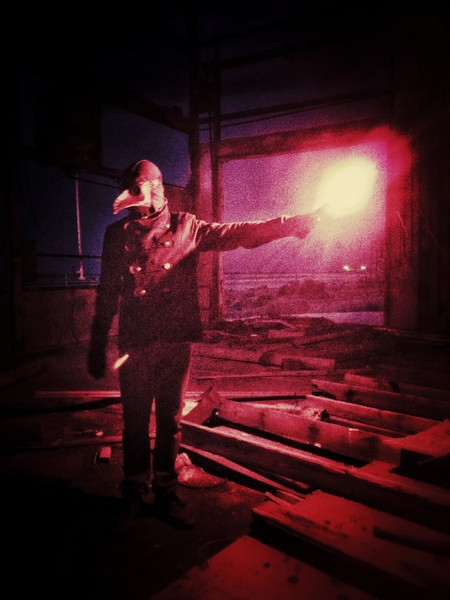 The masks, Sorbonne said, took up much of their $400 budget. Nate Balli found the leather masks on Etsy from a leather craftsman who specializes in middle-aged era leatherwork for Hollywood films. Though expensive, the masks were essential to the story the filmmakers were creating, Sorbonne said. With their budget, they were only able to purchase two masks and used CGI to impose additional masked characters in some scenes. The entirety of the film was shot in Utah, including the ethereal Salt Flats.
"We did this whole film for $400, which we were pretty excited about. We didn't have any donations or anything so we knew that was our budget and we just went with it," he said. "A lot of the other films had some big crews and spent a lot of money. So we asked, 'how can we do this for really cheap but come up with a cool story to tell?' "
Sorbonne said his friends and family have expressed surprise at how dark the film is. He said he doesn't see that as his style, but he values mood in film.
"I don't see it as dark, I just think of it is how I wanted to show this world. I'm totally open to do a comedy or something different," Sorbonne said. "But if you want to tell a story, go all out and immerse the audience in that world. When we choose a style, choose a feeling, we want to do it really well."
Overall, Sorbonne said, he enjoyed working with his family on the project. He said they plan on working together on more fictional film projects in the future.
"It was just awesome to do something with the family. Nate and I have worked together before on stuff but it was just cool to also be involved with my sister," Sorbonne said. "She's an English major, so it was cool working with her and her writing abilities. I think what really made the piece was that merger of music and the visuals. I did the music and Nate is an amazing cinematographer. I just can't say enough about his work. It's pretty amazing."
The three will attend the film premier in New York City at the Lincoln Center on Oct. 24. Watch the winning films, including "Dominus" HERE.
×
Photos
Related Links
Related Stories