This archived news story is available only for your personal, non-commercial use. Information in the story may be outdated or superseded by additional information. Reading or replaying the story in its archived form does not constitute a republication of the story.
SALT LAKE CITY — Workers Compensation Fund is seeing a slight increase in the number of workplace injury claims in 2013, but the real concern is the severity of claims and the number of fatalities. As of the end of August, WCF saw a three percent increase in claims count, but had received 14 fatality claims compared to seven in 2012. Eight of the fatalities were in the second quarter alone.
"We are seeing an uptick of work in more hazardous occupations," said WCF senior vice president of claims, Charles Pugh. "With the influx of untrained or unconditioned workers, it is absolutely vital for employers to remember the importance of workplace safety."
WCF is also seeing an increase in claims cost. More than 75 percent of WCF's total claims costs are medical expenses. The average medical cost per claims has increased 8.2 percent annually over the last decade.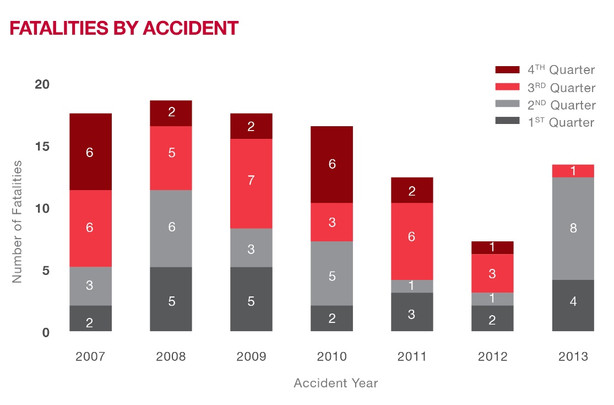 "We not only see the direct impact on families when loved ones are injured on the job, but the economic toll on businesses when workplace safety doesn't get the attention it deserves," said WCF CEO and president, Ray Pickup. "According to OSHA, costs associated with occupational injuries and illness can comprise as much as five percent of a company's total costs."
The estimated national annual price tag of occupational injuries and illnesses is $250 billion according to a recently released study funded by the National Institute for Occupational Safety and Health (NIOSH). That figure is $31 billion more than the direct and indirect costs of all cancer, $76 billion more than diabetes and $187 billion more than strokes. Occupational injuries and illnesses have risen by more than $33 billion (inflation adjusted) since 1992.
"Most injuries are preventable," said Pugh. "I encourage companies to look at their risks, even simple risks. Nearly one-fourth of our injuries come from a simple slip or fall. Small preventable measures can make a significant difference."
According to WCF's 2013 claims data, an accident such as a slip or fall can have a big price tag. On average, a slip/fall claim costs $8,450.
"Keeping workers safe requires a consistent, diligent effort by employers, who have many competing priorities. But it is worth the effort," said Pickup. "Employers who maintain safe work environments enjoy lower insurance premiums, the respect and appreciation of their employees and the satisfaction that they have spared individuals and their families the pain and tragic difficulties that frequently accompany serious accidents."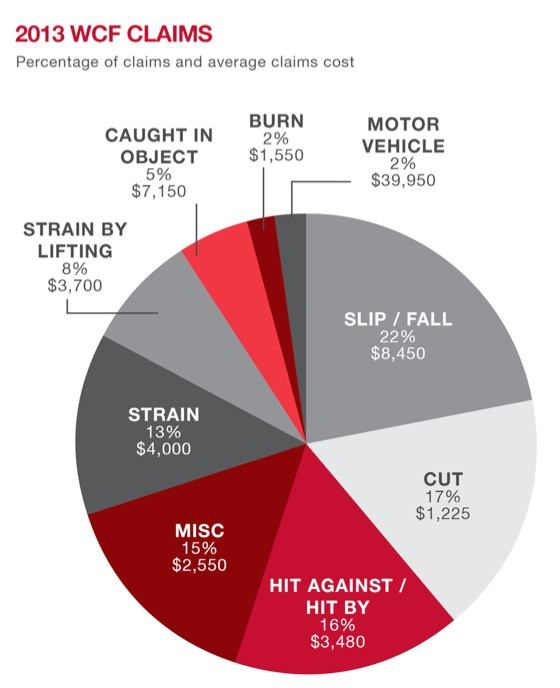 For employers looking to enhance their safety programs, WCF's safety team recommends the following measures.
1. Obtain senior management's commitment to a safe workplace
2. Organize an employee safety committee
3. Develop an incentive program with monthly, quarterly, and annual goals
4. Require drug screens for all new hires, after every accident, and randomly for employees.
5. Investigate every accident and make the appropriate corrections to avoid a similar accident
6. Implement and enforce common sense safety rules relevant to your type of business
7. Communicate a caring attitude to your employees
8. Establish a mandatory seatbelt policy
×
Photos