This archived news story is available only for your personal, non-commercial use. Information in the story may be outdated or superseded by additional information. Reading or replaying the story in its archived form does not constitute a republication of the story.
OREM — When Emmalee Gunn's brother took her flying, she knew at that moment that she wanted to become a pilot, too. Now a certified commercial pilot, she is one of two Utah Valley University students selected as a United Airlines intern.
Gunn, along with fellow Wolverine Trevor Snyder, starts an internship with United in mid-September. They were two of six students selected from across the nation to work with the airline. While Snyder heads to Denver, Gunn is getting ready to move to Houston for her internship.
Both will be working in United Airlines offices, but will have an opportunity to observe pilots in the cockpit during a commercial flight during their internships.
Snyder hopes to become a captain of a Boeing 787. The Thousand Oaks, CA native's dreams of flight started when he was 10 years old. He settled on commercial flight after he visited an Air Force Academy for a week, only to realize the military was not for him. In 2009, he began studying aviation at UVU.
"My experience has been very positive here at UVU," Snyder said. "It's just a great environment. Getting to know other pilots has been really fun. ...It's just been really fun to hang out with people who share my passions."
Snyder felt his dream being realized when he flew 6 ½ hours back to his hometown in his second year of training.
"It just made me feel like a real pilot and I thought, 'I am actually using all these things I've learned and this is real.' It's helped me realize I'm getting closer to my dream of wanting to be a pilot," Snyder said.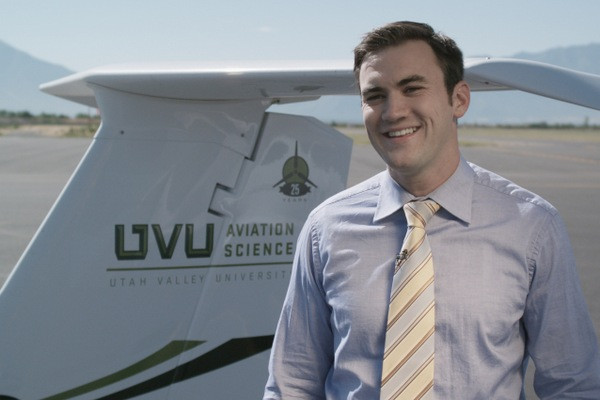 For Gunn – who has been studying aviation since high school – her first solo flight was a defining moment for which she has "no words to describe."
"I feel like there aren't really words to describe what it's like to go flying by yourself for the first time," Gunn said. "The nerves are going, the excitement is going; there's a little bit of scariness there because if anything happens to this plane, I have to take care of it. It's a really amazing experience — I don't think I'll have another experience like that again."
Gunn will be working with United to help pilots reduce paper use in the cockpit, by switching to iPads instead. The internship will also provide about 30 hours of 737 simulator training time, which will prove invaluable to her as she works toward becoming an airline pilot.
Gunn said her experience as an aviation student has been positive and she has gotten to study alongside and learn from other female pilots. According to Women in Aviation, only 6 percent of pilots are women. Gunn is hopeful about the future of women and encourages girls to pursue their interest in the field.
"I think about it that I am still going to be a minority when I make this a profession. I'm really excited about it. Every day it's changing and I feel like everyday women are getting more and more respect."
Though she occasionally runs into prejudice in the field, it has helped her push herself harder and she feels a shift is happening.
"In aviation, I feel like they expect more out of girls because we have to prove to them we can do this," Gunn said. "We're getting to the point where people are realizing, 'oh, women can fly and be just as good as guys can be.' I think it's awesome and I'm happy I can be part of this ongoing growth of women coming into flying."
×
Photos
Related Links
Related Stories