SALT LAKE CITY — There is and there isn't a rivalry between police and firefighters. We work as a team when problems come up, but there is always that little desire to beat them when it comes down to anything else. We like to dig on each other when given the opportunity. Like the saying goes, "The reason they made police is so firefighters could have heroes, too."
Just get us in a room together, and the jokes are bound to start. Firefighters are the people who couldn't pass the police exam. Police are the people too out of shape to be firefighters. You know what cops and firemen have in common? They both want to be firemen. You know how a fireman passes away? The remote falls out of his hand. The only reason cops are allowed on scenes is because firemen are busy and someone needs to direct traffic.
Here's how firefighters identify a HAZMAT chemical using cops: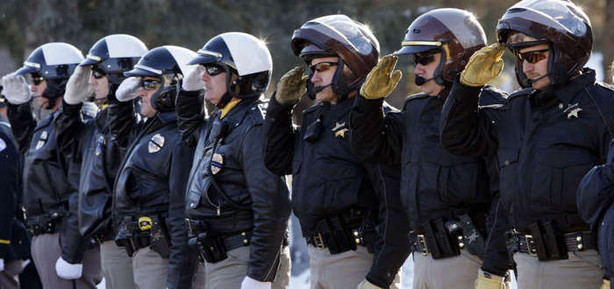 Method 1. Officer standing/car running: Not hazardous
Method 2. Officer unconscious/car running: Toxic fumes.
Method 3. Officer unconscious/car stalled: Oxygen displacing chemical.
Method 4. Officer/car both melting: Acidic chemical.
Method 5. Officer/car on fire: Extremely flammable.
Here's how cops can tell if a scene is dangerous and how many officers are needed via firefighter:
Scenario 1. Six large firemen standing around an unconscious person. One cop needed, low danger.
Scenario 2. One fireman (new guy) talking to crazy person, other five snickering in truck. One cop needed.
Scenario 3. Fire truck and firemen around corner from scene. Two cops needed, medium danger.
Scenario 4. Fire truck and firemen several blocks away. Several cops needed, high danger.
Scenario 5. Fire truck and firemen at station, sleeping, eating, watching TV, playing video games, telling each other how awesome they are. Standard work day, no cops needed.
T-shirt idea: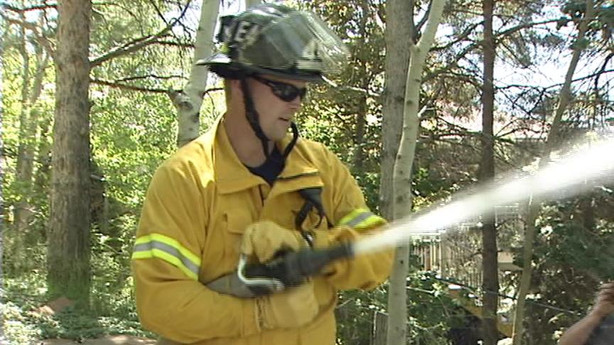 FIREFIGHTERS — saving foundations and lots since 1850.
COPS — lining the pockets of divorce attorneys and liquor stores since 1751.
It does seem, though, that in the popularity contest firefighters always seem to kick our butts. It doesn't matter what they do, the public loves them. Firefighters can chop holes in your house and cut your car in half and they are praised for their bravery. A cop breaks a window to save a child inside and the department gets sued. Firefighters drive to the store in their truck that gets two miles to the gallon to get groceries and receive thanks from all those around them. A cop sits in a parking lot doing a report for too long and gets a complaint for idling.
When the fire department goes to the mayor and asks for a raise or better benefits, serious consideration is given because they have a tough job and look great without shirts. If a police department goes to the mayor and asks for a raise, the mayor begins laughing uncontrollably until his ego shoots out of his nose.
There are several opportunities for us to compete. They are in the form of "Guns and Hoses" sporting events. We have softball, basketball, hockey and even sometimes boxing events. These events can get very competitive, but everyone is a good sport. Just watch out for firefighters in basketball, they foul.
We are very similar in many ways. We both wear uniforms, we both drive vehicles with lights and sirens and we both are first responders to problems. Our main job is to save lives, but our responsibilities beyond that change drastically. No matter the perceived rivalry, we work great together when the crap hits the fan. There is no better team you could ask for. This is the way it will always be, and if you ask us or them, we will give each other a lot of respect.
Firefighters and police have accepted the good and the bad of their jobs. Police accept that they won't be liked all the time, are under-appreciated and unrecognized for the job they do. Police will also admit that it's the best job they have ever had. Firefighters also accept that they have to be in parades, kids idolize them, women throw themselves at them … man, I want to be a firefighter.

This article is for entertainment purposes only and should not be taken as legal advice. I do not represent any specific agency or government. Please send questions to askacop@ksl.com
×