This archived news story is available only for your personal, non-commercial use. Information in the story may be outdated or superseded by additional information. Reading or replaying the story in its archived form does not constitute a republication of the story.
SAN DIEGO, Calif. — Marine Corps boot camp is grueling — physically, mentally and emotionally. The three-month grind breeds a reputation as one of the toughest challenges a human can endure.
Salt Lake has the largest geographic recruiting area in the U.S., so for Marine recruits in Utah or a neighboring state, the journey starts here. But, that path gets much tougher when the recruits get off the bus in San Diego at Marine Corps Base Camp Pendleton.
None of the recruits will forget the first night. Straight off, they encounter yellow footprints, which are legendary to generations of Marines.
"Once they get on the yellow footprints, we are going to teach them the position of attention," said Sgt. Paul Espindola, a Marine Corps drill instructor. "We're going to tell them what we expect from them, meaning to move fast, be loud and do everything with speed and intensity."
When the recruits get it wrong, they get special attention. Even if they get it right, they get special attention.
"Some of them come with an attitude, and we try to take that from them right away because there's a big process that we have to get done," Espindola explained.
The young men are scared but excited.
Recruit Dalton Peterson, from Ogden, said, "They're trying to strip you down to something they can work with."
Peterson is slated to graduate from boot camp July 3.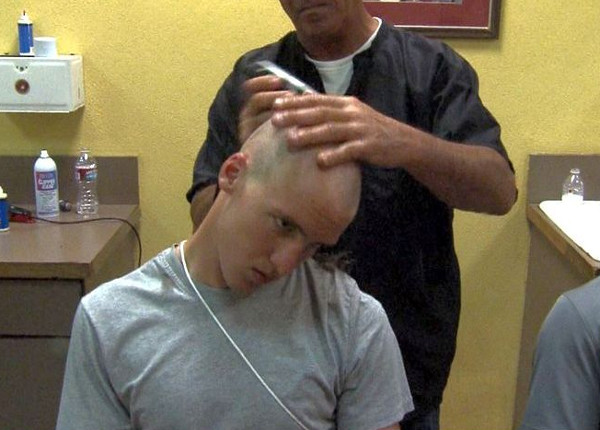 "I think it shows that you want to hold yourself to a higher standard. You want to be a person that not only the guy to your left and right can rely on, but the rest of the civilian population as well," he said.
A total of more than 400 fresh recruits will report this week, and 17,000 male recruits from states west of the Mississippi will hustle through the doors this year. Females, who now comprise more than 6 percent of the enlisted force, go through boot camp at Parris Island, SC.
The new recruits get one frantic phone call home with a drill instructor barking in their ear. They give up their civilian clothes and possessions, and they lose all of their hair on that first night.
Over the next three or four days, they continued the intensive intake process. Then on Friday, they met the drill instructor who will take them through boot camp.
Sgt. Phillip Haly told them, "You will not say another word until I'm done speaking. My name is Sgt. Haly and I am your senior drill instructor."
Next week on "Boot Camp Diary"

Of course, the physical training of boot camp is legendary. Next week on "Boot Camp Diary" we'll take you through the Marine combat fitness test and the bayonet course.
It's another introduction they will never forget.
"We will give every effort to train you, even after some of you have given up on yourselves," he said.
Ethan Pfister, a Marine recruit from Salt Lake City, said, "There's a reason behind everything."
"It has been tough," he added. "Every once in a while there have been days when I questioned myself. But at the end of the day, it's been worth it."
Peterson said, "It wasn't meant to be easy. You wake up, you say, 'Whoo, it's going to be a better day. I'm going to push on.' "
×
Photos
Related Stories