SALT LAKE CITY — Many Utahns know the members of the First Presidency of the Church of Jesus Christ of Latter-day Saints. But many may not be quite as familiar with their wives: Frances Monson, Kathleen Eyring, and Harriet Uchtdorf.
These are the women who lovingly stand by their husbands as they lead the faith. They also support and nurture their families. KSL asked a child of each one of them to share thoughts and reflections about their mothers.
Ann Monson Dibb, Daughter of President Thomas S. Monson and Sister Frances Monson
"She's always one to listen and maybe to just offer just a few words of what she would do if she were in that same situation."
"It was more just her constant example that became the greatest influence in my life."
"I think my mother had a lot of patience and she also recognized that things didn't get better necessarily because you might complain about it."
"Part of my parents belief is that you have to create memories for your children and grandchildren."
"She's always been my best friend and i knew that i was her best friend as well."
"There's just a sweetness and a beauty about my mother that's come through these years that I've just become so aware of and so grateful for."
"She continues to go on because of her love for us."
Related:
"Mother, I love you because you've always been there for me and you've given your family everything. I love you."
John Eyring, son of President Henry Eyring and Sister Kathleen Eyring
"I would walk in the door from school, and she would say, 'John, sit down. I want to tell you a truth.' It would inevitably be the things I would need most in life to know."
"My mom loves languages. She learned German and French as a college student. And so you can imagine how delighted she was when she met Sister Uchtdorf! And immediately launches, whenever she sees her, into German."
"She had, in my opinion, he very best mix of a very calm and quiet heart and an ability to express herself with and through the Holy Ghost, in a way that made all the difference in our home and in our lives growing up"
"I love you, Mom, because you love the Savior."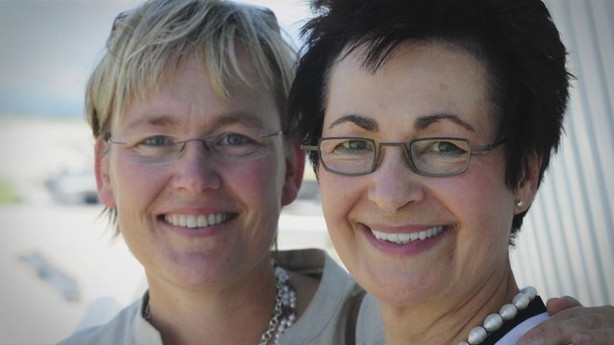 Antje Evans, Daughter of president Dieter Uchtdort and Sister Hariet Uchtdorf
"My mother, she is a ray of sunshine.
"She's a very independent woman who has a great sense of humor. She's very witty and very wise."
"She is the sunshine of (President Uchtdorf's) life, and the sunshine of our life."
"She has such interest in life and in people and in places and she just always wants to expand her mind all the time."
"She was the one who set the tone at home, especially as my father was traveling quite a bit but that wasn't a problem for her."
"She was there to ask the right questions and to give me the advice that I needed and I felt better and I really, really appreciated her being so in tune."
"You're the best. I love to be with you, I love to laugh with you. I can't think of a bigger blessing than having you as my mom. Happy Mother's Day!"
×
Photos