This archived news story is available only for your personal, non-commercial use. Information in the story may be outdated or superseded by additional information. Reading or replaying the story in its archived form does not constitute a republication of the story.
SALT LAKE CITY (AP) - Out of the grip of the federal prison system, environmental and climate activist Tim DeChristopher plans to make Harvard Divinity School his next stop.
DeChristopher, 31, has achieved folk status and inspired a documentary airing Monday - all for grabbing a bidder's paddle and running up prices at a federal oil-and-gas lease auction, trying to safeguard wild lands near Utah's national parks from drilling.
The University of Utah economics graduate had no money for his $1.8 million in winning bids, and authorities prosecuted him aggressively, enshrining his place in a new, celebrity-backed movement.
DeChristopher said 21 months of incarceration left him "stronger than ever." He served time at federal prisons in California and Colorado and at a halfway house in Salt Lake City before his release on parole Friday.
"On the whole, my life in prison was low-stress in many ways," said DeChristopher, who celebrated by sipping champagne from a paper cup at Ken Sanders Rare Books in Salt Lake City, his federally-approved day job while at the halfway house.
He marked time in prison by listening to Democracy Now on his headphones, taking kitchen duty chopping vegetables, lingering outdoors and lifting weights. At 210 pounds on a 5-foot-10 frame, he looks like the football player he was while growing up in West Virginia, with a shaved head.
"There wasn't a lot I could control, so there wasn't a lot to worry about," DeChristopher said of the minimum-security prisons. "If not a vacation, it was a retreat - like a monastery."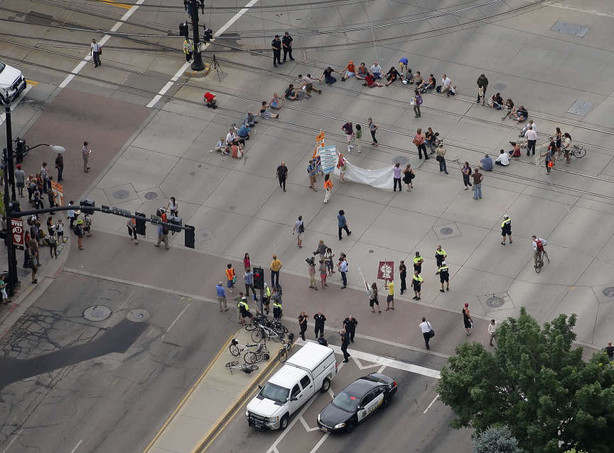 His lawyers warned DeChristopher - who rejected plea bargains for as little as 30 days in jail - that a stretch in prison could break him. His 22 days in an isolation unit last year at the federal penitentiary in Herlong, Calif., didn't help.
DeChristopher was punished for using the word "threaten" in an email about wanting to return a questionable donation made to his legal defense fund. He had to bunk with a deranged tax protester and endure screaming from others "losing their mind, breaking down" in round-the-clock isolation.
"It was definitely challenging," he said. "I had to distance myself for self-preservation."
DeChristopher plans to hit the speaking circuit and film festivals, working at the book store at times before enrolling in the fall at Harvard Divinity School, a nondenominational school for aspiring religious leaders. A Unitarian, he hopes to become a traveling minister for social activism after graduation in three years.
The documentary "Bidder 70" that chronicles his life's journey will be simultaneously screened Monday in Salt Lake City and at about 50 other locations around the country, from theaters to churches and auditoriums. After the local showing, DeChristopher will give remarks and take questions by Twitter.
DeChristopher represents a new generation of peaceful civil disobedience, his supporters say. He was frustrated and angry by inaction on climate change, and is credited with inspiring others to occupy Washington office buildings and chain themselves to the White House gates.
Related:
"He's very much the Rosa Parks of climate activism," said Scott Glosserman, founder and chief executive of Gathr Films, which is helping distribute "Bidder 70" through unconventional channels. "He really created a spontaneous movement. He found himself at a time and place where he could act. He stumbled into the auction."
DeChristopher had been following plans for a final Bush administration auction in December 2008 of drilling parcels that were creeping closer to Utah's red rock national parks, where he spent many wilderness sojourns. At a protest outside the Bureau of Land Management's Utah office, he slipped indoors and was invited by a desk clerk to sign up as a Bidder No. 70.
He ran up prices for oilmen who complained they had to pay hundreds of thousands of dollars extra for parcels, and he ended up with more than a dozen leases near Arches and Canyonlands national parks.
By then, without maps, diagrams or a consulting geologist at his side, he was hauled out of the auction hall for questioning. He acknowledged he wasn't a real bidder.
DeChristopher was released but indicted by a federal grand jury months later, even as his lawyers pointed out that no industry regular had ever been charged for defaulting on bids at U.S. oil-and-gas auctions.
He was tried by a Utah jury, although he wasn't allowed to testify about his environmental motives. Immediately after his sentencing July 27, 2011, Peter Yarrow of the folk trio Peter, Paul and Mary led a sing-a-long outside the courthouse. Police arrested dozens of supports for blocking traffic in downtown Salt Lake City.
Related:
DeChristopher's unusual auction play won endorsements from actors Robert Redford and Daryl Hannah and Utah writer Terry Tempest Williams. One rally before the trial brought out "350.org" activist Bill McKibben and the godfather of climate science, NASA's James Hansen.
He also exposed a generational rift with mainstream environmentalism.
"A lot of folks said, "This is bad. He shouldn't have done it. We get labeled,'" said Tim Wagner of the Sierra Club's Utah chapter, who won't take a position on "that whole crazy thing" but applauds DeChristopher for showing courage and paying the price. "It's a tragedy, the fact he spent nearly two years in jail when white-collar crime goes unpunished in this country."
The Sierra Club and other groups who had already sued to upset the auction insist they were positioned to block the sale of 77 drilling leases sold near wild areas of Utah. Within weeks of the auction, a District of Columbia judge slapped an injunction on the parcels. The Obama administration followed up by rescinding the 77 leases - DeChristopher's among them.
"He got people excited about the sale, but the fact is our lawsuit was on file," said Stephen Bloch, a staff lawyer with the Southern Utah Wilderness Alliance. "We operate within the system. ... I feel like we are effective."
DeChristopher said his beliefs on climate change have evolved from advocating urgent action to reduce greenhouse emissions by keeping oil buried in the ground to accepting that global warming has reached a tipping point of no return on any human timescale.
"It's probably too late to prevent a collapse of civilization," said DeChristopher, who plans to broaden his activism to other environmental and social causes. "We have to prepare for a time of rapid change."
(Copyright 2013 The Associated Press. All rights reserved. This material may not be published, broadcast, rewritten or redistributed.)
×
Related Stories