This archived news story is available only for your personal, non-commercial use. Information in the story may be outdated or superseded by additional information. Reading or replaying the story in its archived form does not constitute a republication of the story.
Sarah Dallof reporting They came with their winter parkas and train tickets, but many people riding TRAX today forgot one thing: their pants.
It's part of a national prank put on by a group called Improv Everywhere. People shed their pants in several cities in other states, and have done so for about seven years. In Salt Lake it's a new thing. While there weren't as many people participating here as there were in the other cities, participants here were no less enthusiastic.
When the train left the station, the pants came off.
Troy Crocker said, "I'm excited to see what people will do, the reactions of people."
He opted for Sponge Bob boxers. "The bright yellow draws a lot of attention," he said.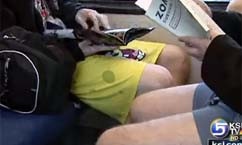 He, his dad Matthew, and his little brother Shannon, came prepared with books and the attitude that riding pants-less is no big deal.
Matthew Crocker said, "[I] just forgot my pants. What am I going to do? You forget your pants, you ride without pants."
There were two rules to play the game: First, you had to take your pants off. We didn't have any problem finding people to do that. Second, you had to do it with a straight face. That was easier said than done.
Patrick Coats got an unexpected call just as the train was leaving. "I set up an interview for college," he told us. It seems when Duke University calls, you pick up, pants or no pants.
"I wasn't expecting her phone call when she called. And I didn't tell her I had no pants on," he said.
Regular passengers who had little idea what they were getting into when they boarded the train were a little shocked.
David Lambson said, "I wouldn't do it, and I don't think I'll be sitting on the benches anytime soon."
We talked to Trax officials this week about the event. While they say they in no way support it, as far as they can tell the passengers weren't doing anything illegal.
Our message boards on KSL.com are mixed. Some posters said it was inappropriate, some said it was funny.
×
Related Links