Estimated read time: 3-4 minutes
This archived news story is available only for your personal, non-commercial use. Information in the story may be outdated or superseded by additional information. Reading or replaying the story in its archived form does not constitute a republication of the story.
ANTELOPE ISLAND — If you've heard the phrase, "You mess with the bull, you get the horns," it also apparently applies to bison.
A man learned that lesson the hard way on Antelope Island Saturday.
Witnesses said it appeared the man provoked the beast, and it promptly rammed him into a fence.
"This person is very, very, very lucky that he wasn't killed," said assistant park manager John Sullivan.
Sullivan said the man seemed uninjured immediately after the ordeal, and "other than being a little dusty ... embarrassed and shell-shocked," he was "none the worse for wear."
Witnesses told rangers the man rattled a fence separating him from the bison, appearing to try to get its attention as he was taking pictures. Some also said he may have chucked a couple of rocks at the beast.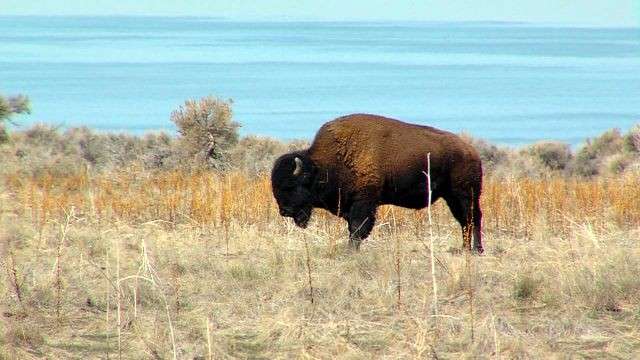 "The [bison] had gone through the gate section that's located real close to where he got hit and looked like he was going to run off the field," Wayne Ebenroth of Boise, Idaho, said during an interview Wednesday on KSL NewsRadio. "He had to have done something to catch the [bison's] attention, because that's when he turned around and decided to pay him a visit."
Ebenroth was there to cheer on and take pictures of his wife in the Antelope Island Buffalo Run. He started taking photos when he saw a few people in close proximity to the bison. He kept photographing the interaction until the man was pinned against the fence.
"[The bison] just was not comfortable with how close he was hanging out with him," Ebenroth said.
Sullivan said the man, who for now remains nameless, was not cited — rangers figured it would be "adding insult to injury" for the well-documented mishap. He said the man insisted to rangers that he did not antagonize the animal, but merely raised an arm.
"That's 1,500 pounds of meat on the hoof," said Antelope Island Buffalo Run organizer Jim Skaggs.
Skaggs said in the eight years he has run races on the island, he has never witnessed another negative encounter with the bison. Runners, he said, regularly cross paths or at least come into somewhat close proximity with the beasts during the races, which last up to 100 miles.
What to do if you encounter a bison
While bison are not usually aggressive, they are unpredictable and can become dangerous. Please use caution and observe the following safety tips should you encounter a bison in the wild:
If you encounter bison along the roadway, drive slowly and they will eventually move. Do not honk, become impatient or proceed too quickly.
Bison may spook if you get out of your vehicle. Therefore, remain inside or stay very close.
Never try to chase or scare bison away. It is best to just cautiously walk away.
Always try to stay a minimum of 100 meters (approximately the size of a football field) from the bison.
Source: Parks Canada
"Most of the time, the bison will just move and get out of the way," he said.
Bison have been on Antelope Island since as early as the 1880s, when ranchers brought them there. The land was eventually sold to the state, and officials try to maintain the island population at around 550. The others are sold.
The beasts are regularly mistaken in America for buffaloes, but scientists say there are a few physical differences and buffaloes are native to parts of Africa and Asia.
Sullivan said the fact that the man was too close to the bison may have minimized the number of warning signs given, but he said bison do give off warning signs before charging.
"They'll huff, they'll lower their heads, they'll paw at the dirt," Sullivan explained. "Their tails usually go rigid and come up. Any one of those things is an indication that you're either too close or they're getting aggravated."
Rangers said they didn't advise getting any closer than 35 to 40 yards to the creatures. KSL witnessed several sight-seers Wednesday taking photos from that distance.
Any closer, Sullivan said, and people can't outrun the bison.
"I think there's a misconception of what they really are," he said, "because 'they're big, slow-moving, shaggy cows' — as people may interpret them to be."
×
Photos
Most recent Utah stories