SALT LAKE CITY — Early in life, Dominic Tshabalala was surrounded by hostility, fear and violence — the result of growing up under the South African Apartheid. Boys and men were often rounded up by police and never seen again, he said, and people of his race were often attacked by police dogs trained to single them out.
Tshabalala told his story in a 2011 piece for Mormon Newsroom, saying that in those days, the "armed struggle" against Apartheid was talked of openly in his black township. He said he and many others expected that the day would come when weapons would be handed out "and all you would do is shoot."
Gratefully, he said, that day never came, but growing up in this environment took its emotional toll.
Then, at the age of 12, something miraculous happened. Tshabalala's mother worked as a servant for a white family and only got to see her son three times a year. During one of his visits, she was allowed to meet with two white females from The Church of Jesus Christ of Latter-day Saints. These Mormon missionaries taught Tshabalala and his mother about their faith, and at the end of their meeting, he watched them lovingly embrace her. To see that type of affection from a white person toward a person with dark skin was astonishing to Tshabalala.
"You don't understand how big that was, how amazing it was to see that — how shocking. It went against everything society had taught me," he said. The feeling the missionaries brought was also surprising, but desperately welcome. "It was very foreign but felt good. It felt safe; I felt wanted."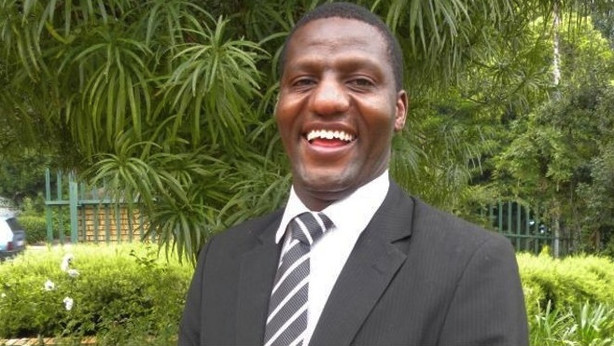 Stories like Tshabalala's may be found all across the African continent. According to Elder Joseph W. Sitati, a native of Nairobi, Kenya, and a member of the LDS Church's Quorum of the Seventy, as the turmoil of past years is giving way, the people of Africa are searching for something meaningful, and the church is flourishing.
"Now is a time of great transition across Africa," he said. "Cultural traditions are breaking down; people are migrating to the cities. In a new and unfamiliar environment with very little to hold on to, they become more responsive to the gospel of Jesus Christ. They are, overall, a religious people, very receptive to the Spirit, and they find a sure hope in the teachings of the church. They join the gospel culture."
A significant milestone
In an October 2010 visit to Burundi, Elder Jeffrey R. Holland of the Quorum of the Twelve Apostles stated, "Africa will someday be seen as a bright land full of gospel hope and happiness."
Just two years later, the LDS Church reached a milestone that may help prove his words to be prophetic. In December 2012, the 3,000th stake was organized. Its significance lies more than in the number: That stake is located in Sierra Leone, a West African country known for its tragic and violent history.
Beyond Religion:
The Impact of the LDS Church in Africa
Africa is one of the fastest-growing areas of the LDS Church. The church's presence began there when missionaries visited South Africa in the early 1850s, but membership did not begin to noticeably increase until the late 1970s. By the end of 2011, Africa was home to more than 359,000 members, the majority of whom have joined the church in the last 30 years.

Africa is also home to three LDS temples, located in Johannesburg, South Africa; Accra, Ghana; and Aba, Nigeria. Two more temples have been announced for Durban, South Africa, and Kinshasa, Democratic Republic of Congo.

The church's impact across Africa is not only in the spiritual realm: all across the continent, the LDS Church has been involved in campaigns that offer humanitarian aid, education, self-reliance teaching and countless quality of life improvements, according to a report by the LDS Church.

Individually or in partnership with other relief organizations, the church is helping to eradicate measles through millions of immunizations; building pipelines for remote villages that have never had clean water; training tens of thousands of local medical personnel; providing higher education loans through the Perpetual Education Fund; and teaching farmers to grow and sustain successful crops, among many other projects.

All told, more than 46 million people in Africa have been beneficiaries of these and more LDS Church humanitarian aid projects.
Elder Holland, who officially organized the Freetown Sierra Leone Stake, said that this may be the reason that the church is finding such a strong footing there.
"What is particularly poignant for me is not only that this historic stake is created in a distant land for a people who have only relatively recently had the gospel brought to them, but it is also created in a war-torn and tragic land where there has been so much bloodshed, so much violence and vice in an earlier time," he told the LDS Church News.
The Mormon Church was first brought to Sierra Leone in 1988, when church members who had been baptized in other parts of the world ended up in Freetown and formed a study group. Since that time, the church has seen rapid growth in the area.
Today, membership totals more than 10,000 in Sierra Leone. It may seem small for a country with a population nearing 6 million, but according to church officials, the power of the stake lies in more than its numbers. Elder Holland said the LDS Church has brought peace to the people in Sierra Leone, many of whom have endured unimaginable hardships — particularly during the country's decade-long civil war.
"It is a wonderful statement about what the gospel does in a wounded world, why we take the church to all people, what it means to them to find it, embrace it and see it change their lives."
Africa is one of the fastest-growing areas of the LDS Church. The church's presence began there when missionaries visited South Africa in the early 1850s, but membership did not begin to noticeably increase until the late 1970s. By the end of 2011, Africa was home to more than 359,000 members, the majority of whom have joined the church in the last 30 years.


Hope and change
Indeed, much of the church's impact in Africa is seen in those who embrace the faith and whose lives have been dramatically changed for the good.
After meeting with the sister missionaries, Tshabalala was baptized and became a member of the LDS Church. He says he was amazed at the acceptance he felt among the members — a feeling that began to erase the message of hate that enveloped him in his boyhood.
"They taught the same thing to me as the white boy sitting next to me at church. That broke a lot of boundaries for me. That said to me in my heart and mind that we are equal," he said.
Mormons in Africa: By the Numbers
| | |
| --- | --- |
| Total Church Membership | 318,947 |
| Stakes and Districts | 104 |
| Wards and Branches | 961 |
| Missions | 18 |
| Temples | 3 |
Through the help of church members, more opportunities were opened up for Tshabalala. He attended high school — a privilege not often given to children of his race — and after serving a two-year mission for the LDS Church, he attended college. He later married in the Johannesburg Temple, and he and his wife have four children
The gratitude Tshabalala has for the church and all it helped him become and achieve is only overshadowed by his humility.
"The church rescued me, truly, truly rescued me," he said, "just like many other boys."
Elder Sitati gives equal credit to the people and their desire to overcome. "The teachings of the church give them hope. People can climb from adverse circumstances; they embrace those teachings, and their lives are blessed."
Elder Holland has high regard for the people of Africa, saying that this hope is one of their trademarks. Because of their perspective on life, and the happiness they derive from it, he says, they are eager to love and to serve.
"They just are beautiful people," Elder Holland said. "They laugh, they smile, they just look like the people of God that they are; they just simply are."
Elder Sitati said he believes that the LDS Church will improve the lives of the people of Africa — Mormon or not — in powerful, lasting ways.
"The church arrived in Africa at the right time," he said. "It's not a quick fix to all the problems faced by people in these lands, but it is a sure fix."


×
Photos
Related Links
Related Stories