Estimated read time: 2-3 minutes
This archived news story is available only for your personal, non-commercial use. Information in the story may be outdated or superseded by additional information. Reading or replaying the story in its archived form does not constitute a republication of the story.
SALT LAKE CITY — Bold, vibrant color is one of the hallmarks of Vincent Van Gogh, a beloved artist whose style and influence is still felt in the art world today. But some of those ostentatious colors are slowly fading, and a team of scientists now thinks it's because someone tried to protect them.
In the years since Van Gogh's death in 1890, the famous yellows and oranges found in the beautiful floral still life of "Flowers in a Blue Vase" have lost their potency and developed a grayish crust over them. To investigate, two microsamples, a fraction of a millimeter each, were taken from the affected areas and investigated by an international team of scientists at the European Synchrotron Radiation Facility in France and the Deutsches Elektronen-Synchrotron in Germany.
They used powerful X-rays to peer into the samples and see exactly what was going on. What they found was a previously unknown process of slow degradation that resulted from the chemistry of the paints Van Gogh chose to use at the time.
At the time "Flowers in a Blue Vase" was painted in 1887, Van Gogh had moved to Paris and become heavily influenced by the painters and theories of color he found there. Earlier, during his time in the Netherlands, Van Gogh had a more earth-tone based style full of browns and grays. In Paris, he wanted color, and it just so happened that new cadmium-based paints had been developed that offered exactly the kinds of yellows and oranges he needed.
After his death, it was discovered that cadmium-based paints will oxidize when exposed to the air. So, a coat of varnish was added in order to protect the painting from losing vivacity and developing a whitish coat over the yellows.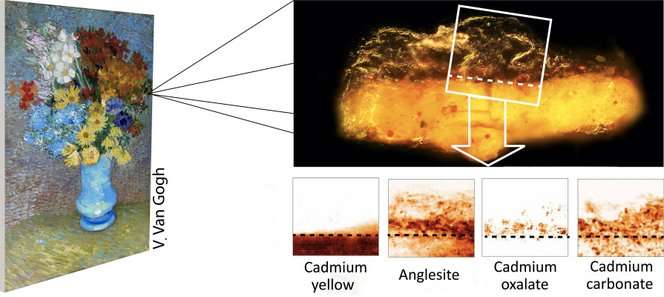 But, years later, a totally different chemical process forced the colors to fade. The dingy gray color was the result of compounds called oxalates.
"At the interface between paint and varnish, the cadmium ions together with degradation products from the varnish itself also formed a layer of cadmium oxalate," said investigator Marie Cotte.
In other words, right were the varnish met the paint, unwanted chemicals were being produced that can't be removed.
In addition, because the varnish contained lead, sulfate ions from the paint combined with lead ions to form the gray lead sulfate. Between the lead sulfate and the cadmium oxalates, the once bright painting had dimmed noticeably.
"Once again, we find that paintings by Vincent van Gogh are not static entities for decades and centuries to come," said said investigator Koen Janssens. "Over a period of 100 years, they can actually be considered a fairly reactive cocktail of chemicals that behaves in unexpected manners."
×
Photos
Related links
Related stories
Most recent Features stories