CINCINNATI — It's difficult not to pause and wonder while walking through a cemetery, at least momentarily, what kind of life stories might exist behind each cold, weathered gravestone.
And until recently, that's essentially all a person could do — wander and wonder.
But Otter Creek Holdings, a Utah-based technology company that develops genealogy software and websites, says it's about to change the game.
At a monument trade-show in Cincinnati on Saturday, the company presented a genealogy gathering tool it says could eventually render matrix barcodes, or QR Codes, nearly obsolete in the interment industry with its soon-to-be released smartphone application, "Legacy Mobile."
Many gravestone makers, including a product owned by Otter Creek Holdings called mylegacymemorial.com, currently offer a service of attaching matrix barcodes to gravestones so family members or other passersby can scan the barcode from their smartphone onsite and be directed to an interactive memorial website page.
And although such monument pages have obvious advantages that make them nearly impossible to replace in the foreseeable future — families can personalize and edit those pages with their own photos, videos and stories — Otter Creek's "Legacy Mobile" app opens the possibility for anyone to pull up a webpage of genealogy information on any gravesite in a cemetery.
That's it. Point your smartphone. Shoot. Satisfy your curiosity.
Makers of the app say a decent image of the gravestone is all it takes to connect a user to one or more genealogy profiles about the individual. At least that's the intended simplicity for users.
It's a touch more complicated for developers behind the digital curtain, admits Hudson Gunn, vice president of the company's business development. "Actually, it's a logistics nightmare to build such a custom platform to do all that it does."
Instead of searching "a billion records at a time" the app first uses GPS metadata from uploaded photos to filter search results by location, usually by cemetery or city, Gunn told KSL in an interview from the Monument Builders of North America Full Industry Show in Ohio.
After the app drastically narrows the search to perhaps a couple hundred possible candidates in the area, a heavy mix of proprietary algorithms kick in and image recognition gears start to churn. Using optical character recognition, Gunn says the app compares the uploaded gravestone image and its text to an existing, and still growing, gallery of gravesite monument photos, especially from sites like the company's recently acquired billiongraves.com, a site that took on a healthy 30,000 new users this past year.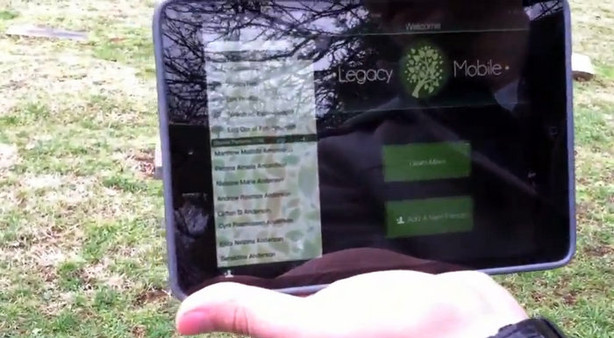 But using geocode to grab a location and image recognition science to compare text and photos — both technologies that have been around for a few years — is only half of the app's recipe. The other portion that could make it the next big thing is wrapped up in the number of personal contacts Devin Taylor, the company's CEO, has initiated over the years in his effort to connect with more and more partners. After all, the app would be worthless without a mega-database to query for results.
Taylor's portfolio of data-sharing partners includes familysearch.org, the largest genealogy database in the world, and ancestry.com, the largest for-profit genealogy company in the world.
If a user takes a photo of an unknown gravestone, the app will ask the user if he or she would like to create a record for that person. And because it will be saving submitted photos and collecting more records from crowdsourcing, Gunn says it will grow smarter and more robust over time. He expects it to expand by an additional 7 million records by year's end.
Gunn said the app doesn't include advertisements — something usually splashed on most free apps. And he said he expects it to be available for download within the week.

Email: Jhancock@deseretdigital.com
×
Photos
Related Links