Estimated read time: 3-4 minutes
This archived news story is available only for your personal, non-commercial use. Information in the story may be outdated or superseded by additional information. Reading or replaying the story in its archived form does not constitute a republication of the story.
OVERTON, Nev. — A popular marina many Utahns use at Lake Mead will soon close.
Forever Resorts, the concessionaire that runs Echo Bay, will not be able to renew its temporary, three-year contract with the National Park Service, and the National Park Service couldn't find another company to do it.
The entire Echo Bay Marina on Lake Mead will be closed in two weeks. Residents in nearby Overton, Nev. are worried about what the marina closure will do to their community.
Lois Hall lives in Overton and runs Cal's Repair Center. "It's our livelihood," she said. "It affects every business in town, every family in town. If we lose the lake, we've lost it all."
---
It affects every business in town. Every family in town. If we lose the lake, we've lost it all.
–Lois Hall, Cal's Repair Center
---
Hall said Overton relies on boaters going through town to get to Echo Bay.
"They come to our restaurants, stay in our hotel, shop at our grocery stores. They get gas here. It's going to cause us to lose more business," said Judy Metz, who works at Sugar's Restaurant in Overton.
It's such a big deal, Overton's town board meeting was packed Wednesday night with standing room only as residents told National Park Service representatives what closing the marina means to their town.
"This is wrong, they need to take responsibility," one town resident said.
"It's a mismanagement of the facility by the National Park Service," another resident added.
The Park Service said the concessionaire's three-year contract to run Echo Bay Marina runs out at the end of January, and there's a reason the company didn't want to renew it.
"In three years, the gross receipts at Echo Bay have dropped from $2.7 million to $1.2 million," said Christie Vanover, a public affairs officer for the Lake Mead National Recreation Area. "If you are a business person, and you want to make an investment, and you see the revenues that used to be here, it would be a challenge to invest in a business like that."
That decrease in revenue is the biggest reason why Park Service say they haven't found a new concessionaire. However, they promise to keep looking.
"Absolutely," said Vanover, "there are a lot of 'could ofs' and 'if's.' As we develop different plans and look at the economy as it shifts, we will look at future ways we can bring a marina and bring full services back."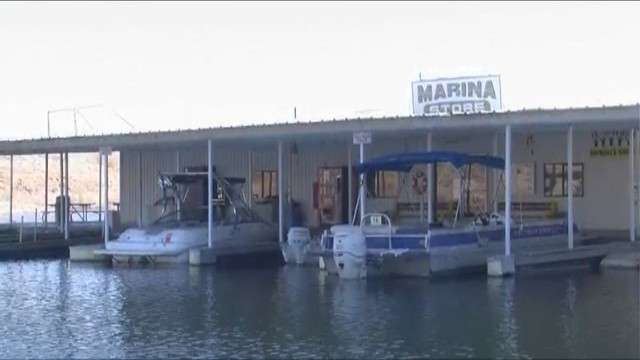 Still, residents say they don't trust the Park Service to keep its promise with Echo Bay after what it did to Overton Beach a few years ago.
They say the Park Service closed all the facilities at the Overton Beach and even put locked gate up to prevent access to the road leading to the beach, even though representatives told residents some facilities would stay open.
"They took everything away from us at Overton Beach," said Metz. "I understand they were worried about declining water levels there, but the water levels are back up. They told us they would reopen the beach if water levels came back."
"The water levels got so low, it wasn't safe to launch at Overton Beach anymore," Vanover said. "To reopen that facility, the water levels need to remain at a certain point for a three-year period, and that's not projected to be the case."
Overton Beach was the closest to the town of Overton. When the Park Service closed it, boaters were pushed to Echo Bay.
Now, with Echo Bay's marina closing, Callville Bay is the closest to town. But even that's about an hour away from Overton, and the easiest access for outside boaters to Callville is through Las Vegas, not Overton.
"They will go through Las Vegas and never come through our town. Every business will suffer," Hall said.
"It is basically going to start drying up our town," Metz said.
Echo Bay itself will remain open, and a launch dock will stay in place to provide access to the lake for boaters. However, the marina itself will soon be gone.
"There will be no fuel on this end of the lake on the water," said Hall, "what happens to boaters who get caught out on the lake in a storm? This is going to be a disaster."
×
Photos
Related stories
Most recent Utah stories