Estimated read time: 5-6 minutes
This archived news story is available only for your personal, non-commercial use. Information in the story may be outdated or superseded by additional information. Reading or replaying the story in its archived form does not constitute a republication of the story.
SALT LAKE CITY -- In recent weeks, the level of Lake Powell has been dropping sharply. The agency that controls the reservoir is releasing 11 billion gallons of water each day to help bring up the level of Nevada's Lake Mead.
Lake Powell always comes down this time of year, but the releases now are significantly more than usual.
"That level of release hasn't occurred since the late '90s," said Richard Clayton, a hydraulic engineer for the U.S. Bureau of Reclamation. His job is to oversee releases from the Glen Canyon Dam.
The high wintertime releases have triggered controversy. But the bureau has a message for boaters who worry Lake Powell might drop too far: "Don't worry. Be happy." The releases are prompted by expectations of the best spring runoff in more than a decade. Bureau experts predict, but can't guarantee, that Lake Powell will eventually rise higher this summer than it did last year.
---
Since the first week of November, Lake Powell has dropped almost 14 feet. In the same period, Lake Mead is up more than 100 feet.
---
The additional water is being released through turbines that generate electricity at the 710-foot-high dam near Page, Ariz. The water flows down the Colorado River, through the Grand Canyon, and on to Lake Mead near Las Vegas.

The release of water has caused Lake Powell to drop more than 13 feet, while Lake Mead has risen about 10 feet since early November. From a Nevada perspective, that's good news. For a full decade, the big reservoir behind Hoover Dam has taken a battering from the region's long-term drought.

Lake Mead is currently about 42 percent full, and its surface area has shrunk drastically. Lake Powell currently stands about 57 percent full.

This year, a new agreement reached by the seven states on the Colorado River will likely require additional releases from Lake Powell to Lake Mead. If spring runoff is high enough to trigger the so-called "equalization" agreement, it will require releases from Lake Powell sufficient to bring Lake Mead up to an elevation of 1,105 feet above sea level, according to Clayton. It currently stands at about 1,091 feet.

[![](http://media.bonnint.net/slc/2489/248967/24896771.jpg)](http://media.bonnint.net/slc/2489/248967/24896771.jpg)A before-and-after look of an eastern section of Lake Mead north of Gregg Basin in 1985 (left) and 2010. *Courtesy [boingboing.net](http://www.boingboing.net/2010/09/27/why-worry-about-the.html)*

"If we wait until April and don't make appropriate changes to operations now," Clayton said, "we won't have enough time to release the required volume by the end of the water year."

The good news for Lake Powell boaters is that the bureau projects much better than average snowpack and healthy runoff.

"This year we anticipate that Lake Powell will increase by 10 feet over what it was last summer," Clayton said. "And Lake Mead stands to increase by about 15 feet over what it was last summer."

Clayton says the forecast indicates that Lake Powell will remain high enough all year to keep a key boating channel open. The so-called "Castle Rock Cut" is a shortcut for boaters leaving Wahweap Marina and headed for the main body of Lake Powell. The channel saves hours of travel-time and many gallons of gas for the average boater. The lake is currently high enough to keep the channel open and Clayton believes it will stay that way through the spring and summer.

Final decisions about releases from Lake Powell will be made after April 1, when the bureau has better information about what the actual runoff will be. For now they acknowledge they're taking a significant risk of letting out too much. Clayton says the current forecasts are at about a 75 percent confidence level. That means there's a 25 percent chance the forecasts could be wrong.

"There's still a lot of uncertainty about how this year will play out," Clayton said. "But the probability is, given our current conditions, that this year is fairly rosy for above average inflow."

Richard Ingebretsen of the Glen Canyon Institute says the future of Lake Powell is very uncertain over the long-term.

"This is the beginning of the end of Lake Powell," he said.

Ingebretsen is a key player in a long-term environmentalist crusade to drain Lake Powell or to at least lower it substantially to revive submerged parts of Glen Canyon.

Considering long-term climate trends and growing demands on the Colorado River, Ingebretsen has his own forecast.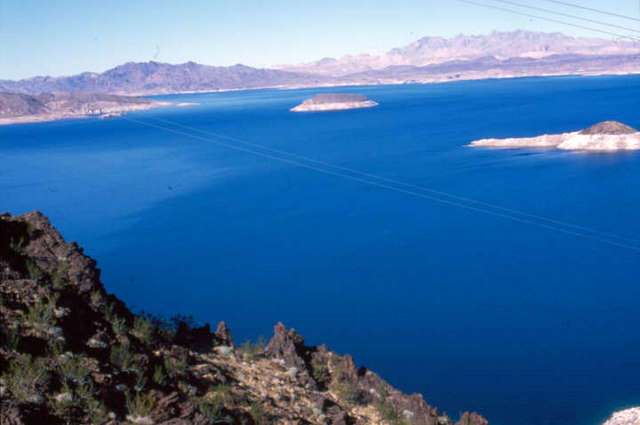 "The future of Lake Powell is to back up Mead," Ingebretsen said. "As more and more people take water out of Mead, they'll have to drain Lake Powell to fill Lake Mead."
He claims the early releases are motivated by a desire to produce revenue at the hydroelectric dam and not to make room for spring runoff. "The releases that they're doing now is generated by the need to generate power," Ingebretsen said.
Meanwhile, environmentalists are raising a red flag about the wintertime releases. They say steady high flows wash away beaches and destroy the natural habitat for many native species in the Grand Canyon.
Ingebretsen said the bureau could restore habitat in the Grand Canyon by saving the water until spring. Then the releases from the dam could be sent downriver in pulses of extremely high water. A so-called "artificial flood" can be designed to mimic natural spring flows and wash fresh sediment down the river into the Grand Canyon.
"The flows that they are doing really are squandering an opportunity for them to create beaches and backwater habitats," Ingebretsen said.
The bureau has conducted artificial floods before and is considering doing more. Two weeks ago, agency planners released a Draft Environmental Assessment calling for multiple artificial floods over the next 10 years.
"There is a potential, if things go right, that we could do one this year," Clayton said. "But that's still subject to change."
E-mail: hollenhorst@ksl.com
---

View Lakes Mead and Powell in a larger map
×
Related links
Related stories
Most recent Utah stories