Estimated read time: 3-4 minutes
This archived news story is available only for your personal, non-commercial use. Information in the story may be outdated or superseded by additional information. Reading or replaying the story in its archived form does not constitute a republication of the story.
SALT LAKE CITY — Dancing is everything to Hope Rowley, a 10-year-old girl with cerebral palsy.
Hope has been dancing since 2006, when she was 3 years old. She said she one day wants to play the character Clara in the Nutcracker ballet, "because she dances with the Nutcracker prince."
"I feel special when I'm on stage," she said, and her mother, Anna-Marie Rowley, backs her up.
"She just loves the way that she feels when she's twirling and flowing, and she has big dreams of being a big ballet dancer one day. It's not realistic, but in her mind, she thinks she looks like that on stage," she said. "She doesn't look awkward. She doesn't look like she can't move her legs. She doesn't look like she's in braces and back braces and wheelchairs and walkers. She looks free."
Hope has come a long way since she started dancing at the Wasatch Dance Co., according to her mom. Where before, there were meltdowns whenever anyone would touch her, now she can be seen "twirling, and flowing and moving, and it's so great to see the smile on her face, and to see her moving so freely," her mom said.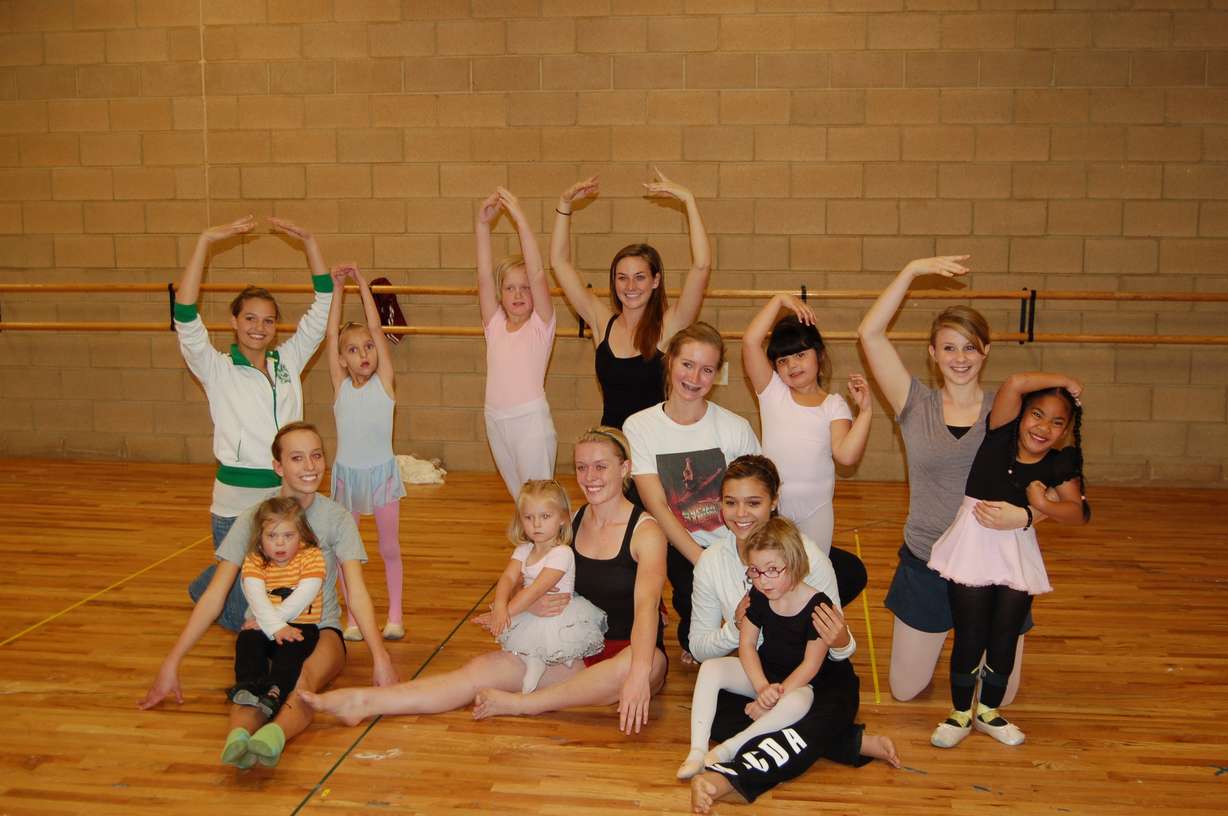 It is children like Hope for whom dance clubs throughout Utah gathered together this weekend, participating in the 11th-annual Art with Heart benefit recital to raise money for Shriner's Hospital in Salt Lake City.
This year, 325 dancers from The Dance Club in Orem, Dance Impressions in Bountiful and The Winner School in Salt Lake City came together to perform at the event, which Hope will be present at to thank the dancers for their work. One of those dancers was Hannah Sobisky, an 18-year-old dancer at The Dance Club to whom Shriner's means a lot.
"My cousin has cerebral palsy and they helped her walk again," she said. "They thought she would never walk again."
For Sobisky, dance is a way to express herself, to tell a story with her body she never would have thought possible. But seeing children watch her who may never get to do the same thing — that is the powerful part.
"It's been one of the best things we've done," she said. "I think it's fun for them to watch, and to see something so amazing, even if they can't do it themselves."
Sobisky's experience with the children at Shriner's is one Kandee Allen, director of Dance Impressions, has seen is a lot of dancers. She said for many dancers, the event is the first time they have had the chance to interact with someone in a difficult situation.
Want to attend?

Art with Heart has two remaining shows on Saturday: 1 p.m. and 6 p.m.

Tickets are $20 and can be purchased at arttix.org.
The dance companies have built a solid relationship with Shriner's over the 11 years the event has taken place. Some Shriner's patients have become dancers, and some dancers have become patients at the hospital. During one memorable performance, a dancer who had parts of both feet amputated after an accident came back to the competition after being fitted with prosthetics. "It was powerful," Allen said.
It's exactly the type of experience any girl who is considered "different" would want to have: a chance to fit in.
"This is the biggest self-esteem boost that any little girl could have when they're constantly different from everyone else," Rowley said. "(Hope) is the same as all the little girls in her school that dance. She's the same as all the little girls in the neighborhood that perform on stage she can relate to that. I think that's amazing."
×
Photos
Most recent Utah stories