Estimated read time: 1-2 minutes
This archived news story is available only for your personal, non-commercial use. Information in the story may be outdated or superseded by additional information. Reading or replaying the story in its archived form does not constitute a republication of the story.
Sandra Yi reporting Thieves may have spoiled Christmas for a Utah family whose business was burglarized.
This is the busiest time of year for Js Embroidery and Design in West Valley City, but it can't make a stitch. A break-in shut the business down right before the Christmas rush.
Jay Johnson, with Js Embroidery & Design, said, "It wasn't until about a half hour ago it hit me. I started tearing up. Little by little, it's just starting to sink in."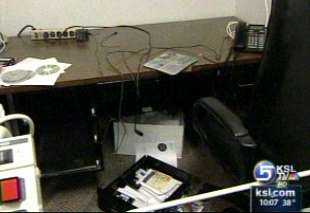 The burglars broke in through the back door sometime over the weekend. "It looked like they just pried it here with a crowbar and smashed it. It's smashed from here to here," Johnson says.
They took the register and Johnson's Christmas cash, along with some presents for Johnson's family. "Took stuff out of the desk and set it aside, and put other stuff in the desk drawers and took the drawers with them, so I don't know what else they took," he said.
To Johnson and his son, who own the business, the most valuable items the thieves took were two computers and some software. "Took it where we can't do any more designing or anything until we get everything replaced, which we don't have the means to do that. So I don't know what we're going to do," Johnson said.
Johnson can finish some of his customer's orders, but he can't take on any more until he gets new software or his computer is found.
Johnson says it will cost about $35,000 to replace his computers and software. He hopes someone will come forward if they get a computer with embroidery software on it. If you have any information, call West Valley City police.
×
Most recent Utah stories