Estimated read time: 2-3 minutes
This archived news story is available only for your personal, non-commercial use. Information in the story may be outdated or superseded by additional information. Reading or replaying the story in its archived form does not constitute a republication of the story.
John Hollenhorst reporting A beautiful little creature that has a mean disposition is getting a new shot at survival in Utah. Wildlife biologists released 10 black-footed ferrets near Vernal, some carrying a new experimental vaccine.
The 2-foot-long creatures are making a remarkable comeback after a close brush with extinction.
They may look cute and cuddly, but if you hear them chatter, you might want to get out of the way. "Get close to them and they get fierce and will chatter at you and snap at you. They don't want anything to do with people," explained Brian Maxfield, sensitive species biologist for the Utah Division of Wildlife Resources.
So much for gratitude. It's people who saved the black-footed ferret from extinction. Experts thought the species was extinct until 1981 when a Wyoming ranch dog led them to one remaining colony. That colony was in steep decline. "Mainly from disease, and the last 18 of those were eventually captured for a captive breeding program," Brian Holmes, of the Black-footed Ferret Recovery Program, said.
Darren Long, also with the recovery program, said, "From those 18 founder animals, 5,500 have been reproduced."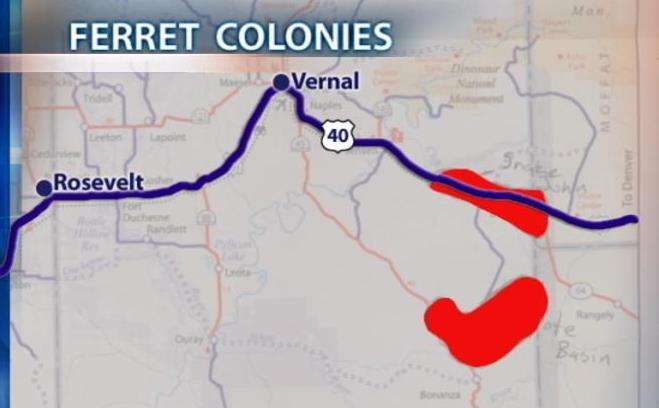 Now they're farmed out to prairie dog towns in six states and Mexico. One colony was started in 1999 near Vernal. A couple of years ago, motorists noticed them crossing a highway. The recovery colony had opened a branch office on both sides of the road. "Highway 40; so a major road goes right through the middle of the complex," Maxfield explained.
They live in tunnels made by prairie dogs and they eat their hosts. In a stand-up fight the prairie dogs would probably win, but the ferrets sneak up on them while they're sleeping. "Ninety-five percent of their diet is prairie dogs," Maxfield said.
The big threats to their survival are drought, which nearly wiped out Utah's recovery population in 2002, and the plague. "In Utah, plague is probably our biggest problem," Maxfield said.
Humans have an answer for that, too: a new plague vaccine, specific to ferrets. It's getting its first medical trials in Utah to see if what works in the lab works just as well underground.
Experts believe about 40 of the ferrets are now living in the two Utah colonies, but they're so elusive, no one really knows how many there are.
×
Most recent Utah stories