Estimated read time: 2-3 minutes
This archived news story is available only for your personal, non-commercial use. Information in the story may be outdated or superseded by additional information. Reading or replaying the story in its archived form does not constitute a republication of the story.
SOUTH JORDAN — It's been a difficult day for students at Elk Ridge Middle School after a well-liked gym teacher and coach was hit and killed in a crosswalk while jogging to school.
Police say Randy Treglown taught physical education at Elk Ridge Middle School and normally jogged to work. Wednesday morning, he was in a crosswalk near 9800 South and 4000 West when he was hit by a southbound truck and passed away at the scene.
Word of Treglown's death spread quickly at the school, and students were heartbroken.
"He was my gym teacher for two years, so it's pretty hard 'cause he was pretty cool," said student Kamren Yetez.
"It's kinda freaky to me to know that he's gone," said Allison Beal, another student at Elk Ridge. "He was here yesterday, but now he's not here."
Investigators said Treglown was wearing dark clothing without reflection when he was hit at around 6:30 a.m. People who knew him say he usually wore reflective clothing while jogging to work.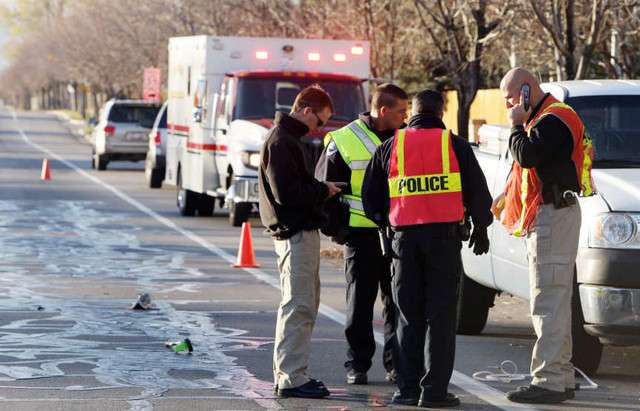 "He was in delta condition, which is very critical. Fire personnel called for Life Flight, or AirMed, one of the two," said South Jordan Police Lt. Rob Hansen.
But Treglown died before the helicopter could arrive.
Police said the driver of the truck that hit Treglown was deeply affected by the accident and is cooperating with investigators. No word yet on whether or not he will be charged with a crime.
At the intersection Wednesday afternoon, students set up a make-shift memorial of flowers, a basketball and a poster that students were signing. Later, others brought flowers to his doorstep.
"He was the kind of teacher that would want you to do (the activity). He would yell at you so you'd be better," student Jarron Frey said. "He wasn't a mean teacher at all. He was one of the best teachers I had."
A Jordan School District representative said Treglown was in his 17th year at Elk Ridge Middle School, and 29th year with the district.
Generations of students, like Holly Barraclough, will remember him fondly.
"He made (P.E.) fun, and everyone wanted to be there," Barraclough said.
In a sad coincidence, the school's custodian also died unexpectedly a couple of weeks ago. School officials say he had a major heart attack.
In light of the tragedies, school officials felt it was best to keep school as normal as possible. Grief counselors were on hand for those who needed them Wednesday.
The family of Treglown has set up a memorial fund* at Jordan Credit Union under Randy Treglown's name.
---
*ksl.com has not verified the accuracy of the information provided with respect to the account nor does ksl.com assure that the monies deposited to the account will be applied for the benefit of the persons named as beneficiaries. If you are considering a deposit to the account you should consult your own advisors and otherwise proceed at your own risk.
×
Photos
Most recent Utah stories