Estimated read time: 3-4 minutes
This archived news story is available only for your personal, non-commercial use. Information in the story may be outdated or superseded by additional information. Reading or replaying the story in its archived form does not constitute a republication of the story.
WEST VALLEY CITY — For the Wiley family of Stansbury Park, coming to see Santa Claus at the Valley Fair Mall is an annual holiday tradition that began when their oldest, 13-year-old Hunter, was just a baby.
Saturday, the family not only had their portrait taken with Santa like they do every year, they got to see him arrive for the first time in Chopper 5 — a sight that impressed even Hunter.
"I thought it was cool," the teenager said.
His younger siblings, Shelby, 6, and Porter, 10, were somewhat awed by Santa's new mode of travel to the mall. For decades, Santa was the star attraction of a parade through the city the Friday after Thanksgiving. Now, that's been replaced by a new Winter Festival.
Shelby, dressed in a festive red outfit that included sparkly shoes, nodded solemnly when asked if she enjoyed seeing Santa arrive from above. Porter liked how the helicopter whipped up the wind in the parking lot.
Neither their parents nor their grandparents said they'd ever come to West Valley City for the parade, preferring to skip the traffic snarls and often cold weather associated with sitting outside waiting for Santa.
"This has been really good today," the children's grandfather, Gary Wiley, said. Wiley and his wife, Peggy, had lived in West Valley City for a number of years and said they're pleased with changes to the mall and the surrounding area.
"It's really improved," Peggy Wiley said.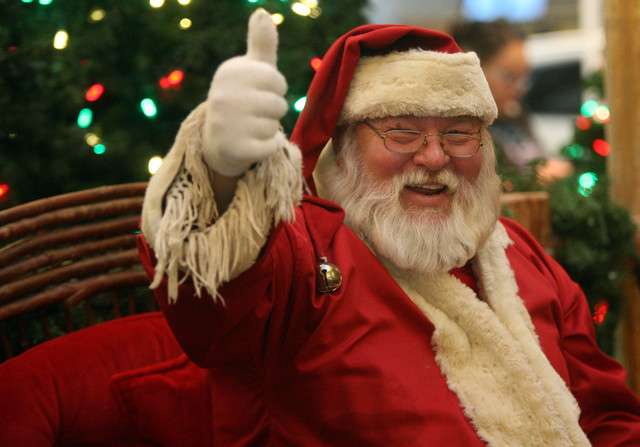 The city's new Winter Festival, a partnership between the mall, the city and the ChamberWest Regional Chamber of Commerce, is intended to highlight those changes, including new stores and development.
The mall's marketing directing, Jan Brownstein, said she hasn't heard any complaints about replacing the parade with what's being billed as a month-long celebration featuring performances by many of same groups that marched in past parades.
Brownstein smiled at the crowds already lined up around "Santa's Lodge," a faux-log structure in the middle of the mall where Santa posed for pictures and listened to Christmas wish lists.
"When Santa comes, everybody's happy," Brownstein said.
Gary Duemeier, who lives just down the street from the mall in Taylorsville, said he's glad the parade is gone. "It used to close off the street and be an annoyance," he said as his 8-month-old grandson, Lance Omaha, stared wide-eyed at Santa.
Duemeier said having Santa drop down from the sky was preferable to having to wait for the parade to be over to get around the city. He said Lance and his other grandson, Cameron, agreed it's a better route for Santa.
"Observing the looks of excitement on their faces, it is," he said.
Ken and Ranae Franckum, who watched the parade from their nearby backyard for the past 34 years, showed up at the mall to be part of the city's new tradition.
"I think it's a good move," Ranae Franckum said. "We don't even have kids and we're out here to see."
Ken Franckum, a UTA bus driver, said he appreciated how easy it was to get to the mall on the day of Santa's arrival
"Modern times, I guess. You have to keep up," he said. "No detours today. No road blocks. That's good."
×
Photos
Related stories
Most recent Utah stories