Estimated read time: 2-3 minutes
This archived news story is available only for your personal, non-commercial use. Information in the story may be outdated or superseded by additional information. Reading or replaying the story in its archived form does not constitute a republication of the story.
Jed Boal reportingPro-football quarterback Michael Vick learned his fate today for his role in a dogfighting ring. A judge in Virginia sentenced Vick to 23 months in prison on federal dogfighting conspiracy charges.
Vick admitted this summer he had financed a dogfighting operation out of his Virginia home and helped kill dogs that did not perform well in fights. The National Football League has suspended Vick indefinitely without pay.
As for the future of the dogs? Nearly half of them will find a new home in southern Utah.
They're going from "Bad Newz" to "Best Friends." Twenty-two of the 48 American pit bull terriers rescued from Vick's "Bad Newz Kennels" in Virginia will be taken in by Best Friends Animal Society of Kanab.
The Best Friends Animal Society outside Kanab shelters 1,500 dogs, cats, horses, rabbits, birds and other animals on any given day. Soon those 22 pit bulls rescued from Michael Vick's Virginia property will arrive at the Utah shelter.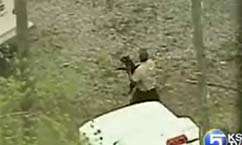 Patty Hegwood, the shelter's animal care director, said, "We're supporting the dogs. We're excited about them coming to us and giving them a new lease on life."
Hegwood also helped plan the rescue of thousands of dogs and cats following Hurricane Katrina.
She was in Virginia for Vick's sentencing and will transport the pit bulls to Utah in the next few weeks.
"Our focus is on rehabilitation, both emotionally and physically, to make sure these guys get what they need, and ultimately to get everyone into the home they deserve," she said.
The shelter is not ruling out adoption, but it's likely Best Friends will be a lifelong home. The shelter cannot show us pictures of the pit bulls or talk about their condition until the end of January. That's when the last defendant in the federal dogfighting case will learn his sentence.
"It's really hard to have an idea of exactly where they are until we get them in the environment they're going to be in and get comfortable," Hegwood said.
Vick agreed to set aside nearly $1 million to care for the dogs for life. The shelter will get money, but a representative told us he did not know how much.
Right now the pit bulls are in shelters in Virginia and the Washington, D.C., area. Best Friends and eight other shelters across the country will move them as they sort out transportation.
×
Most recent Utah stories