Estimated read time: 2-3 minutes
This archived news story is available only for your personal, non-commercial use. Information in the story may be outdated or superseded by additional information. Reading or replaying the story in its archived form does not constitute a republication of the story.
NAVAJO LAKE, Kane County — Construction crews have finished a temporary "fix" to the broken Navajo Lake dam in Kane County.
The Utah Division of Wildlife Resources, Kane County and Iron County pitched in to help with the $160,000 price tag.
When the 80-year-old dam broke earlier this year, fishermen were concerned the lake would completely drain. Decreasing water levels also affected business at the Navajo Lake Lodge.
Originally, the DWR was going to wait until 2015 to replace the dam, thinking it would take that long to get the necessary funding for a brand new dam, which would cost roughly $2 million.
However, after several phone calls, emails and public meetings, DWR officials decided to do the temporary fix and still plan for a permanent solution in 2015.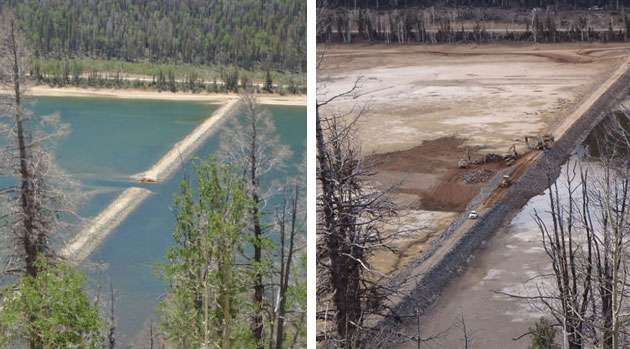 #lake_pics
"We stepped up and did what they wanted, even though we weren't sure it was the right thing to be doing, if it was the right way to spend public money," said Rich Hepworth, a biologist with the DWR.
"But when they tell us that's what we want, that's what we tried to do," he said.
Navajo Lake is a popular lake for fishermen. Hepworth estimates 70 percent of anglers who visit the lake are from out of state.
"They come from Las Vegas and Southern California," he said. "It's a big tourism grab for our local economy. It helps quite a bit."
The lake is slowly filling again with water, but Hepworth says the big "fill up" will happen during the spring runoff. But that could cause a problem for all those fishermen.
"Water levels right now are fairly low, and we're not sure how the fish there will make it through the winter," he said.
Regardless of what happens, DWR has promised to stock the lake with "nice-sized" fish in the spring.
×
Photos
Related stories
Most recent Utah stories