Estimated read time: 2-3 minutes
This archived news story is available only for your personal, non-commercial use. Information in the story may be outdated or superseded by additional information. Reading or replaying the story in its archived form does not constitute a republication of the story.
PROVO — The earliest known Utah County baptistry of The Church of Jesus Christ of Latter-day Saints has been discovered at the site of the old Provo Tabernacle.
The baptistry, built in the 1875, was discovered while work was being done to build the LDS Church's new Provo City Center Temple from the remains of the 1898 Provo Tabernacle, which was destroyed by a 2010 fire.
The baptistry was built with a 5-by-9-foot baptismal font, the floor of which had three layers of wood laid in a crisscross pattern and held together by nails and screws. Excavators from Brigham Young University's Office of Public Archaeology, or OPA, also unearthed the water pipe used to fill the font and the drain used to empty it.
Church historical records show the font was in use from the mid-1870s to at least 1906, but had been razed by 1912. The historians identified the site of the baptistry by looking at fire insurance maps from between 1880 and 1910 that were used to determine a building's risk of fire.
At least four other fonts had been constructed by the LDS Church by the time of the Provo font's opening — three in Salt Lake City and one in St. George — but the Provo font would have meant a great deal to Utah County pioneers, according to Richard Talbot, director of OPA.
"This was hallowed ground to them," he said. "It was the first place the saints could be baptized in a real font rather than in a cold river or lake."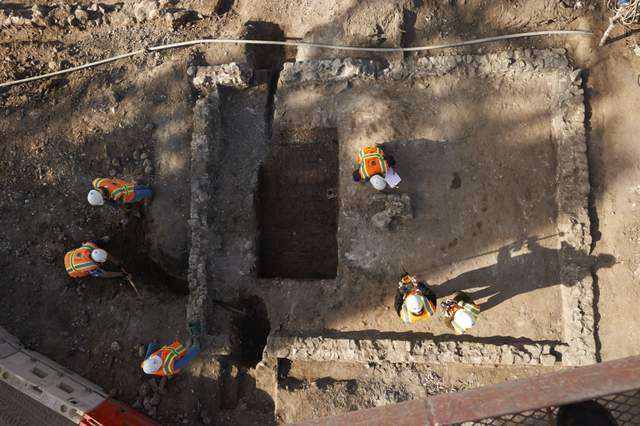 In addition to the baptismal font, the site of the old tabernacle includes the limestone foundations of an old meetinghouse and the foundation of a 26-by-28-foot caretaker's cottage.
A fire gutted the Provo Tabernacle on Dec. 17, 2010. LDS Church President Thomas S. Monson announced in Oct. 2011 the church's intention to build a temple from the tabernacle's remains.
The temple is expected to be completed by the end of 2014.
×
Photos
Related links
Related stories
Most recent Utah stories