This archived news story is available only for your personal, non-commercial use. Information in the story may be outdated or superseded by additional information. Reading or replaying the story in its archived form does not constitute a republication of the story.
SALT LAKE CITY — The day Hser Ner Moo went missing was the first day the man accused of killing her visited his aunt and uncle.
Mar Phi testified Friday that he saw his nephew, Esar Met, 25, on the bus as he was returning home from work on March 31, 2008. Met was bringing something Phi had asked him to buy for his bike.
"He told me he's new here and didn't know where to go or what to do," Phi testified in 3rd District Court.
Met came to Phi's house and stayed that night. Phi and his wife, Mi Cho, testified that the visit was unexpected, but that Met was welcome in their home.
Phi and Cho also said someone called for Met both that first night and the next day. Cho said she knew the call was about a missing girl.
"I didn't pay attention because (Met) said it didn't have anything to do with him," Cho said.
Met has been charged with aggravated murder, a capital offense, and child kidnapping, a first-degree felony, in connection with the death of the 7-year-old girl. Friday was the third of what is anticipated to be a seven-day hearing on the evidence against Met.
Related:
Hser apparently walked away from her family's apartment on March 31, 2008, and was found dead in the bathroom of a basement apartment where Met was living.
Witnesses testified Thursday that the girl was looking for someone to play with earlier that day. The friend she sought out, Nane We, testified that she was sleeping when Hser came by. She said she and Hser would sometimes play an elephant game with Met and would ride on his back.
We's brother, Maung Than Htaik, said Met had always loved children and sold them ice cream and snacks while in a Thai refugee camp.
South Salt Lake police detective Darren Carr testified that he was called to the South Parc apartment complex around 8 p.m. or 9 p.m. March 31, 2008. By that time the next day, Hser's body had been found, and police had a suspect.
Phi said it was during the second call Met received that he became aware the police were coming.
"I asked him what it's all about," Phi said. "(Met) said, 'Somebody called me about the missing girl, and I didn't bring the girl with me, and that's it.'"
He said that through all of it, Met was "just as usual."
But Deke Taylor, who was a field director for the Joint Criminal Apprehension Team, said Met was the only one in the home who didn't look afraid "at first" when police entered the home "forcefully."
"Due to the nature of what we were investigating, I felt there was an immediate threat to the people in that house," Taylor said.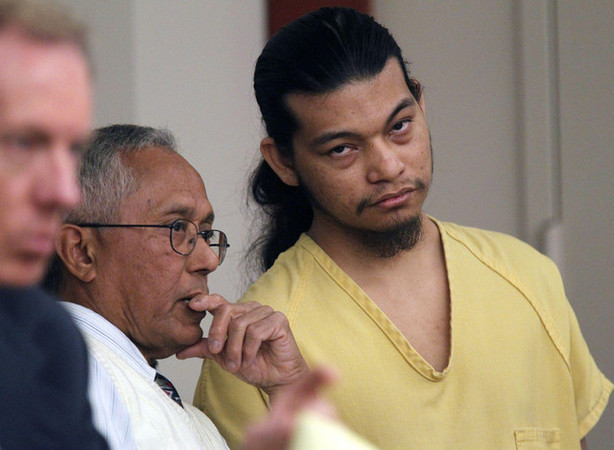 He testified that he had seen Met in a window, but didn't immediately see him in the home. Then he saw him walk into the kitchen and, knowing Met didn't speak English, gestured for the man to get down, as his family members had. Taylor said Met kept coming toward him until he put a pistol in the man's face and forced him to the ground.
Cho contradicted her husband by saying the visit was Met's second to their home. But Carr testified that Cho told him the day of Met's arrest that it was, in fact, his first visit. She, too, said the man seemed to act as he usually did.
The case has taken more than four years to get to this point, largely due to language barriers and Met's struggles to understand the court process. Two Burmese interpreters, an interpreter who speaks both Burmese and Karen, and a Spanish interpreter have aided witnesses and Met thus far.
Judge William Barrett issued a single-sentence gag order in the case Friday.
"It is hereby ordered that all witnesses, counsel, court personnel, interpreters, victim advocates and staff are prohibited from discussing anything about the (Esar Met) case with the media or the general public during the preliminary hearing, Nov. 8-16, 2012," the order states.
The judge did not elaborate on what prompted the order, though a reporter did interview both Hser's parents and a Burmese court interpreter during a break in the proceedings Thursday. The interpreter who gave the interview did not translate Friday, as he had Wednesday and Thursday.
Hser's parents sat through testimony all day Friday.
×
Photos
Related Stories