Estimated read time: 2-3 minutes
This archived news story is available only for your personal, non-commercial use. Information in the story may be outdated or superseded by additional information. Reading or replaying the story in its archived form does not constitute a republication of the story.
Nicole Gonzales reporting A one-two punch of winter weather is on its way. It's already raining around much of the state, and those raindrops will soon be fluffy white flakes, if they haven't changed over already.
While that's great for the resorts and snowpack, expect a lot of problems on the roads. Snow is already making a mess of things in Parley's Canyon and Tooele.
In Parley's Canyon the snow and the rain have stopped temporarily, but the weather did cause some traffic problems earlier. This morning, traffic cameras in the area showed snow coming down very hard, although most of it melted by the time it hit the ground.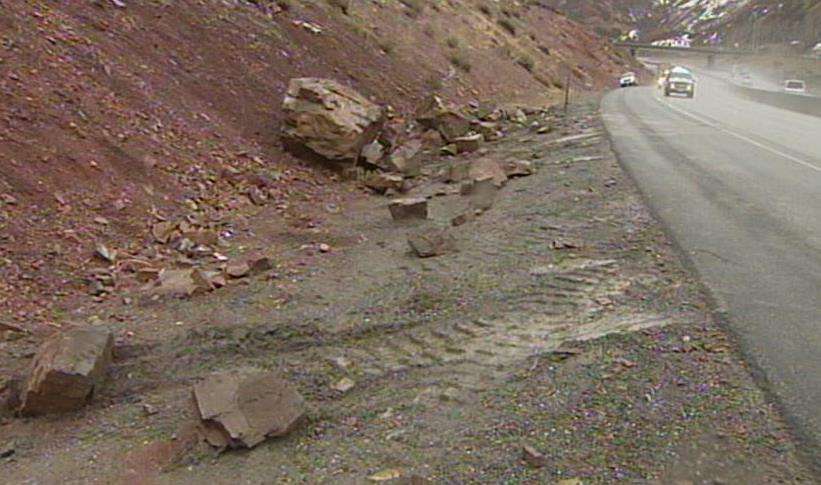 The moisture certainly weighed down on the sides of the canyon causing a rock slide at the mouth of Parley's Canyon. "Because of the rain we had a little bit of a mudslide here, with the rocks that come off the side of the mountain, and they did go all the way across the road, blocking the road," explained Alan Peterson, of the Utah Department of Transportation.
UDOT says drivers need to be on the lookout. "You just have to expect the unexpected. You know, you keep your following distance, make sure you know your surroundings, and just keep your eyes open. And, like I said, reduce the speeds with the weather, and that helps us out a lot too," Peterson said.
Also, if you were driving earlier this morning around 3200 West and 2200 South, the roads got very messy when a car possibly ran a red light, hit a garbage truck and smashed into a semi truck.
Southbound traffic was backed up for some time because of a fuel spill. Officers say one person was injured. "The impact was pretty substantial. Right now, his condition is ... last I was told his condition is fair. He hadn't received any serious injuries we're aware of at this time," West Valley Police Sgt. Chad Evans said.
This weather is only going to get worse. The Utah Highway Patrol suggests driving 10 to 15 miles per hour under the speed limit to stay safe.
For more information on what the weather will be like where you live, click the related link.
- - - - - -
×
Related links
Most recent Utah stories