Estimated read time: 1-2 minutes
This archived news story is available only for your personal, non-commercial use. Information in the story may be outdated or superseded by additional information. Reading or replaying the story in its archived form does not constitute a republication of the story.
Jed Boal reportingHundreds of World War II veterans are in Hawaii to mark the 66th anniversary tomorrow of the attack on Pearl Harbor.
As they remember their fallen comrades, a Utah organization will honor them in a new way.
There are 2,408 American flags on Richardson Field; one to symbolize each U.S. soldier killed December 7, 1941.
Local groups in Hawaii helped Colonial Flag of Sandy set up this Healing Field. It was a project nearly three years in planning. Bill Wing from Colonial Flag said, "There was no better time or better day than December 7th to debut or feature the Healing Field in Hawaii."
Annual remembrances of the attack evoke images of burning ships in Pearl Harbor. This year's observance will be no different.
The Healing Field also includes a display of 150 Hawaiian flags: Each represents a Hawaiian killed in Iraq, or Afghanistan, or a troop deployed from the state.
The first Healing Field in Sandy honored the more than 3,000 Americans killed in the attacks on September 11, 2001. "In my mind there's a direct correlation between the two: the sacrifices that were made December 7 and afterwards, the escalation of war, and September 11 and the impact it had. Our lives changed that day," said Wing.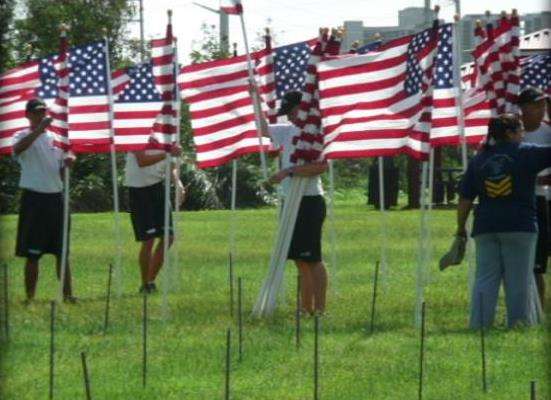 Funds raised from the five-day display at Richardson Field will go to the USS Arizona Memorial Museum Fund and efforts to commemorate the USS Utah.
All the dead will be remembered tomorrow in a ceremony overlooking the USS Arizona. Utah survivors of the attack on Pearl Harbor will gather tomorrow in Salt Lake to honor those who died that day.
×
Most recent Utah stories