Estimated read time: 4-5 minutes
This archived news story is available only for your personal, non-commercial use. Information in the story may be outdated or superseded by additional information. Reading or replaying the story in its archived form does not constitute a republication of the story.
HEBER CITY — Greg Peterson, a GOP activist who was charged with raping several women, was found dead Tuesday evening in his Wasatch County cabin.
In a press conference Tuesday evening, Wasatch County Sheriff Todd Bonner said Peterson's body was found by a bail bondsman in one of the cabin's upstairs bedrooms. He had a gunshot wound to the head.
The sheriff said a employee of All Out Bonds called 911 about 5 p.m. Tuesday after the bail bondsman went to check on Peterson because his ankle monitor was not registering properly. Investigators said Peterson's attorney had also been unable to reach him.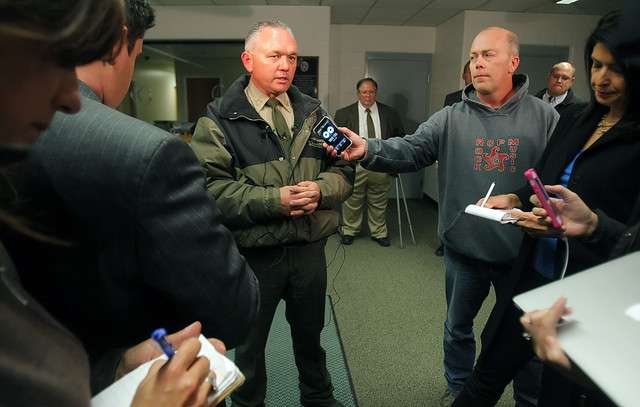 For his part, Bonner said he never suspected that Peterson was suicidal, and it's unclear at this point whether he left a note.
Release from jail
Peterson was released from jail Oct. 19, after posting $2 million bail with the help of All Out Bonds.
"From the moment that he had bailed out ... we were staying in contact with all of our victims," Salt Lake County District Attorney Sim Gill said.
I can't speak to whether he should have been let out or not. We'd asked for a $2 million bail for a reason. But he made bail and he was out there," Gill said. "Making bail is a constitutional right."
Peterson was charged with raping, kidnapping or assaulting women he met on LDS dating websites or at church functions. Several women claim he took them to that cabin and intimidated or threatened them. His next court hearing was scheduled for Nov. 2.
Gill said his office and the Wasatch County Attorney's Office filed charges against Peterson because they felt they had strong cases.
---
This was an important case to us, it was an important case to our victims. We've always felt very comfortable with the basis of our charges and this is just a tragic end in this respect.
–Sim Gill, Salt Lake County DA
---
"We believed our victims and we believed in the strength of our case and that's why we filed it," he said. "This was an important case to us, it was an important case to our victims. We've always felt very comfortable with the basis of our charges and this is just a tragic end in this respect."
Reaction from alleged victims
According to her attorney, at least one of those alleged victims was startled by the news of Peterson's death.
When Peterson bailed out of jail last week, attorney Lorie Hobbs said her client was scared. Then when the woman learned of Peterson's death Tuesday, fear turned to shock.
"Although, she did say that her belief is he probably planned it before he left, that he knew what he was going to do when he got out," Hobbs said.
As an attorney with the Utah Crime Victims Legal Clinic, Hobbs has worked plenty of rape cases in her career. But she said there was just something this case that seemed especially wrong.
"He picked his victims well," Hobbs said. "He picked people he was able to manipulate, for whatever reason. He could just see, I don't know if weakness is the right workd, but he could see cracks in people and he could take advantage of those."
Hobbs represented two of Peterson's alleged victims. Even though his case won't go to trial now, Hobbs says her clients had their day in court during the preliminary hearings, where they faced Peterson.
"They did get to tell their story," she said. "They had some cross-examination at that point, so they got a hint of how difficult a trial might be. But now they're not going to have to go through that process, which is really going to be a good thing for the victims."
Now they will just have to do their best to move on, at the same time knowing they don't have to be scared of Petersen ever again.
An attorney's point of view
Meanwhile, Utah defense attorney Greg Skordas, who is not associated with Peterson's case, spoke to KSL News about impact of suspect suicides can have on attorneys.
Deseret News:
"(In) 30 years of practice, I had it happen maybe two or three times as a prosecutor and about the same number of times as a defense attorney," Skordas said, "and it tears your heart out from either side."
"Certainly, if (Peterson's) attorneys had any idea — and I'm sure they didn't — that something like this would happen, then they would have advised him against (bailing out of jail) or talked to a judge," Skordas added.
History of Peterson's case
Peterson's next hearing was scheduled for Nov. 2. He was facing 23 felonies including seven counts of rape, three counts of object rape, two counts of aggravated kidnapping, nine counts of forcible sexual abuse, forcible sodomy, assault, burglary and sexual battery.
He was accused of kidnapping or or assaulting women he met on LDS dating websites. Several women claim he took them to his Heber cabin and intimidated or threatened them. Investigators say they have identified victims going all the way back to 2011.
Peterson had been a conservative activist until the allegations came to light in July of 2012. In the wake of longtime GOP senator Bob Bennett's loss in the primaries, Utah conservatives turned to fresh faces for fundraising efforts, among them Peterson.
A judge recently increased Peterson's bail from $750,000 to $2 million, a move that defense attorneys argued was unjustified. Prosecutors argued the judge was well within her power to do so.
Peterson was also facing one count of forcible sexual abuse in Wasatch County.
Contributing: Paul Nelson, Jennifer Stagg and Dave Cawley
×
Photos
Related stories
Most recent Utah stories