Estimated read time: 2-3 minutes
This archived news story is available only for your personal, non-commercial use. Information in the story may be outdated or superseded by additional information. Reading or replaying the story in its archived form does not constitute a republication of the story.
SALT LAKE CITY — New questions surrounding the proposed pipeline from Lake Powell to the St. George area are popping up as University of Utah economists suggest the project may be too expensive for Southern Utah residents to ever pay back.
This is significant to all state taxpayers because the Legislature is moving toward a plan that would fund the pipeline with expected growth in state sales tax revenue. Lawmakers and the water district insist the water users themselves will eventually pay it back.
Utah has a right to take some water from Lake Powell before it goes downriver to Arizona, Nevada and California.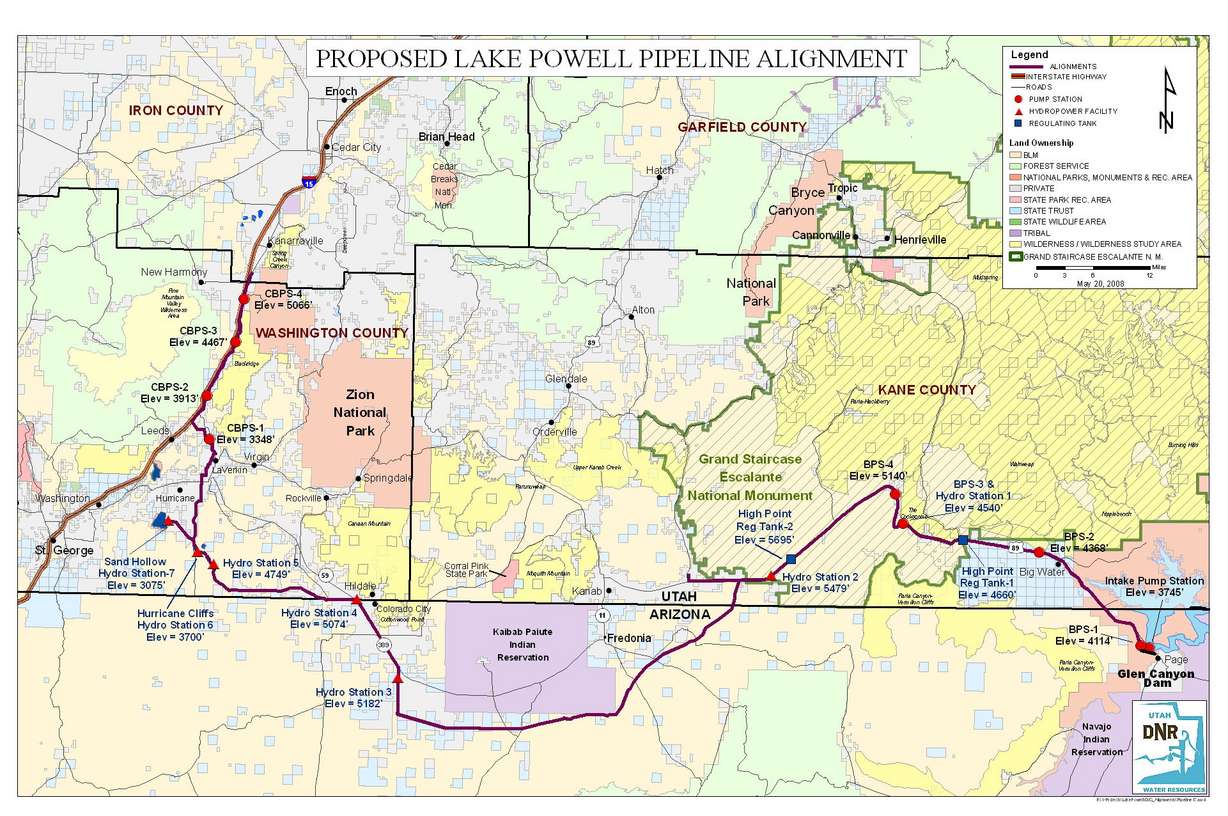 Because of expected growth in the St. George area, planners want a pipeline from Lake Powell, expected to cost at least a billion dollars.
Economist Gabriel Lozada and colleague Gail Blattenberger did back-of-the-envelope calculations and sent their findings to the Legislature in a letter. They concluded St. George area water users will face a stiff price-tag for decades.
"Between $40 and $50 million a year," Lozada said. "So this is not a tiny project for them. In fact this would be a huge project for them."
Backers of the pipeline claim the necessary studies have been done to show the financing is sound. But Professor Lozada told us lawmakers need a much deeper analysis before they commit state taxpayers to such an expensive venture.
The Utah economists say it might require a drastic, ten-fold increase in impact fees, which are already nearly $7,000 for each new home.
Pipeline details
The pipeline is intended to bring water to Washington, Iron and Kane counties. 139 miles of pipe will go to a reservoir near St. George, and 38 miles of pipe to Iron County. The total cost will be just over a $1 billion. U. economists now say annual debt payments could be as high as $47 million, much more than the projected $10.7 million Water revenue would need to go up 370 percent, according to the economists. That could mean impact fees would go up 10 times.
"If they have very high impact fees, maybe people won't decide to move there and so they won't be able to finance it," Lozada said. "The other way for them to finance it would be to increase water rates."
But those water rates might have to jump 370 percent, he says. That's so high that he wonders if St. George water users will ever repay the state.
Washington County water czar Ron Thompson disputes the numbers.
"We're going to pay for it with impact fees and water rates," Thompson said. "But they don't have to go that high."
He says growth is inevitable, and that over time, the rates should stay reasonable.
State Rep. Patrick Painter, R-Nephi, says the state has to stay ahead of rising demand for water.
"We're just letting 80,000 acre-feet of our water go right past us to those southern states," Painter said. "So I think we're derelict in our duty if we don't put that water into use."
×
Related stories
Most recent Utah stories