Estimated read time: 4-5 minutes
This archived news story is available only for your personal, non-commercial use. Information in the story may be outdated or superseded by additional information. Reading or replaying the story in its archived form does not constitute a republication of the story.
SARATOGA SPRINGS — The National Weather Service has issued a flash flood watch for parts of Utah, including Saratoga Springs, that will last into Tuesday evening.
A number of people are nervous that rain will lead to a repeat of recent mudslides there.
One Saratoga Srings homeowner is trying to console his family's fearful thoughts of what the weather might bring.
"I've heard this four different times in the neighborhood," said Jeremy Vick. "My daughter said, 'If you could just sandbag the window well and then sandbag my door so no water gets in, I'd really appreciate it.'"
Vick said he's not getting much sleep these days because the basement door leading to the main part of his house is gone — destroyed in the Sept. 2 mudslide. Now, the forecast of rain is adding to his stress.
Related:
City officials are making emergency stop-gap measures to divert water and keep mud and debris from pounding homes in the city again. However, Vick said that "these efforts are too little, too late."
Vick said he talked to some of his neighbors, and they're all concerned that despite the efforts the city is making to prevent another disaster, it might not be enough.
"In certain areas on this side of the neighborhood, they're doing nothing, and the water still went into that area," Vick said. "So those people are very, very worried."
Points to areas near the burn scar left by the Dump Fire in June, where houses appear more vulnerable, Vick said, "Further down behind us, everything is - sort of leads right into them. So if they haven't done enough, it's going to destroy their homes this time."
Saratoga Springs preparations
City officials said they've been consulting with engineers who have experience in flood disasters. Near the canyon, close to the burn scar, you can see mounds of dirt and backhoes digging in the dirt. City officials said crews have already built berms to help divert water flow.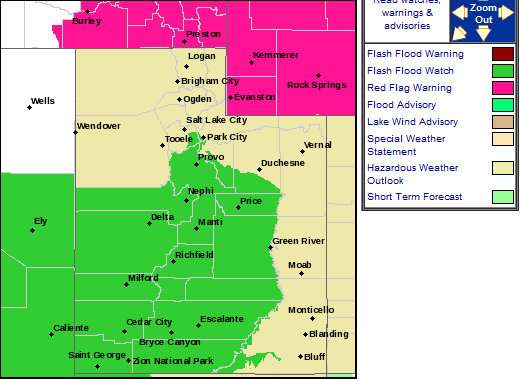 "We've got their expert opinion and recommendations on what to do," said Spencer Kyle, Saratoga Springs assistant city manager. "We've implemented all of those, and we really think that we can handle this event much better than we did a week ago."
The emergency stop-gap measures include crews working with the natural wash that's always been in the area. Workers are widening the wash and armoring it with concrete walls and rocks to allow a slower water flow and limit the amount of debris that comes with it.
"When it comes to acts of nature like this, we just don't have complete control," Kyle said.
The city is also digging into the existing detention basin designed to collect water flow and slowly empty into drain pipes and out into Utah Lake. Since the mudslides, it's been clogged with at least 10 feet of mud and debris.
Crews have also secured into the natural wash Gabian wire baskets filled with rocks to catch debris.
Kyle said the city is relying on resources from Salt Lake and Utah counties. "They've provided us with the heavy machinery that we've needed to implement all of the recommendations that the engineers have given us," he said.
However, Vick said the city has made it clear to residents that they're still largely on their own to keep their homes secure from potential natural disasters.
"They're not giving us the confidence that we need, and so we're just doing what we have to do," he said. "We're calling the BLM, we're calling the different landowners, we're calling insurances."
Eagle Mountain preparations
Saratoga Springs wasn't the only Utah County city on flood watch Monday night. Eagle Mountain had crews waiting on hand in case of flash flooding and any other emergency.
"Our guys are out here right now. They're on the clock and they're ready to roll," said Eagle Mountain Mayor Heather Jackson.
When the Dump Fire began burning, crews evacuated 250 homes in Eagle Mountain. Jackson said residents in her city feel lucky the fire didn't get very close to their homes. Still, there's plenty of scarring on the mountainside to make residents nervous.
"We've had a few issues with isolated flooding in the past when we've had these heavy rain storms," Jackson said.
Immediately after the fire, city officials worked with the BLM to put a plan together on the rehabilitation to the mountains. The city has also done work in the subdivision affected to reinforce homes against possible storm threats.
"Put in additional trenching, storm drainage, up-size some piping," said Jackson. "So far that particular neighborhood we haven't had any trouble with so far this year but we're still monitoring and watching it very, very closely."
Jackson also said the city is watching the burn scar closely as well as the weather, which can be unpredictable.
×
Photos
Related links
Related stories
Most recent Utah stories