Estimated read time: 2-3 minutes
This archived news story is available only for your personal, non-commercial use. Information in the story may be outdated or superseded by additional information. Reading or replaying the story in its archived form does not constitute a republication of the story.
Gene Kennedy reportingIt's Christmas in Salt Lake City. Radio stations have been playing the seasonal music for weeks, now the lights downtown have made it official.
As late as it is, downtown is still packed. This evening, it's been out with Thanksgiving and in with Christmas. In Salt Lake City, Christmas comes with the flip of a switch. Lights are now on at Temple Square and the Gateway mall.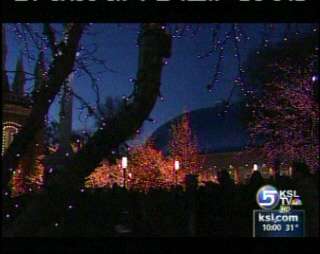 So do the people come for the shops as much as the lights?
Mandee Henderson said, "Oh definitely. I think it's the whole downtown experience."
Eric Whitley said, "Yeah, I mean we came down here and went out to dinner this evening."
"Not much but a little bit," Brandon Hulse said.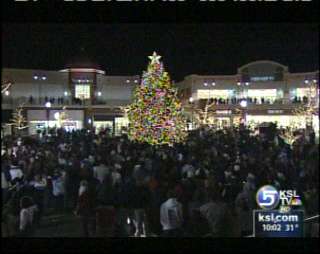 And Shelli Christiansen said, "You get in the shops and get in that Christmasy spirit and you just want to spend money."
Nationally, we've heard a different message. Experts predict this year's holiday sales growth to be the smallest in five years, just four percent. But several Salt Lake shoppers told KSL their budget is the same or greater than last year's.
Eileen Turnipseed said, "You're looking at iPhones for $500, iPods for $200. The kids, that's what they want these days the electronics."
Not one of the seven Gateway shoppers we talked with tonight said they're spending less this year. The Chamber of Commerce isn't surprised. Local economists believe Utah will buck the gloomy national holiday forecast, based on several positive economic indicators: for example, a $400 million surplus, job growth is up, and there are a record number of people moving to Utah.
Downtown business Utah Woolen Mills President Bart Stringham said, "Well, we hoped for the best. I don't know that we imagined it would be as good as it's been."
Utah Woolen Mills is right in the heart of the construction zone downtown. but says so far so good, the shoppers keep coming.
Another month and we'll see if Utah retailers truly buck the national prediction.
Christmas lights came on across Utah tonight, marking the start of the holiday season. The biggest display--the lights at Temple Square-- is a tradition begun in 1965. They came on at dusk.
Then at 7:00 the Gateway threw the switch for its sixth annual "Light Up the Night." Our Deanie Wimmer and KSL Newsradio's Doug Wright emceed the event. Jon Schmidt provided the music. And hundreds stood by to watch the lighting of the Gateway Christmas tree.
If you are planning to drive downtown, you can find free parking. Now until Jan. 1, approximately 2,200 Salt Lake City meters will be bagged so you can park for two hours for free.
×
Most recent Utah stories