This archived news story is available only for your personal, non-commercial use. Information in the story may be outdated or superseded by additional information. Reading or replaying the story in its archived form does not constitute a republication of the story.
CENTERVILLE — Books are a universal language, a means of bridging gaps and breaking down barriers. The Paul family's latest project is one example of how books bring people together despite differences.
Spencer Paul is a 26-years-old man who loves to read, is an active member of his community, and works in his family's ice cream shop. He also has severe autism.
Growing up with autism
"Spencer is an adult with severe autism, intellectual disabilities and is non-verbal," his mother, Kimra Paul, explained. "When he was born, nobody knew what autism was, not even our doctors. It became our job to educate our families, neighbors, teachers, school classmates and community."
Autism is now often in the media spotlight, but the focus is still mainly on children with the disability. It's generally forgotten that children with autism grow up to be adults with autism.
---
Early on, we knew that a part of educating our community was to include Spencer and Ross in a variety of school- and community-related activities. By doing so we could break the barriers of prejudice, fears, discrimination and bullying.
–Kimra Paul, Spencer's mother
---
Kimra and Gary Paul have two adult sons, Spencer and Ross, who have severe autism, and Kimra says she has to re-educate the people around them as her sons get older. One of the ways she does this is by actively engaging them in their community.
"Early on, we knew that a part of educating our community was to include Spencer and Ross in a variety of school- and community-related activities. By doing so we could break the barriers of prejudice, fears, discrimination and bullying," Kimra said. "We planned so that they would graduate into a job. They have so much to offer with valuable talents and skills to share."
Spencer and Ross both work part-time in the family-owned ice cream shop, and this summer they sold ice cream to the neighborhood kids at their "Tuesday Treat Table" from their home. Ross also has a weekly delivery service of taking coloring pages, stickers and treats to the neighborhood children.
Creation of the 'book bench'
The latest project for Spencer is a neighborhood library known as "Spencer's Book Bench." The project was inspired by Spencer's love of books and an idea from his aunt.
Spencer frequently visits all the libraries in his surrounding area and is also a regular at the local bookstores, buying a book almost weekly. He enjoys Disney children's books, early readers, sticker books and story books.
His parents know that he reads, but they don't know his level of reading or comprehension. They are happy that his ability to read — at his own functioning level — brings him enjoyment.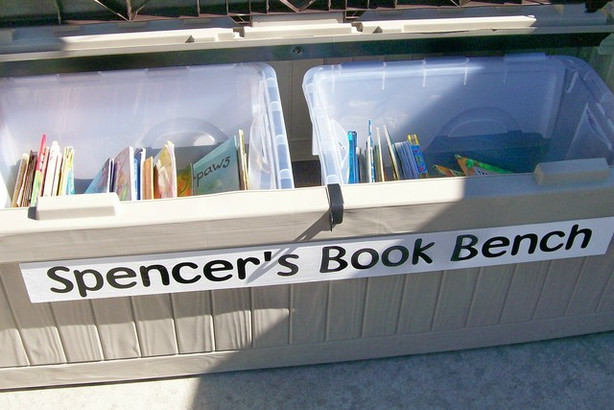 After seeing a post on her sister's Facebook page about an organization called Little Free Library, Kimra decided to help Spencer open his own library. Little Free Library promotes "literacy and the love of reading by building free book exchanges worldwide." Communities and individuals build small, birdhouse-like boxes; post them in front yards, schools and other places; and then fill them with books for anyone to borrow, read and exchange.
Spencer's Little Free Library is officially registered with the organization and is the sixth in Utah. "We decided to go with a bench, instead of the little house, so that Spencer could be the steward – managing and organizing the books," Kimra explained.
On Tuesday, Aug. 28, the Paul family held a "Fill Spencer's Book Bench" open house and received great support from their neighbors. "Each child and adult who donated a book (in most cases, five or more) wrote their name on a label and stuck it on the inside of the book," Kimra reported. "We hope the books will travel around the neighborhood and beyond.&rdquo
Spencer's Book Bench had its grand opening Sept. 4. It includes books for children, young adults and adults — all family friendly.
"Starting Spencer's Book Bench is just one of the many ways Spencer will continue to connect with and serve his community," Kimra said.
Spencer may not be able to talk about the books he enjoys or say why he loves them, but sharing his love of reading with those in his neighborhood is a powerful example of how books offer common ground and kinship. By sharing books, Spencer benefits, but more importantly those around him can connect and relate with him in a new and meaningful way.
After all, when you hand someone a book you love, all they need to do is read it and they will know you.
If you are interested in starting your own Little Free Library, please visit the website littlefreelibrary.org.
---
Main image: Spencer's Book Bench (Photo: Kimra Paul)
---
*
About the Author: Teri Harman -----------------------------

*Teri Harman, author and book enthusiast, writes a bi-weekly column, Book Matters, for ksl.com and also contributes a monthly book segment to Studio 5. Her debut novel, "Blood Moon," comes out June 22, 2013. For more book fun, visit book- matters.com**

×
Related Links
Related Stories