Estimated read time: 6-7 minutes
This archived news story is available only for your personal, non-commercial use. Information in the story may be outdated or superseded by additional information. Reading or replaying the story in its archived form does not constitute a republication of the story.
SALT LAKE CITY — A year ago, I conquered the toughest physical and mental challenge of my life.
For 16 hours, 36 minutes and 4 seconds, I swam, cycled, walked and waddled my way through Coeur D'Alene, Idaho, traversing 140.6 miles to reach the glorious finish line.
My feet were severely blistered. My muscles achy. My body and mind tested like never before. But despite being 70 pounds overweight, I plodded, pushed and persevered.
I couldn't have been prouder to earn the title of "Ironman."
I felt as cool as Robert Downey Jr., even without a cool high-tech, flying suit.
Weighing 140 pounds less than my high of 371, this achievement was supposed to propel me into a healthy and thin lifestyle.
After the finish line, however, my inspiring story took a big, fat detour.
---
I know how to diet. I'm great at it. Heck, just three years ago I was the centerfold success story in Weight Watchers' magazine. But previous successes and painful wake-up calls haven't helped me both lose the weight and keep it off. I need to fix the root of the problem.
---
To the fridge.
To the couch.
To unhealthy food at restaurants and bad choices at parties, work, Costco sample booths, drive-thrus and gas stations.
To 11 lazy and overindulging months of a diet-restarts-Monday mentality that resulted in a 70-pound weight gain.
Seeing the big 3-0-0 on the scale after being in the 200s for six years — even in the 190s for three weeks in 2009! — was tougher to swallow than juiced wheatgrass.
After my weight soared out of control up to 301.8, a doctor suggested I try medication for depression at a June 1 checkup. That came days after I had to patch the crotch of my split pants with duct tape at a family get-together.
Rock, meet my bottom.
Friends, family members and those who have followed my weight-loss struggles in my "Losing It!" columns might expect me to lighten this up with some jokes.
But, honestly, my funny fat man routine has worn old. I've used that type of humor to hide the hurt for decades, and that's not working anymore.
My life has been unraveling.
Everything has seemed to be swirling down the drain with my deteriorating health: my family and social life; my faith, spirituality and sense of self-worth; my finances and work satisfaction.
I'm 41 years old going on 82. I can barely walk up a flight of stairs without being winded. Body parts are sore. I can't move like I used to (just last year!). My cholesterol is going up. My lifestyle paved way for a long and excruciating bout of gout. I'm not fun anymore. I'm not the dad my three (soon-to-be four) children deserve. I'm not the happy-go-lucky husband my wife signed up for.
Related
Sure, I smile and laugh a lot, but it's often just a mask. Inside I've been miserable, seeing dreams slip away because of my insatiable appetite for instant gratification.
I know how to diet. I'm great at it. Heck, just three years ago I got down to 198.2 pounds. I was the centerfold success story in Weight Watchers' magazine.
But previous successes and painful wake-up calls — like my dad dying at age 57 because of weight-related diseases and me needing a stress test because of chest pains, etc. — haven't helped me both lose the weight and keep it off.
I need to fix the root of the problem. I need to make a lifestyle change that lasts — a complete transformation, if you will.
Otherwise, I'll just stay in this seemingly endless yo-yo cycle that has me fluctuating anywhere from the 190s to the 300s and feeling like the world's biggest success story one day and the world's biggest failure months later.
Trust me. That isn't exactly a joyride.
Trust me on another point: I'm not giving up.
I didn't quit during my Ironman even when it seemed I could no longer budge, and I won't now. As the Japanese saying goes, "Fall seven times, stand up eight."
This time, I asked God for help while I was on my knees on the way up.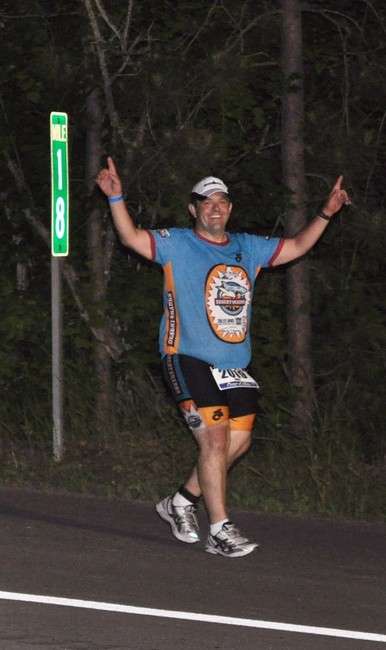 I have no doubt that the series of events that have happened since my humiliating fall left me at the lowest of lows have been divinely guided.
It started with a friend convincing me to watch the inspiring documentary "Fat, Sick and Nearly Dead" about an overweight Australian who had amazing results from downing only juiced fruits and vegetables.
Two days later, I channeled my inner-hippie, bought a juicer and boatload of fruits and veggies, and embarked on a 10-day juice fast.
Extreme? Probably, but I desperately needed to do something to get my mind and heart focused on becoming healthy.
But I didn't just glug down juiced kale and apples. While scouring the Internet for inspiration — and long-term solutions that included solid food — I found myself admiring the words and works of a motivating man named Bill Phillips, the author of New York Times bestseller "Body For Life."
In mid-June, I decided to do his 12-week summer challenge. I committed to lift weights, which I've mostly avoided. I also checked out his three books from a Salt Lake County library.
This is when fate really kicked in.
Three days later, I ended up in his Colorado gym enrolled in something called "Transformation Camp."
A late cancellation opened up a spot, and I responded to Bill's Facebook announcement on a whim, asking if I could write about my experience. An hour later, I was on the phone with one of his employees who'd called.
Bill was throwing me a lifeline.
Euphoric and eager for change, I reached out and grabbed it tight.
The weekend was exhilarating and enlightening.
For the first time in a long while, I had hope. It was like the life switch inside of me had been turned on again.
It sunk in deep that changing the outside of my body can't happen — for good — without dealing with inside issues. I was encouraged to delve into important reasons why becoming fit is so important, and to make tangible goals.
---
It sunk in deep that changing the outside of my body can't happen — for good — without dealing with inside issues.
---
We were given a crash course on eating the right nutrition at the right times — namely good proteins (lean meats), carbohydrates (whole grains), and fruits and veggies, six times a day.
We were shown how to exercise smarter and surprisingly shorter than many might imagine for impressive results.
Emphasis was placed on things like having and expressing gratitude, being altruistic, getting and giving support in a community, having a good, positive mindset, and taking proper care of our bodies so we can accomplish our dreams and life callings.
I came away inspired, committed to doing the work, and desiring to be a better father, a better husband, a better person — and a much thinner and fitter one, too.
Which brings me to one particular highlight of this experience.
Bill, whose plan is outlined in his book and at Transformation.com, asked several people to share weight-loss goals for our 12-week coached journey. My lofty number: 50 pounds.
Bill, a Denver sports fan, knew I'm the Utah Jazz beat writer, so he smiled and said he'd come do 50 push-ups on my front porch in a Jazz jersey if I reached the goal.
After some laughs, Bill changed his offer.
When I hit my goal, a Utah kid with a life-threatening medical condition will be granted a wish through the Make-A-Wish Foundation.
Hearing that put a huge grin on my face. My heart filled with emotion. My eyes suddenly became sweaty.
I already had a long list of motives to spark my change, but I was grateful to be given one more powerful reason to begin my transformation.
Utah Jazz beat writer Jody Genessy will chronicle his Transformation journey in a monthly column in the Deseret News and online at Reasons2Run.com. EMAIL: jody@desnews.com
×
Photos
Related links
Related stories
Most recent Lifestyle stories