Estimated read time: 3-4 minutes
This archived news story is available only for your personal, non-commercial use. Information in the story may be outdated or superseded by additional information. Reading or replaying the story in its archived form does not constitute a republication of the story.
Jed Boal and Brooke Walker reportingA staggering 35.5 million people went hungry last year. According to a report from the U.S. Department of Agriculture, 12.1 percent of the population said they did not have the money or resources to get food at some point during 2006. Almost half of those who went hungry were children.
In Utah more than 350,000 people were at risk for missing meals, and the state was ranked seventh when it came to the number of people who suffered from "food insecurity."
The Utah Food Bank today kicked off its holiday food drive to help our neighbors who might otherwise go hungry.
This time of year, there's often a steady stream of traffic on the docks of the Food Bank on 1025 S. 700 West. Groups drop off truckloads of food, individuals bring in whatever they can, and inside, volunteers roll up their sleeves.
Jim Pugh, executive director of the Utah Food Bank says, "It's one bag of food and one turkey at a time."
The number of those in need in Utah grows each year. Pugh says, "There's more and more people living paycheck to paycheck.
Greg Solia dropped off 588 pounds of food from a youth drive at his church in Taylorsville. He says, "We've all been in a bind once in a while, in the past. This is one way of giving back to the community."
Others bring more modest contributions, just as critical. Pugh says, "We're trying to raise over 1.5 million pounds of food and over 24,000 turkeys. It's going to take a lot of help from the community to make that happen. We hope people respond early so that we can meet the need over the Thanksgiving holiday."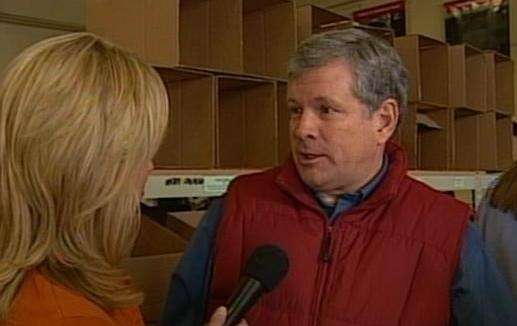 Studio Five aired live at the Food Bank. A crew from Eyewitness News helped sort donations. Some faces you recognize; others do important work off camera. KSL's Bruce Lindsay was one of the people manning the line today. "I had my line figured out after an hour's worth of work, and now they moved us over here. But it's a good feeling to participate in doing something to help the issue of hunger in Utah," he said.
Bruce added, "We tend to think about this when we come to Thanksgiving, but hunger is an issue all year round, and there's always an opportunity to come down here with a youth group, or neighborhood group, or your family, or a church group and help sort."
Members of the Salt Lake City Lion's Club volunteer every year. Zella Millard says, "Open up your purses and think about the homeless and the people in need, and you will be blessed."
Skyrocketing fuel prices drove up the cost of food nationally nearly 4.5 percent. Wholesale turkey prices are up five cents; that makes it tough on families struggling to pay bills.
Across town, AAA Utah delivered more than 144 turkeys to non-profit kitchens on 279 S. 300 West to help feed more than 4000 people Thanksgiving dinner.
At Holy Trinity Greek Orthodox Church volunteers will cook these turkeys for the homeless. Rolayne Fairclough with AAA Utah says, "We decided this was a wonderful way to start the holiday season and do a traditional event."
The Food Bank's goal again is 1.5 million pounds of food and 24,000 turkeys. There are 140 drop off locations across the state at Jiffy Lubes and Smith's stores.
For more information, go to the related link.
×
Related links
Most recent Utah stories